It's Halloween here at BOOM! Studios, and we are more than ready to embrace our scary side! In that spirit, we have curated a list of our very favorite stories that run the gambit from the mildly spooky to the truly horrifying!
It may be obvious, but we're kicking of this list the the Adventure Time Halloween special! We present to you the Adventure Time 2017 SpOooktacular, featuring the adventures of the Candy Kingdom's creepiest subject, Peppermint Butler! Whether he's resorting to dark magick to launder his bow tie or fighting in the War of the Magicians, Pep Buts is the most tireless butler in Ooo. And in the land of Aaa, Butterscotch Butler is determined to keep Prince Gumball's spooky masquerade safe from Marshall Lee's tricks!
Writers: Adam Cesare, Alyssa Wong, Grady Hencrix, Chris Lackey
Artists: Christine Larsen, Heather Danforth, Slimm Fabert, Kate Sherron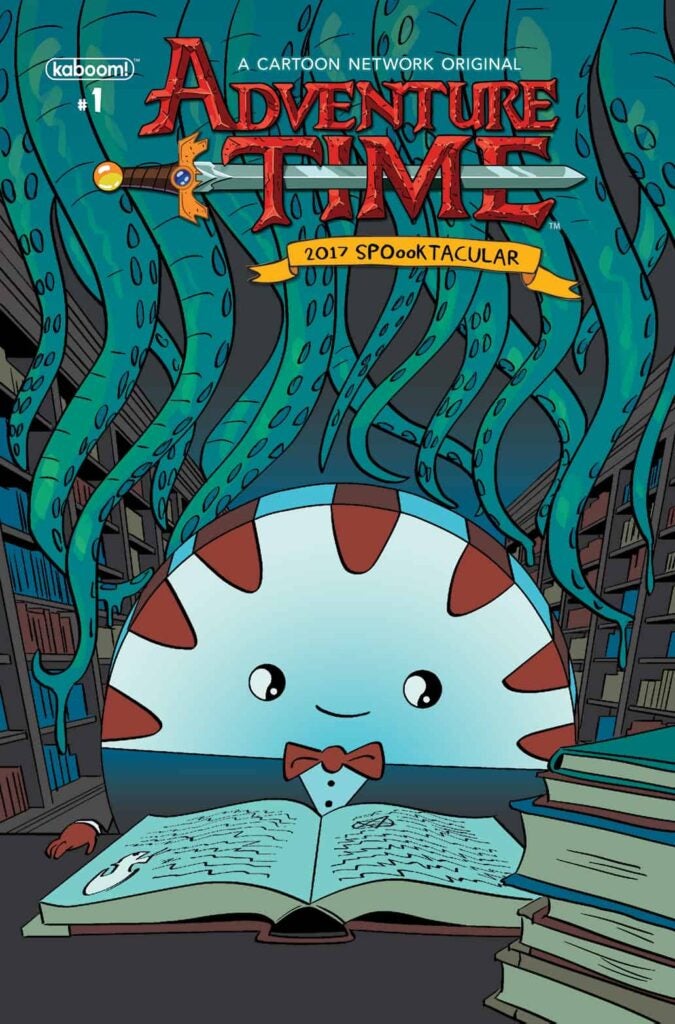 A BOOM! Studios classic, The Woods is sci-fi horror story which concluded just this month! When the students and staff of Bay Point Preparatory High School find themselves in the middle of an ancient, primordial wilderness, they must learn how to survive on the alien world. And they aren't on this world alone…
Writer: James Tynion IV
Artist: Michael Dialynas
Clive Barker returns to tell a new chapter in the official continuity-a trajectory that will forever change the Cenobites… and Pinhead! With over 500 hundred pages, this omnibus brings Clive Barker's characters to life in a hair-raising adventure just in time for Halloween. This book collects the Hellraiser comic #1-20 as well as Clive Barker's Hellraiser Annual #1!
Writers: Clive Barker with Mark Miller, Christopher Monfette, Robb Humphreys, Anthony Diblasi, and Brandon Seifert
Artist: Leonardo Manco, Jesús Hervás, Stephen Thompson, Janusz Odon, Michael Montenat, Ibrahim Roberson, André Stahl Schmidt, Giovanni P. Timpano, Marcio Henrique, Tom Garcia
If you're looking for an 80s inspired spooky adventure in the style of 'The Goonies' or 'Scooby Doo', look no further than Misfit City. When Wilder and her friends discover a centuries old pirate map drawn by the infamous Black Mary, they will embark on an adventure filled with thrills and chills!
Writer: Kiwi Smith, Kurt Lustgarten
Artist: Naomi Franquiz
Jim Henson's The Power of the Dark Crystal may not be anyone traditional idea of a Halloween ghost story, but I know that I at least was utterly terrified of the Skeksis as a kid, and so it has earned a place on this list!  Return to the world of Thra in an official sequel to the beloved fantasy film. Though Jen and Kira have ruled Thra as King and Queen, bringing Gelfling back to the land, they have become distracted by power and can no longer feel or see the needs of the world the way they once did. Thurma is a young Fireling tasked with stealing a shard of the Dark Crystal to restore power to her realm.
Writers: Simon Spurrier, Phillip Kennedy Johnson
Artists: Nichole Matthews, Kelly Matthews
Victor LaValle's Destroyer is a return to a more classic style of horror. And we do mean classic! When the last descendant of the Frankenstein family loses her only son to a police shooting, she turns to science for her own justice…putting her on a crash course with her family's original monster and his quest to eliminate humanity. For a terrifying look into humanity and what it means to be a monster, pick up Victor LaValle's Destroyer from your local comic book store!
Writer: Victor LaValle
Artist: Dietrich Smith
Written by Eisner-nominated writer Simon Spurrier (The Spire, X-Men: Legacy) and illustrated by Dylan Burnett (Interceptor), Weavers is a twisted blend of Lovecraftian horrors and mafia family drama that explores the unnerving effects of power and addiction.
In the aftermath of a gang-related attack, Sid Thyme becomes an unlikely new addition to the Weavers, a brutal East Coast crime family.
Members of this syndicate are bound to loyalty thanks to the supernatural spiders inside each of them, granting them powerful and grotesque abilities.
Writer: Simon Spurrier
Artist: Dylan Burnett
It's not the hide-under-your-blankets type of scary story, but Brave Chef Brianna has monsters to spare. Brianna has big dreams of starting her own restaurant. When her ailing father, a celebrity restaurant magnate, poses a challenge to his only daughter and 15 sons, she sets out to create the best restaurant around! Thing is, the only city she can afford to set up shop in is Monster City.
A fun supernatural story for an audience of all ages, Brave Chef Brianna is the perfect thing to read after a long night of Trick-or-Treat!
Writer: Sam Sykes
Artist: Selina Espiritu
Sharp eyes might catch James Tynion IV's name on here once again, and that's no coincidence. Tynion's voice for horror is unparalled, and Eryk Donovan's art only gives Eugenic another layer of skin-crawling eerieness. When a plague ravages the world, one scientist discovers the cure and becomes the savior of mankind. Hope is restored, and the world rebuilds. But then people who took the cure begin having children who are… unnatural, and the definition of "normal" is forever altered.
Writer: James Tynion IV
Artist: Eryk Donovan
Cullen Bunn (The Empty Man) is another staple in the comics horror genre. This take on the Psychiatric Hospital horror trope takes a supernatural turns early in the narrative and only gets creepier from there. Ashli's first day as a nurse at Saint Cascia Psychiatric Hospital turns into a nightmare as a bloody riot sends her fleeing into the bowels of the hospital. Her descent takes her to a hellish world populated by lunatics and monsters, cloaked in a secret history of black magic and heinous scientific experiments.
Writer: Cullen Bunn
Artist: Jack T. Cole
Get ready to rock and roll with this punk rock adventure that brings new meaning to Grateful Dead. Sisters Coady, Corey, and Criss are The Creepies, a trio of punk rockers determined to play every gig in Pinmageddon. They're heading out on their first tour since a freak accident left Coady eerily unscathed…and, well, technically dead. It may prove a little difficult to be the greatest band that ever lived when your drummer is a ghost!
Writer: Liz Prince
Artist: Amanda Kirk
Over the Garden Wall returns readers to the eerie Unknown for more adventures with Wirt and Greg, and I don't think I need to explain how the eerie Unknown ties into our Halloween list! Over the Garden Wall has always been just this side of spooky, playing the line between scary and playful.
Writers: Jim Campbell, Danielle Burgos, Amalia Levari
Artists: Jim Campbell, Cara McGee
A return to the college lifestyle might be a horror story for some all on it's own, but Lazaretto elevates that to an all new level. After a pandemic strikes, a dorm complex at a small American college is quarantined with all of the students trapped within. What first starts out as youthful freedom from authority soon devolves into a violent new society—it's Lord of the Flies on a college campus.
Writer: Clay McLeod Chapman
Artist: Jey Levang