A Bewitching New Comic Series Tells Timeless Tales of Mermaids and Magic
BOOM! Studios today revealed a first look at JIM HENSON'S THE STORYTELLER: SIRENS #1, the first story in the four-issue comic book series based on the Emmy Award-winning classic television show, Jim Henson's The Storyteller, about a cold, cruel fisherman and his captured siren, available in stores April 2019.
JIM HENSON'S THE STORYTELLER: SIRENS #1 by writer Bartosz Sztybor and artist Jakub Rebelka (Judas) spins the tale of a successful fisherman whose heart is as cold and unyielding as the coins he treasures above all else, including his wife and daughter. One night he chances upon a beautiful mermaid and bewitched by her voice, he imprisons her, abandoning his family and his life in order to listen to her siren song. But no heart can withstand the beauty of such music for long, and her notes eventually lead the fisherman on a journey to discover what he truly cherishes most in life.
JIM HENSON'S THE STORYTELLER: SIRENS #1 features a main connecting cover by Cory Godbey (Jim Henson's Labyrinth: Tales) and a variant cover by artist Jakub Rebelka.
"Bartosz and Jakub deliver a stunning story about ambition, greed, and the consequences of misplaced values," said Cameron Chittock, Editor, BOOM! Studios. "Like the best episodes of Jim Henson's beloved television show, SIRENS #1 is an undeniably human tale, told with dazzling creativity."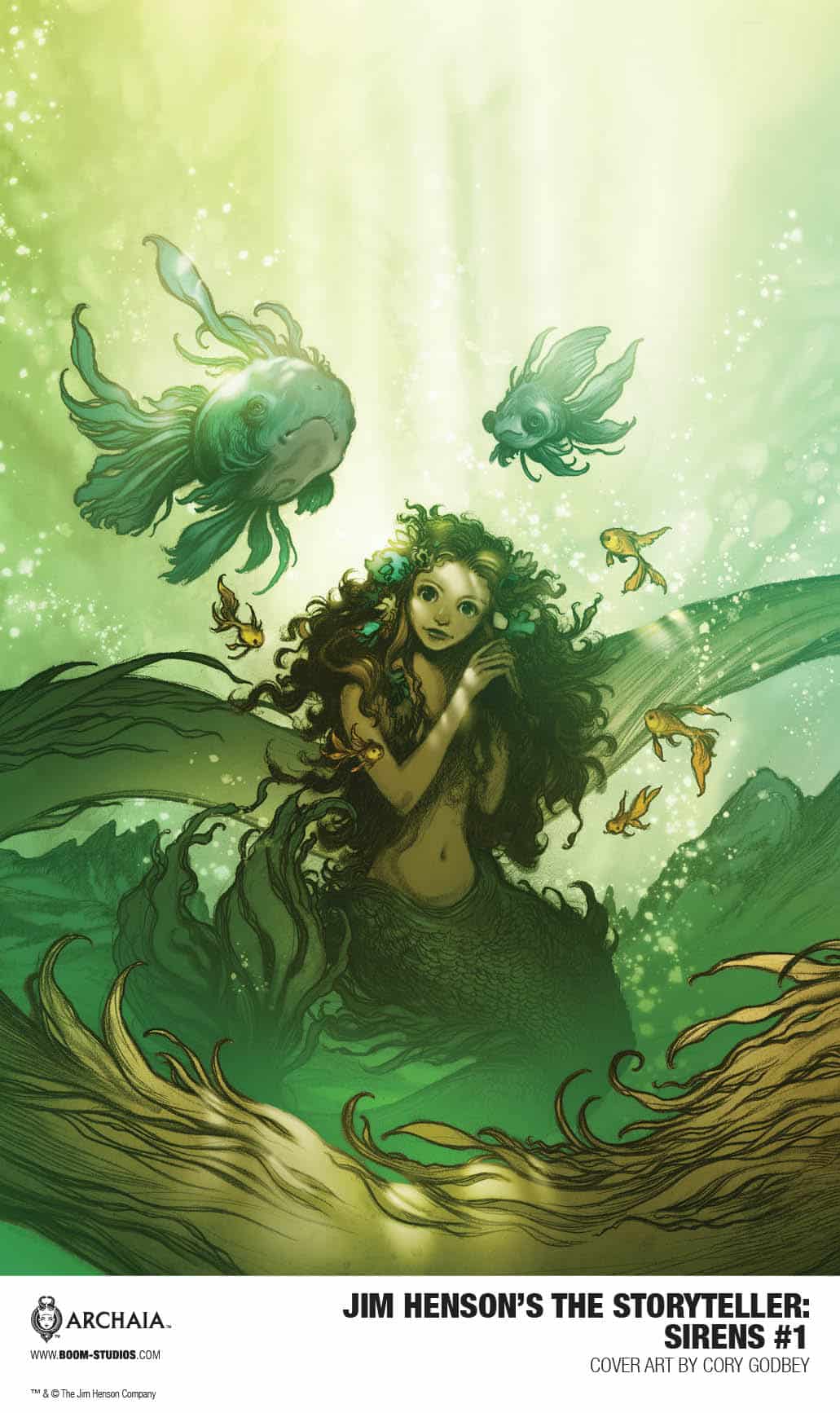 JIM HENSON'S THE STORYTELLER: SIRENS #1 is the latest release from BOOM! Studios' ambitious Archaia imprint, home to graphic novels such as Mouse Guard by David Petersen; Rust by Royden Lepp; Bolivar by Sean Rubin; Jane by Aline Brosh McKenna and Ramón K. Pérez; About Betty's Boob by Vero Cazot and Julie Rocheleau; and licensed series like Jim Henson's The Power of the Dark Crystal and Jim Henson's Labyrinth: Coronation.
Print copies of JIM HENSON'S THE STORYTELLER: SIRENS #1 will be available for sale on April 3, 2019 at local comic book shops (use comicshoplocator.com to find the nearest one) or at the BOOM! Studios webstore. Digital copies can be purchased from content providers, including comiXology, iBooks, Google Play, and the BOOM! Studios app.