A Bewitching New Comic Series Tells Timeless Tales of Mermaids and Magic
BOOM! Studios today revealed a first look at JIM HENSON'S THE STORYTELLER: SIRENS #2, an exciting new tale in the four-issue comic book series based on the Emmy Award-winning classic television show, Jim Henson's The Storyteller. The story follows a lonely goddess who created humans and animals and built a world where she would never have to be lonely again, in stores May 2019.
JIM HENSON'S THE STORYTELLER: SIRENS #2, from cartoonist Chan Chau, introduces readers to the goddess Nuwa, a shapeshifting snake deity who traveled the world at its creation when the earth and trees and air were perfect and brand new. While Nuwa had the whole world at her disposal, able to scale mountains and visit oceans whenever she pleased, she found herself overtaken by loneliness. And so began the creation of animals and people, and the start of human life and love.
JIM HENSON'S THE STORYTELLER: SIRENS #2 features a main connecting cover by Cory Godbey (Jim Henson's Labyrinth: Tales) and a variant cover by Chau.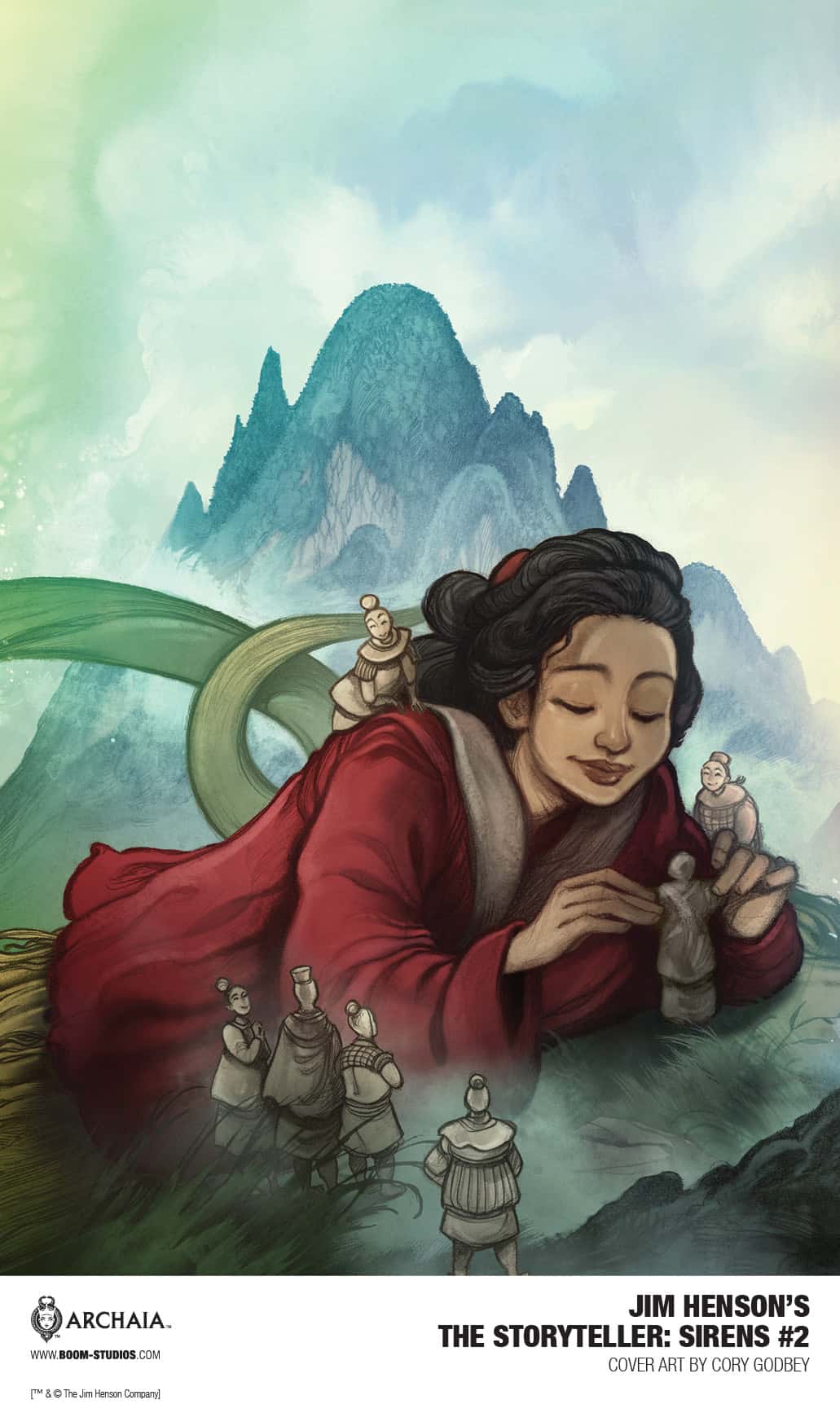 "Chan Chau's lovely storytelling and brilliant art come together in SIRENS #2 to tell a tale about how the world came to be," said Matthew Levine, Editor, BOOM! Studios. "Chau imagines that the human race was born from a goddess' heartfelt desire for love and companionship, resulting in a story that is sure to delight fans of fantasy, legends, and myths."
JIM HENSON'S THE STORYTELLER: SIRENS #2 is the latest release from BOOM! Studios' ambitious Archaia imprint, home to graphic novels such as Mouse Guard by David Petersen; Rust by Royden Lepp; Bolivar by Sean Rubin; Jane by Aline Brosh McKenna and Ramón K. Pérez; About Betty's Boob by Vero Cazot and Julie Rocheleau; and licensed series like Jim Henson's The Power of the Dark Crystal and Jim Henson's Labyrinth: Coronation.
Print copies of JIM HENSON'S THE STORYTELLER: SIRENS #2 will be available for sale on May 8, 2019 at local comic book shops (use comicshoplocator.com to find the nearest one) or at the BOOM! Studios webstore. Digital copies can be purchased from content providers, including comiXology, iBooks, Google Play, and the BOOM! Studios app.