Tom King and Peter Gross Team Up for the First Time at BOOM! Studios
Animal Farm for the 21st Century
Multi-Eisner-winning, New York Times bestselling writer Tom King (The Human Target, Mister Miracle), Eisner-nominated industry titan Peter Gross (Lucifer, American Jesus), Eisner-nominated colorist Tamra Bonvillain (Once & Future, World's Finest), and Eisner-nominated letterer Clayton Cowles (Strange Adventures, Die) team up for the first time at BOOM! Studios for a modern retelling of the timeless Orwellian allegory in ANIMAL POUND this Winter.
When animals grow tired of being caged, killed, and sold off–it's only a matter of time before they've had enough…
After an uprising puts the animals in control of a pound, they quickly find themselves as comrades–united against everything that walks on two legs. But with this newfound power comes a sudden challenge: how best to lay the groundwork for this new democracy.
Visionaries King and Gross give us an updated version of Animal Farm for 21st century America, where a two-party system gives way to fear and facism in this can't-miss event series.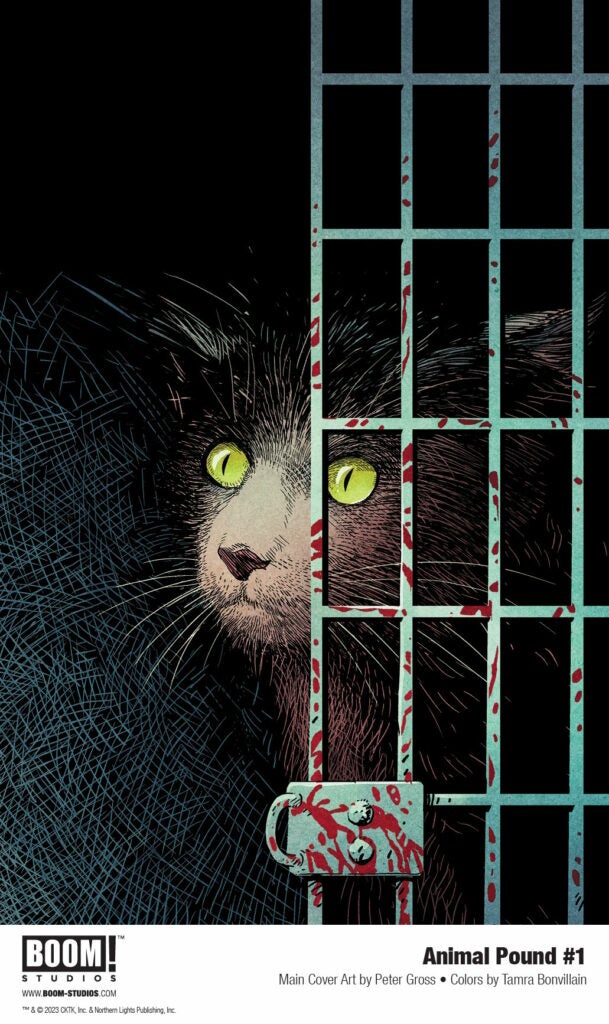 ANIMAL POUND #1 features a main cover by Peter Gross, with variants by Yuko Shimizu (The Sandman: The Dream Hunters), Gabriel H. Walta (Barbalien: Red Planet), Bill Sienkiewicz (Moon Knight), Skottie Young (I Hate Fairyland), and more!
"Animal Pound is the most ambitious story I've ever told, and I feel like a fool for trying to do it," said Tom King. "But the story came to me strong, and with Peter drawing, I know we'll pull it off; we'll make something as insane, stunning, and frightful as the times we live in."
"Tom's pitch for Animal Pound was the best pitch I've ever read (and I've read some great ones!). I was instantly on board and can't wait to see it out in the world!" said series artist Peter Gross.
"Animal Pound isn't just a comic book event – it's a literary event, from four of our medium's boldest storytellers," said Executive Editor Eric Harburn. "Tom, Peter, Tamra, and Clayton know the gravity of following in the footsteps of Orwell, arguably the 20th century's most prescient author. And let me tell you: they are up to the challenge."
ANIMAL POUND #1 will be available in comic shops December 20, 2023 and the ANIMAL POUND #1 Ashcan will be in comic shops November 15, 2023. They are both available for pre-order at your local comic shop. Digital copies can be purchased from content providers, including comiXology, iBooks, Google Play, and Kindle.
About Tom King:
Tom King is an Eisner, Ringo, and Harvey-winning writer known for his New York Times bestselling work on The Vision, Mister Miracle, Batman, The Sheriff of Babylon, Supergirl: Woman of Tomorrow, Superman: Up in the Sky, The Human Target, and many others. Prior to his writing career, King served overseas as a counterterrorism officer in the CIA. He lives in Washington, D.C., with his wife, Colleen, and his three children, Charlie, Claire, and Crosby.
About Peter Gross:
Peter Gross is the co-creator of the DC/Vertigo series The Unwritten, and co-creator and artist of American Jesus/Chosen with Mark Millar. He also illustrated two of Vertigo's longest running series, Lucifer and Books of Magic. He lives in Minneapolis, Minnesota with his wife, Jeanne McGee.
ANIMAL POUND #1 is the newest release from BOOM! Studios' eponymous imprint, home to critically acclaimed original series, including BRZRKR by Keanu Reeves, Matt Kindt, and Ron Garney; Something is Killing the Children by James Tynion IV and Werther Dell'Edera; Once & Future by Kieron Gillen and Dan Mora; Wynd by James Tynion IV and Michael Dialynas; Grim by Stephanie Phillips and Flaviano; Briar by Christopher Cantwell and Germán García; Stuff of Nightmares by R.L. Stine and A.L. Kaplan; The Approach by Jeremy Haun, Jason A. Hurley, and Jesus Hervas; Damn Them All by Simon Spurrier and Charlie Adlard; Behold, Behemoth by Tate Brombal and Nick Robles; Once Upon a Time at the End of the World by Jason Aaron, Alexandre Tefenkgi, Leila del Duca, and Nick Dragotta; Know Your Station by Sarah Gailey and Liana Kangas; A Vicious Circle by Mattson Tomlin and Lee Bermejo; Mosely by Rob Guillory and Sam Lotfi; Harrower by Justin Jordan and Brahm Revel; The Neighbors by Jude Ellison S. Doyle and Letizia Cadonici; The Seasons Have Teeth by Dan Watters and Sebastián Cabrol; Ghostlore by Cullen Bunn and Leomacs; Sirens of the City by Joanne Starer and Khary Randolph; and the upcoming Rare Flavours by Ram V and Filipe Andrade. The imprint also publishes popular licensed properties, including Dune: House Harkonnen from Brian Herbert, Kevin J. Anderson, and Michael Shelfer; Mighty Morphin Power Rangers from Melissa Flores and Simona Di Gianfelice; Magic from Jed McKay, Rich Douek, and Ig Guara; and The Expanse: Dragon Tooth by Andy Diggle and Rubine.