A New Graphic Novel from the Acclaimed Creator of Over the Garden Wall
BOOM! Studios today revealed a first look at BAGS (OR A STORY THEREOF), a new original graphic novel by Patrick McHale, creator of the Emmy Award-winning Cartoon Network series Over The Garden Wall, artist Gavin Fullerton (Disney's Space Chickens in Space), and colorist Whitney Cogar (Steven Universe), available in stores July 2019.
BAGS (OR A STORY THEREOF) is the tale of a man and his dog. John Motts lives his life in his home with his dog, Beth, until one day, she goes missing. John begins a frantic search that leads him to the policeman's home, the advice-giving walrus down the street, and eventually into the dark woods beyond the edge of town where he runs into several mysterious figures in this haunting tale of loss and the unknown.
"Patrick's original short story comes to life with Gavin's stunning art and Whitney's classic colors as we follow a man who is shaken from his normal routine by a surprising and unexpected loss." said Shannon Watters, Editor, BOOM! Studios. "In the wake of the disappearance of his dog, John follows an increasingly erratic train of thought which leads down an unusual and dangerous path until it may be too late to find his way back."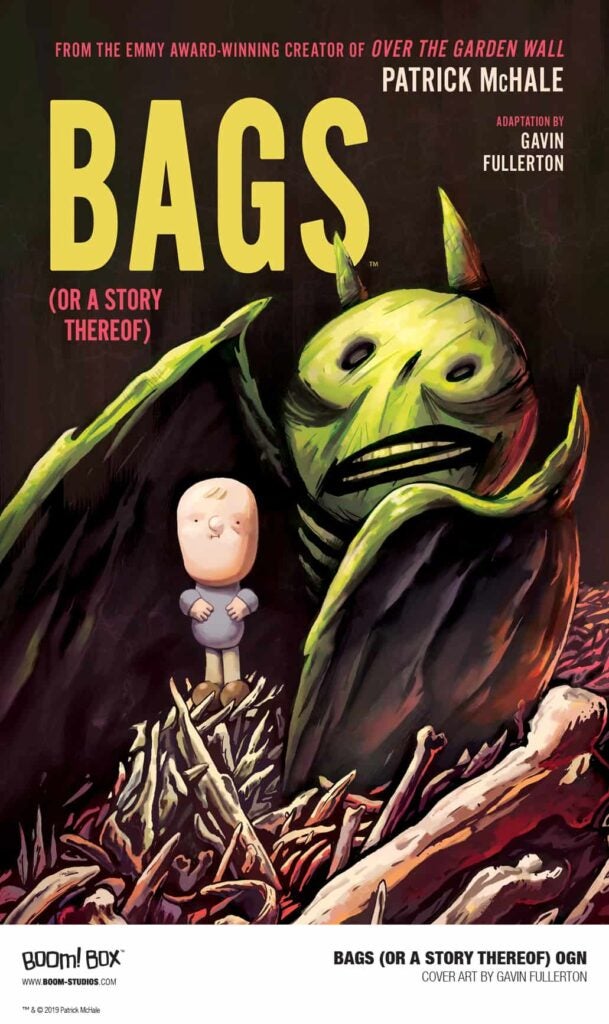 BAGS (OR A STORY THEREOF), featuring a cover by Fullerton, is the latest release from BOOM! Studios' award-winning  KaBOOM! imprint, home to comics for middle grade and younger readers including licensed series such as Adventure Time™, Steven Universe™, Rugrats, and Over The Garden Wall™, along with original series like Pandora's Legacy by Kara Leopard, Kelly & Nichole Matthews,Bodie Troll by Jay Fosgitt, Ruinworld by Derek Laufman, and Just Beyond by R.L. Stine, Kelly & Nichole Matthews.
Print copies of BAGS (OR A STORY THEREOF) will be available for sale July 17, 2019 at local comic book shops (use comicshoplocator.com to find the nearest one) and the BOOM! Studios webstore, and July 23, 2019 at bookstores everywhere. Digital copies can be purchased from content providers, including comiXology, iBooks, Google Play, and the BOOM! Studios app.
For continuing news on BAGS (OR A STORY THEREOF) and more from BOOM! Studios, stay tuned to www.boom-studios.com and follow @boomstudios on Twitter.