Discover a Brand New Original Series About Finding Your Inner Strength and Truth in November 2019
BOOM! Studios is proud to announce b.b. free, an all-new original series in which acclaimed author Gabby Rivera (Juliet Takes a Breath) and debut artist Royal Dunlap (Buffy The Vampire Slayer) present an adventure about finding your family when the whole world is against you, available in November 2019.
Years after the Plague That Ate Greed wiped out the ultra rich, b.b. free and her dad live in a small, close-knit community in the Florida Islands, where everything is shared and everyone's got each other's backs. b.b. is getting to be a teenager, though, and she's starting to get more and more interested in the world beyond her swamp. For now, her only tie to the outside world is her radio show. But when she discovers a secret so large it could tear her family and entire community apart, b.b. realizes that there's a lot her father's not telling her… and she might just have to head out into the world on her own to find the truth.
Gabby Rivera is a Bronx-born, queer Puerto Rican author on a mission to create the wildest, most fun stories ever. She's the first Latina to write for Marvel Comics, penning the solo series America about America Chavez, a portal-punching queer Latina powerhouse. In 2017, Gabby was named one of the top comics creators by the SyFy network, and one of NBC's #Pride30 Innovators. Her debut novel, Juliet Takes a Breath, is being re-published in September 2019 by Dial Books for Young Readers, an imprint of Penguin Random House. Gabby now makes magic on both coasts, currently residing in California. She writes for all the sweet baby queers, and her mom.
"b.b. free is the trippy wild adventure road trip I always wanted to go on as a kid, with a post-climate-change-America twist. Chubby, nerdy, teen me daydreamed about heading out into the world with a super cool best friend and doing whatever we wanted. Usually on motorcycles, with magical powers, and no parents to mess with our fun. With b.b. free, I get to do all that and more, with one of the best artists on the planet, Royal Dunlap." said writer Gabby Rivera. "b.b. free is a bouncy love letter to queer kids everywhere, especially the chubby Puerto Rican ones."
Royal A. Dunlap (also known by their pen name RAD) is a Midwest-based illustrator and comic artist, who enjoys exploring and implementing various cultures throughout their work. In addition to self-publishing their own zines and comics, Royal has also contributed work to various clients, fanzines, and comic anthologies, including Buffy the Vampire Slayer for BOOM! Studios.
"When I first read through the story outline for b.b. free, I was immediately sold by the eco-dystopian setting. A setting partnered by themes of coming-of-age, fractured family and found family, all layered with an eerie mist of wonder and magic enveloping it all." said Royal Dunlap. "What I'm most excited about is introducing to readers the rag-tag group known as the Swamp Nerds, a.k.a the "inadvertedly-trying-to-save-the-world" young protagonists of this adventurous story."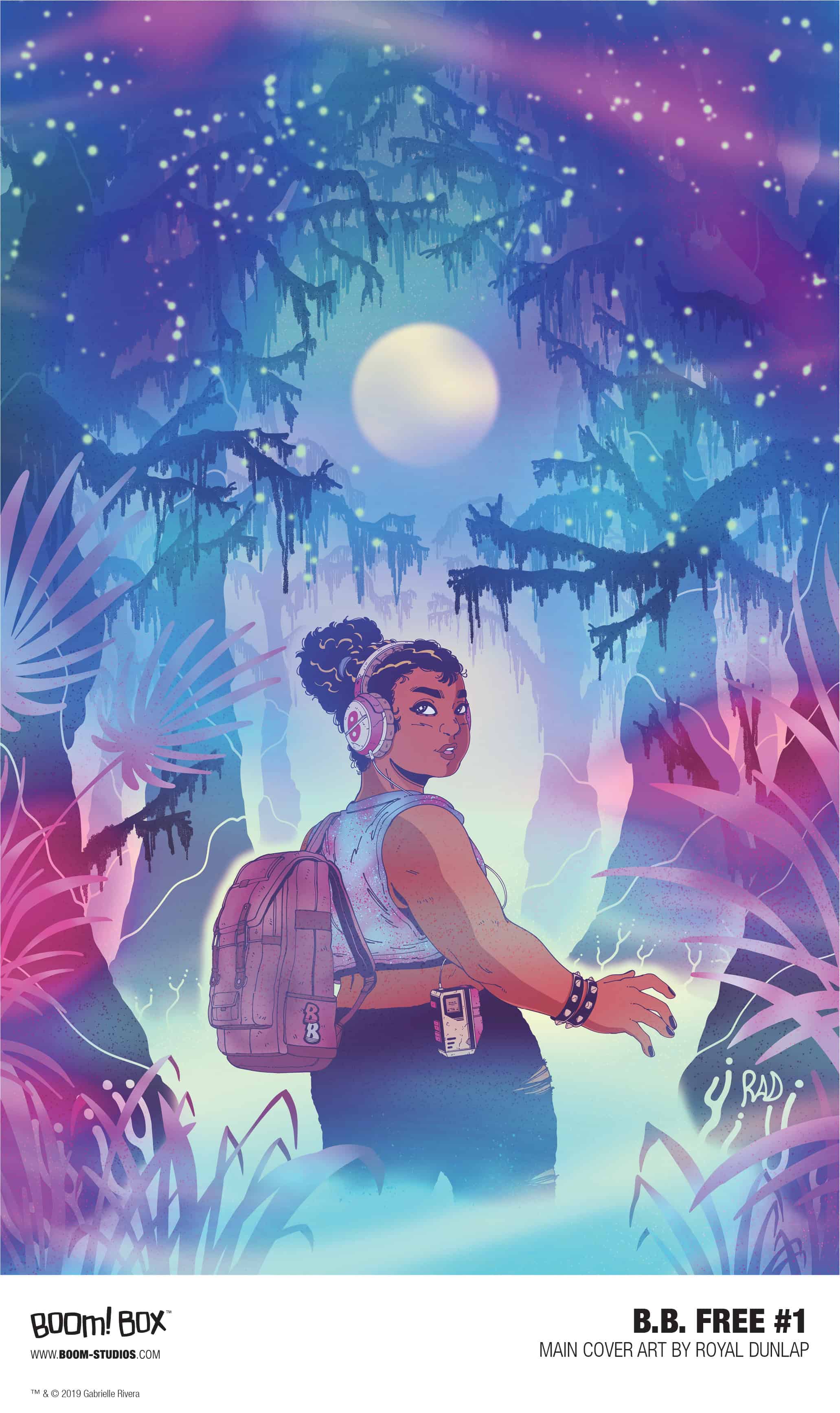 b.b. free is the latest release from BOOM! Studios' critically acclaimed BOOM! Box imprint, home to popular original series such as Lumberjanes by Shannon Watters, Grace Ellis, Brooklyn A. Allen, and Noelle Stevenson; Giant Days by John Allison, Lissa Treiman, and Max Sarin; The Backstagers by James Tynion IV and Rian Sygh; Heavy Vinyl by Carly Usdin and Nina Vakueva; Fence by C.S. Pacat and Johanna The Mad; and Goldie Vance by Hope Larson and Brittney Williams.
"In a world plagued by a disease that literally eats the rich and natural disasters that have wreaked havoc on technology everywhere, b.b. free is the kickass rebel hero we need, because the kids are growing up and they're sick and tired of waiting for the world to save itself." said Shannon Watters, Editor, BOOM! Studios. "Which means you can expect plenty of hijinx and heroics as Gabby and Royal send b.b. out into the world to travel wide and far, meet new people, encounter new adventures, and discover who she really is when it comes down to it all."
Print copies of b.b. free #1 will be available for sale November 6, 2019 exclusively at local comic book shops (use comicshoplocator.com to find the nearest one) or at the BOOM! Studios webstore. Digital copies can be purchased from content providers, including comiXology, iBooks, Google Play, and the BOOM! Studios app.