"5/5… If you're not reading Bone Parish, [issue #2] is a sign that you should absolutely change that" – ComicBook.com
"…a tantalizing start to the series" – Black Nerd Problems
BOOM! Studios unveiled today a first look at BONE PARISH #4, concluding the first story arc of the critically acclaimed twelve-issue necromantic horror series from superstar writer Cullen Bunn (Harrow County, The Unsound) and artist Jonas Scharf (Mighty Morphin Power Rangers) that follows the proliferation of a new drug sweeping through the streets of New Orleans—one made from the ashes of the dead.
Following a devastating loss at the hands of the cartel, the Winters family is in turmoil. To defeat their foes, they might have to break the cardinal rule of dealing: never get high on your own supply. But will any of them survive to learn the consequences of their choices?
"The first arc of BONE PARISH sets the stage for the rest of this twelve-issue epic with an unforgettable final sequence from Cullen, Jonas, Alex, and Ed," said Eric Harburn, Senior Editor, BOOM! Studios. "The past, present, and future of the Winters family tree collides in ways no one could ever expect – and with fallout none of them ever anticipated."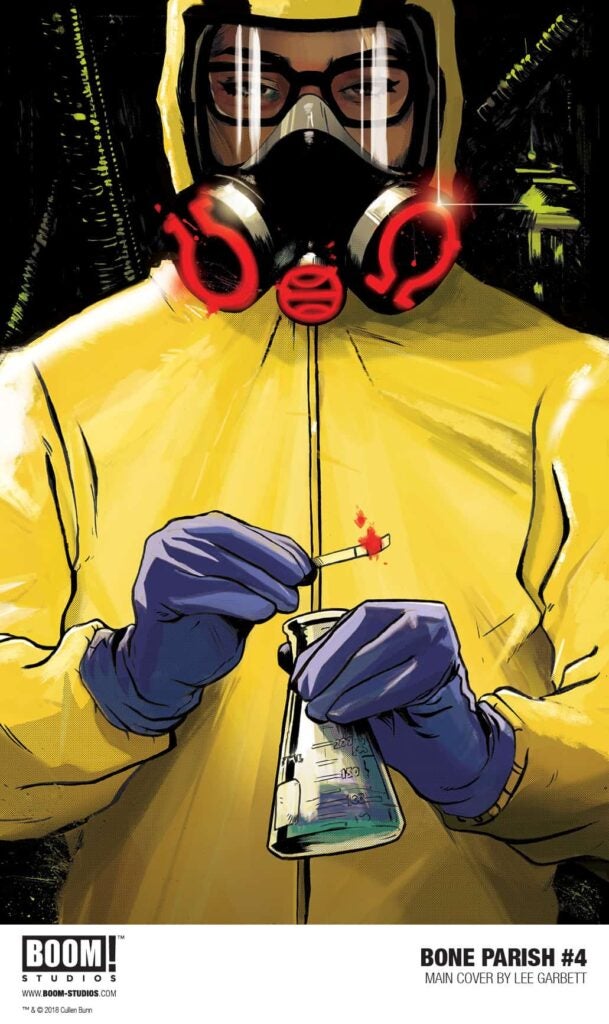 BONE PARISH is the latest release from BOOM! Studios' eponymous imprint, home to the critically-acclaimed licensed comic book series and ambitious original series, including Joss Whedon's Firefly, Mighty Morphin Power Rangers, Abbott, Coda, Mech Cadet Yu, WWE and Klaus.
Print copies of BONE PARISH #4 featuring a main cover by Lee Garbett (Firefly) and variant cover by Tyler Crook (Harrow County), will be available for sale on October 31st, exclusively at local comic book shops (use comicshoplocator.com to find the nearest one). Digital copies can be purchased from content providers, including comiXology, iBooks, Google Play, and the BOOM! Studios app.