BOOM! Studios unveiled today a first look at BONE PARISH #5, on-sale in comic shops on December 26th. The critically acclaimed twelve-issue necromantic horror series from superstar writer Cullen Bunn (Harrow County, The Unsound) and artist Jonas Scharf (Mighty Morphin Power Rangers) follows the proliferation of a new drug sweeping through the streets of New Orleans—one made from the ashes of the dead.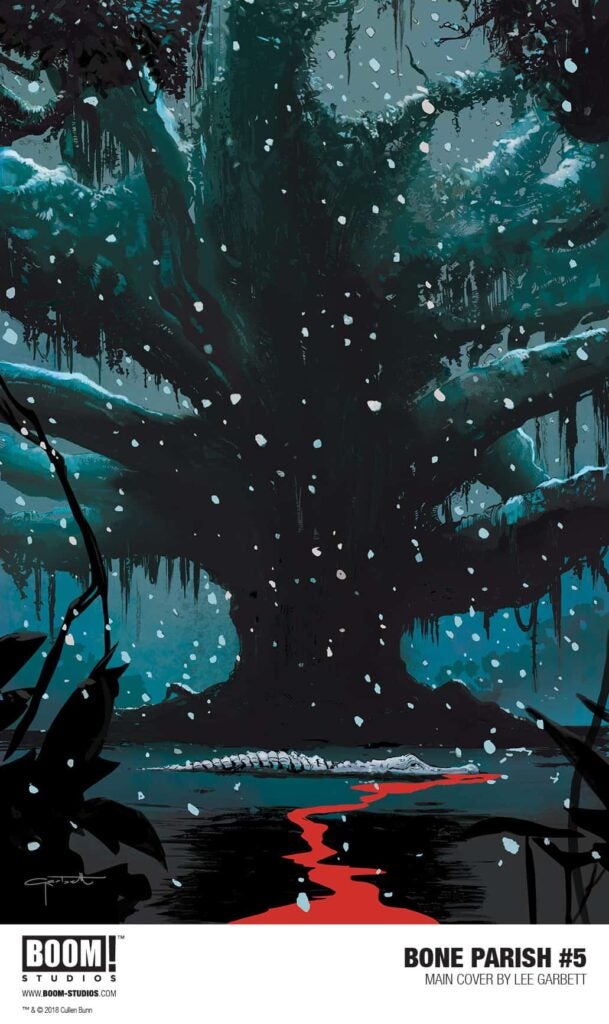 Getting high off of the ashes of the dead is a complicated affair, and so is selling the drugs that get you there. Grace Winters, matriarch and criminal mastermind, is running her enterprise with the help of her children and the ghost of her dead husband, Andre, through the use of the ash. But the machinations of rival gangs and the unexpected side effects of the drug begin to result in deadly and complicated consequences, including the death of one of their own. As the Winters family mourns, they must also wrestle with the horrific question —are the dead truly ever gone if their ashes can still reveal secrets and hidden truths long after their passing?
"With a death in the family and war on the horizon, the Winters will find themselves crossing lines that were unthinkable and committing crimes even more horrific than robbing graveyards and making drugs from the bones of the dead," said Eric Harburn, Senior Editor, BOOM! Studios. "Cullen, Jonas, Alex, and Ed have been lighting the fuse for the coming war with the Winters family, and this issue is set to explode"
Arriving in stores the same day as the only new releases from BOOM! Studios, BONE PARISH VOL. 1 DISCOVER NOW EDITION collects previously released BONE PARISH #1-4 for the first time under one cover in a new Discover Now limited edition with a cover by Lee Garbett, available only at local comic book shops.
BONE PARISH is the latest release from BOOM! Studios' eponymous imprint, home to the critically-acclaimed licensed comic book series and ambitious original series, including Joss Whedon's Firefly, Mighty Morphin Power Rangers, Abbott, Coda, Mech Cadet Yu, WWE and Klaus.
Print copies of BONE PARISH #5 featuring a main cover by Lee Garbett (Firefly) and variant cover by Tyler Crook (Harrow County), and BONE PARISH VOL.1 DISCOVER NOW EDITION will be available for sale on December 26, 2018, exclusively at local comic book shops (use comicshoplocator.com to find the nearest one). Digital copies can be purchased from content providers, including comiXology, iBooks, Google Play, and the BOOM! Studios app.