Discover What Everyone's Favorite Sheffielders Are Up to After Graduation in October 2019
BOOM! Studios is proud to continue The Road to San Diego, a ten-day, ten-announcement spotlight on the most exciting comic book and graphic novel news in advance of Comic Con International in San Diego (July 17–21), with the announcement today of GIANT DAYS: AS TIME GOES BY #1. The oversized one-shot comic book issue concludes the Eisner Award-nominated series by creator John Allison (Scary Go Round) and artist Max Sarin, giving fans one final adventure with Esther, Daisy, and Susan after they've graduated from Sheffield University, and will be available in stores October 2019.
Where are they now? Well, fourteen months after graduation, Esther, Susan, and Daisy have moved onto different careers, friends, and lives, and it's safe to say that things aren't quite the same. Their reunion in Sheffield is their chance to reconnect and rebuild the close-knit best friendships they all had while at university, but Esther's a publishing muckety muck in London now and not sure she can make time for her old friends.
Will she be able to escape the time-sucking vortex of her vampiric co-workers, the Cressidas, and their awful influence long enough to make the reunion? Will Susan and Daisy ever forgive Esther if she doesn't show up? Is this the absolute end for our favorite Sheffielders? And what's McGraw doing all day at the local key shop? So many questions, so little time AS TIME GOES BY in this double-sized special finale issue.
Based in Letchworth Garden City, UK, John Allison is the creator of the comic series Giant Days, By Night, and Steeple, and of the ongoing all-ages book series Bad Machinery. In addition, he created the webcomics Bobbins and Scary Go Round, with his work appearing online since 1998. He was one of the first comic artists to build a daily following exclusively on the internet.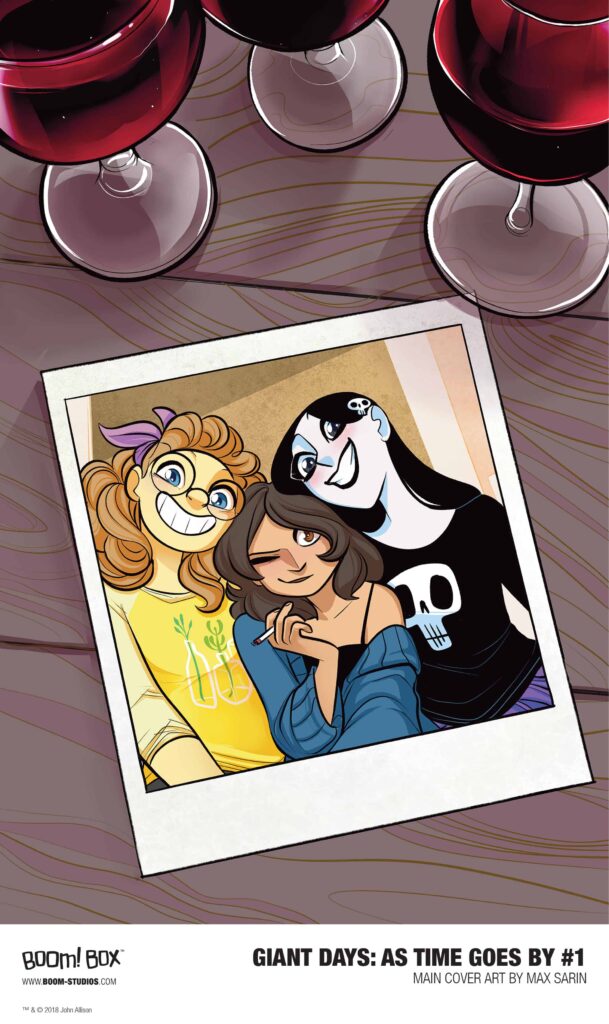 John's various comics have been nominated for Eisner Awards every year from 2016-2019, and in 2018 he won the Best Long-Form Online Comic award from the US National Cartoonists' Society. Giant Days has sold almost half a million copies worldwide and is currently being published in seven foreign language editions.
"This comic has always been about small moments and big catastrophes, so going out with a double-sized special gives me a chance to do plenty of both. It's impossible to please everybody when you're saying goodbye, but heaven knows, the GIANT DAYS team are going to try." said creator, John Allison.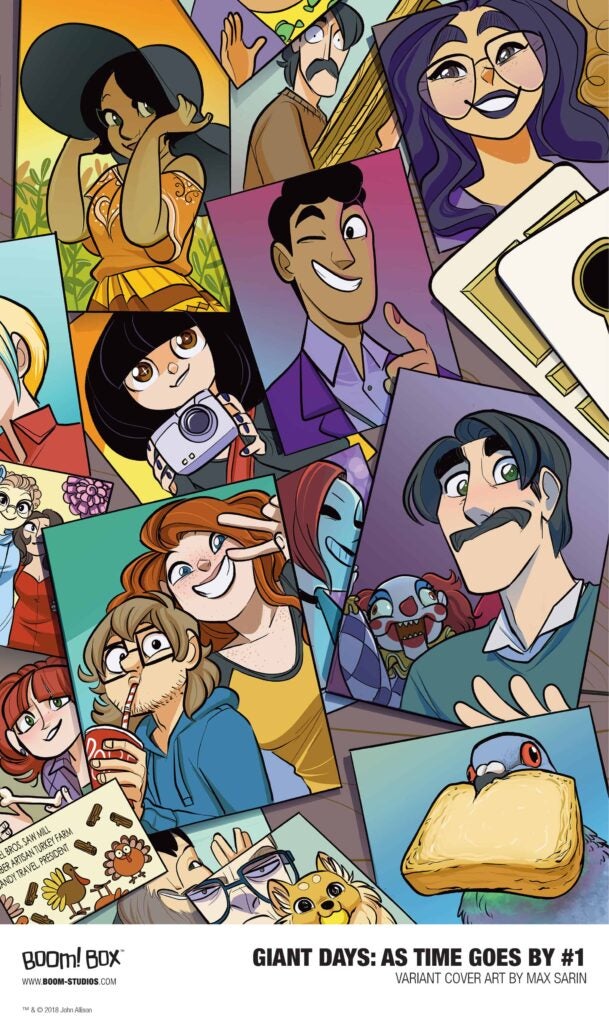 Max Sarin is the National Cartoonist Award-winning comic book artist and illustrator from Finland who is known for their work on the Eisner-nominated series Giant Days with creator John Allison.
"GIANT DAYS is about the best of days with friends: joy and laughter, panic and excitement—all the great stuff that life is made of." said artist, Max Sarin. "It's been amazing working on this series that so many people have embraced and enjoyed throughout the years."
GIANT DAYS: AS TIME GOES BY #1 features a main cover and variant cover by artist Max Sarin.
"AS TIME GOES BY, friendships and relationships can change but that doesn't mean they have to disappear completely, and looking at everything Esther, Susan, and Daisy have been through, it's impossible to think their friendship won't last forever." said Shannon Watters, Senior Editor, BOOM! Studios. "John Allison and Max Sarin have created a beautiful tribute to the three university students who not only found best friends in each other but also found an everlasting community in all of us who reveled in their escapades and various misadventures throughout the years."
GIANT DAYS: AS TIME GOES BY #1 is the latest release from BOOM! Studios' award-winning BOOM! Box imprint, home to the acclaimed Giant Days series by creator John Allison, available now in bookstores everywhere with Giant Days Volumes 1-10 from John Allison, Lissa Treiman, and Max Sarin, special hardcover editions Giant Days: Not on the Test Volumes 1-3, Giant Days: Early Registration collecting creator John Allison's original self-published Giant Days stories, and Giant Days: Extra Credit, a collection of shorts and bonus material from the Eisner Award-nominated series. Fans can also enjoy the Giant Days novel by author Non Pratt, published by Amulet Books, an imprint of ABRAMS.
Print copies of GIANT DAYS: AS TIME GOES BY #1 will be available October 30, 2019 at local comic book shops (use comicshoplocator.com to find the nearest one) or at the BOOM! Studios webstore. Digital copies can be purchased from content providers, including comiXology, iBooks, Google Play, and the BOOM! Studios app.