Discover the Explosive Events Leading Up to the Netflix Series In September 2019
BOOM! Studios announced today JIM HENSON'S THE DARK CRYSTAL: AGE OF RESISTANCE, a new twelve-issue comic book series based on a story from Netflix series The Dark Crystal: Age of Resistance writers Jeffrey Addis and Will Matthews, introducing the untold histories of key characters from the show, and featuring explosive events tying into the highly anticipated Netflix series from The Jim Henson Company, The Dark Crystal: Age of Resistance, in stores September 25, 2019.
Enter a world of wonder, danger, and excitement with writer Nicole Andelfinger (Adventure Time) and artist Matias Basla (Sparrowhawk) as they uncover an epic story from the world of Thra in the time before Age of Resistance. War and chaos reign over the once peaceful land and Gelflings everywhere must fight for the survival of their clans against menacing forces. When a Gelfling soldier sets off on a quest to retrieve the one item that could save their people, he changes the destinies of the inhabitants of Thra forever.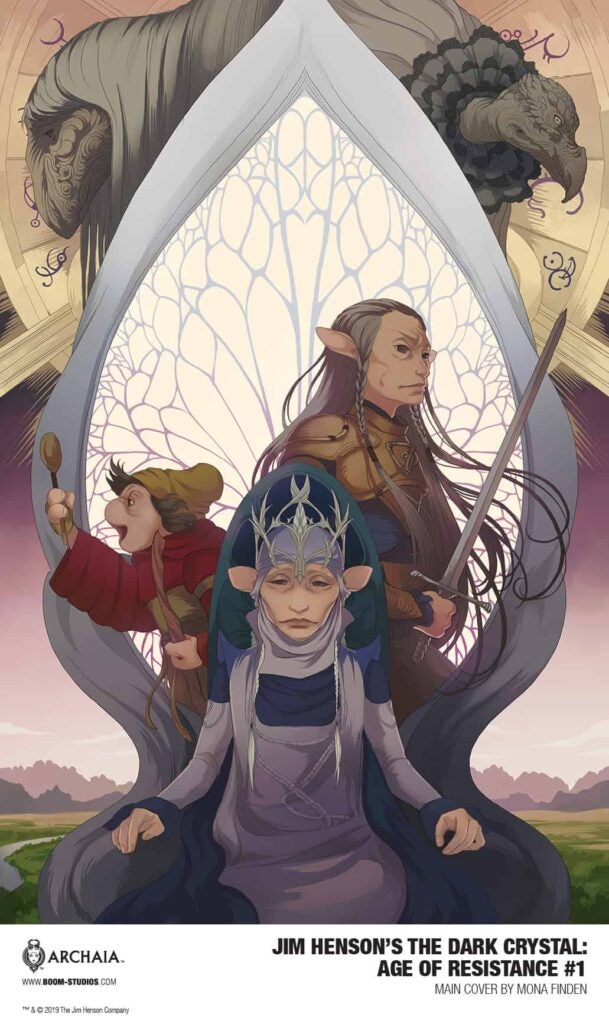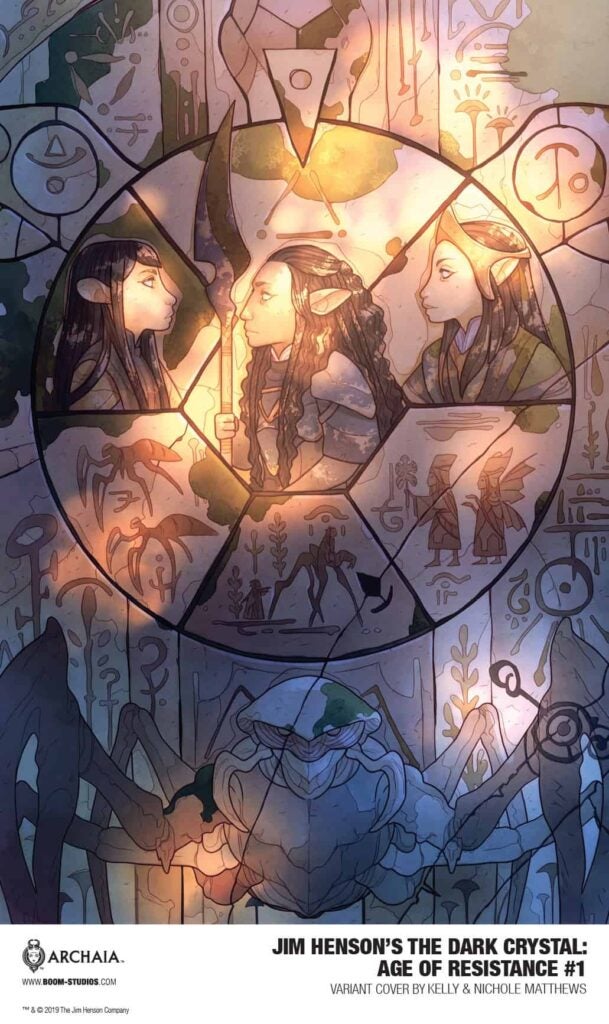 The Dark Crystal is the groundbreaking 1982 film directed by Jim Henson and Frank Oz, featuring never-before-seen puppetry in a fantasy adventure about a young Gelfling who embarks on a quest to save his world from the vicious Skeksis by restoring the lost shard of the broken dark crystal. A prequel television series, The Dark Crystal: Age of Resistance, will premiere on Netflix on August 30, 2019.
Nicole Andelfinger is a comic book writer who has written for series such as Adventure Time, Regular Show, Rugrats, and Steven Universe from BOOM! Studios, as well as the Munchkin series for Simon & Schuster, based on the popular card game from Steve Jackson Games.
"There's something extraordinarily universal about the theme of good vs. evil that seems to speak to so many people from so many walks of life. It's why I think The Dark Crystal has such a strong legacy, even to this day!" said writer, Nicole Andelfinger. "When I was offered the chance to play in that sandbox, exploring the facets of that conflict through some pivotal AGE OF RESISTANCE characters, well, I couldn't say no! With Matias Basla's beautiful art, I'm sure you'll come to love and adore these new additions to the world just as we have."
Matias Basla is an artist, designer, and illustrator originally from Santa Fe, Argentina. Basla has worked as a conceptual artist and character designer for different animation and video game studios, mixing this work with numerous comics projects. Most recently, he was the artist for the comic book series, Sparrowhawk, written by Delilah S. Dawson and published by BOOM! Studios.
"The Dark Crystal universe is something that has always fascinated me, from its unique artistic design to its history. Having the opportunity to work on AGE OF RESISTANCE with such awesome characters and such a unique world is a joy as an artist." said artist, Matias Basla. "This is the kind of project that one faces with much love and respect, and I'm very happy to be the artist for this amazing series."
JIM HENSON'S THE DARK CRYSTAL: AGE OF RESISTANCE #1 (OF 12) features a main cover by illustrator Mona Finden and a variant connecting cover by artists Kelly and Nichole Matthews (R.L. Stine's Just Beyond).
"AGE OF RESISTANCE will go deeper into the history of Thra and its inhabitants than ever before, making it an essential read for any fan of Jim Henson's beloved film, but also illuminating the Netflix series in ways you won't want to miss!" said Matthew Levine, Editor, BOOM! Studios.
JIM HENSON'S THE DARK CRYSTAL: AGE OF RESISTANCE is the latest release from BOOM! Studios' ambitious Archaia imprint, home to the official Jim Henson's The Dark Crystal comic book series, graphic novels, adult coloring books, and Discovery Adventure books, including titles such as Jim Henson's The Dark Crystal: Creation Myths from the original concept artist Brian Froud, writers Brian Holguin, Joshua Dysart and Matthew Dow Smith and artist Lizzy John; Jim Henson's The Dark Crystal: Power of the Dark Crystal from Simon Spurrier, Kelly & Nichole Matthews, and Philip Kennedy Johnson; Jim Henson's The Dark Crystal: Beneath the Dark Crystal from Adam Smith and Alexandria Huntington; Jim Henson's The Dark Crystal Tales from Cory Godbey; Jim Henson's The Dark Crystal Artist Tribute with art from acclaimed artists such as David Petersen, Mark Buckingham, Cory Godbey, Jeff Stokely, Benjamin Dewey, and Brian Froud; Jim Henson's The Dark Crystal Adult Coloring Book with illustrations from Dylan Burnett, Jorge Corona, Brandon Dayton, and Jae Lee; Jim Henson's The Dark Crystal : A Discovery Adventure, as well as Jim Henson's The Dark Crystal novelization from writer A.C.H. Smith with illustrations from Brian Froud and including additional material from the Jim Henson Archives.
Print copies of JIM HENSON'S THE DARK CRYSTAL: AGE OF RESISTANCE #1 (OF 12) will be available for sale on September 25, 2019 at local comic book shops (use comicshoplocator.com to find the nearest one) or at the BOOM! Studios webstore. Digital copies can be purchased from content providers, including comiXology, iBooks, Google Play, and the BOOM! Studios app.