Hit BOOM! Studios Series BRIAR and DAMN THEM ALL Return as Ongoing Series This Fall
Two of BOOM! Studios' biggest hits of 2022 are getting second arcs this Fall. The news comes out of ComicsPRO 2023 during BOOM! Studios' presentation on what's to come for this landmark year.
BRIAR by Eisner Award-nominated writer, producer, and director Christopher Cantwell (Regarding the Matter of Oswald's Body, Iron Man, Halt and Catch Fire), and rising star artist German Garcia (Ka-Zar: Lord of the Savage Land), will return for a new arc following the initial four-issue limited series. The new arc will continue the savage reimagining of the iconic fairy tale story that has captivated fans' imaginations, exploring even more of the brutal fantasy world that time forgot.
DAMN THEM ALL by highly celebrated, Eisner-nominated writer Simon Spurrier (Hellblazer, Coda) and legendary artist Charlie Adlard (The Walking Dead) will return for a new bloody, demon-filled arc. The initial six-issue run established Ellie "Bloody El" Hawthorne as an instant icon of the horror genre, and the new story arc will continue her journey to track down the 72 exiled devils of the Ars Goetia.
These fan-favorite ongoing series now join other proven franchises like James Tynion IV and Werther Dell'Erdera's Something Is Killing The Children, and Stephanie Phillips and Flaviano's Grim, adding to a growing roster of unique, dark, female lead titles at BOOM! Studios.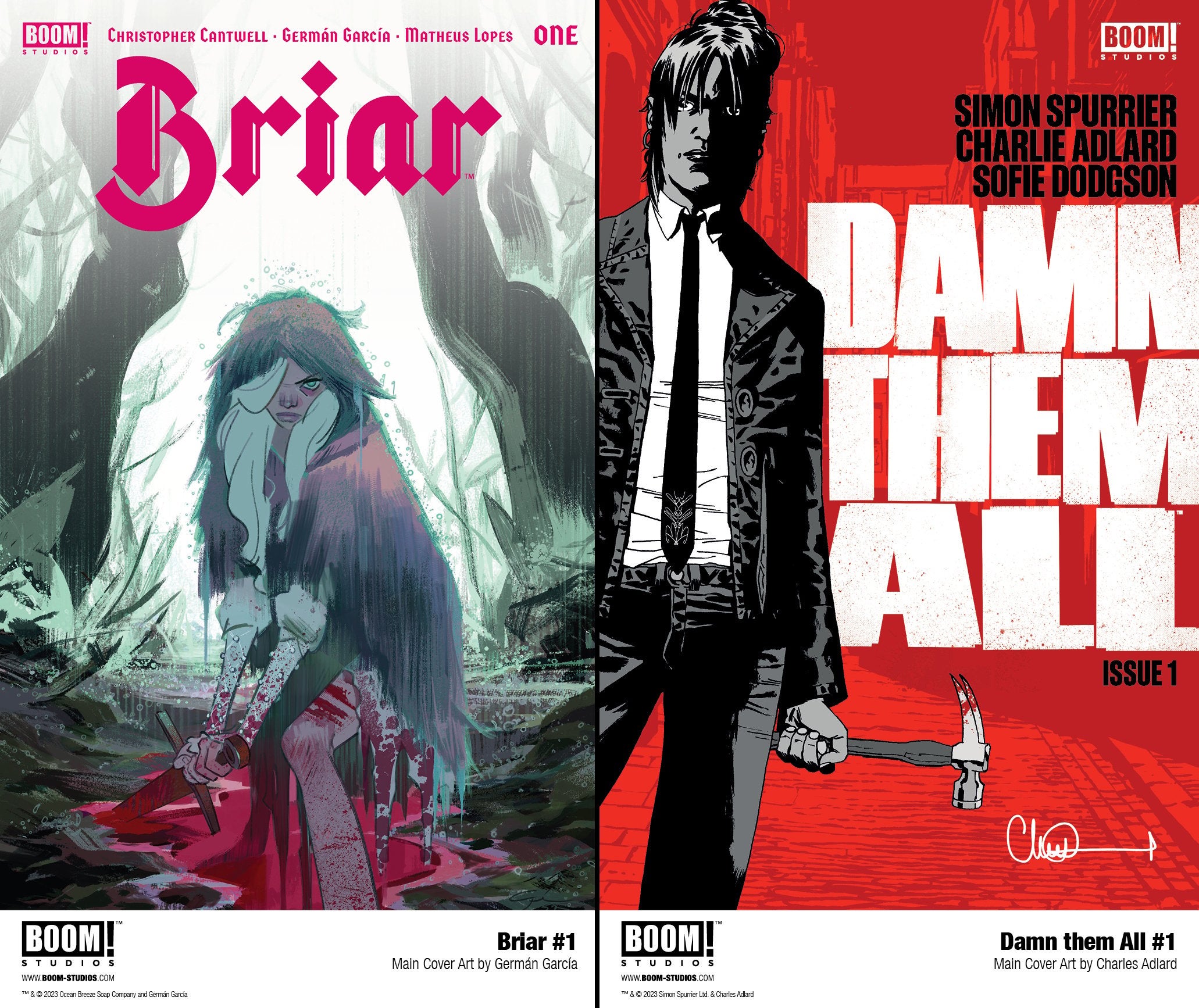 Praise for BRIAR:
"My favorite new series of 2022." —AIPT
"Anyone who likes gritty, dark fantasy will get a kick out of this series." —Major Spoilers
"A brilliant blend of fantasy genres." —Monkeys Fighting Robots
"A fascinating origin sets itself apart from many other dark takes on famous fairy tales." —Multiversity Comics
Praise for DAMN THEM ALL:
"A strong contender for one of the best books of the year." —Comic Watch
"I freaking loved the first issue of Damn Them All and I can't wait for the next one… Extreme recommendation for John Constantine fans." —Sequential Planet
"A deep and ambitious mythology." —Horror DNA
"Adlard masterfully captures the gloomy British climate. His style is the perfect foil for the noir ambiance that lets the suspense simmer in the shadows." —CBR
BRIAR and DAMN THEM ALL are releases from BOOM! Studios' eponymous imprint, home to critically acclaimed original series, including BRZRKR by Keanu Reeves, Matt Kindt, and Ron Garney; Something is Killing the Children by James Tynion IV and Werther Dell'Edera; The Many Deaths of Laila Starr by Ram V and Filipe Andrade; Basilisk by Cullen Bunn and Jonas Scharf; Grim by Stephanie Phillips and Flaviano; and Stuff of Nightmares by R.L. Stine and A,L. Kaplan. The imprint also publishes popular licensed properties, including Dune: House Atreides from Brian Herbert, Kevin J. Anderson, and Dev Pramanik; Mighty Morphin and Power Rangers from Ryan Parrott, Mat Groom, Moises Hidalgo, and Marco Renna; and Magic from Jed McKay and Ig Guara.