Another Look into the Bloody World of BRZRKR from BOOM! Studios
Keanu Reeves. Mattson Tomlin. Rebekah Isaacs. BRZRKR. Fall 2023.
Created by the iconic Keanu Reeves, BRZRKR and The Batman Part II screenwriter and Eisner-nominated writer Mattson Tomlin (A Vicious Circle) is joined by hit artist Rebekah Isaacs (Money Shot) and colorist Jordie Bellaire (Batman) to bring to light a new chapter in the BRZRKR mythos with BRZRKR: FALLEN EMPIRE.
The lone survivor of Olos, a long-dead–once thriving–empire, tells a tale of B.'s distant past and the death and cataclysm he brought forth.
But what did B. find that could have driven him to such violent ends? The desires of the heart are as much a weapon as any in B.'s arsenal…
BRZRKR: FALLEN EMPIRE #1 features a main cover by Rebekah Isaacs with colors by Jordie Bellaire, with variants by Joëlle Jones (Lady Killer), Jenny Frison (Alice Never After), and Yanick Paquette (The Dreaming).
"Given that I've been adapting the feature film version of BRZRKR, it's a surreal honor to have been invited to pen a small chapter in B.'s 80,000 year history and add to his story in comics. Rebekah Isaacs is a rockstar and her wonderful artwork in FALLEN EMPIRE's sweeping, violent romance is going to make your heart skip a beat more than once. What a delight to play in the world Keanu, Matt, Ron, Bill, Clem and BOOM! have created!" said Tomlin.
"Working in an epic timeline like BRZRKR's that spans all of human civilization, it's a special treat to be able to slow down and watch B. and what makes him tick through more of a micro lens. Mattson is brilliant at fleshing out the subtleties of complex characters – I was sucked in immediately and can't wait for BRZRKR fans to get this glimpse into this gripping & heartbreaking moment in B.'s history," said Isaacs.
"These BRZRKR one-shots are all about inviting the industry's best storytellers to play in B.'s sandbox, and we continue to be blown away by the creative pedigree of everyone involved," said Executive Editor Eric Harburn. "Mattson, Rebekah, and Jordie are a collective force to be reckoned with, and in Fallen Empire have constructed a tale that's equal parts grandiose romantic fantasy and the violently visceral BRZRKR you know and love."
BRZRKR: FALLEN EMPIRE #1 will be available in comic shops November 29, 2023. It is available for pre-order at your local comic shop. Digital copies can be purchased from content providers, including comiXology, iBooks, Google Play, and Kindle.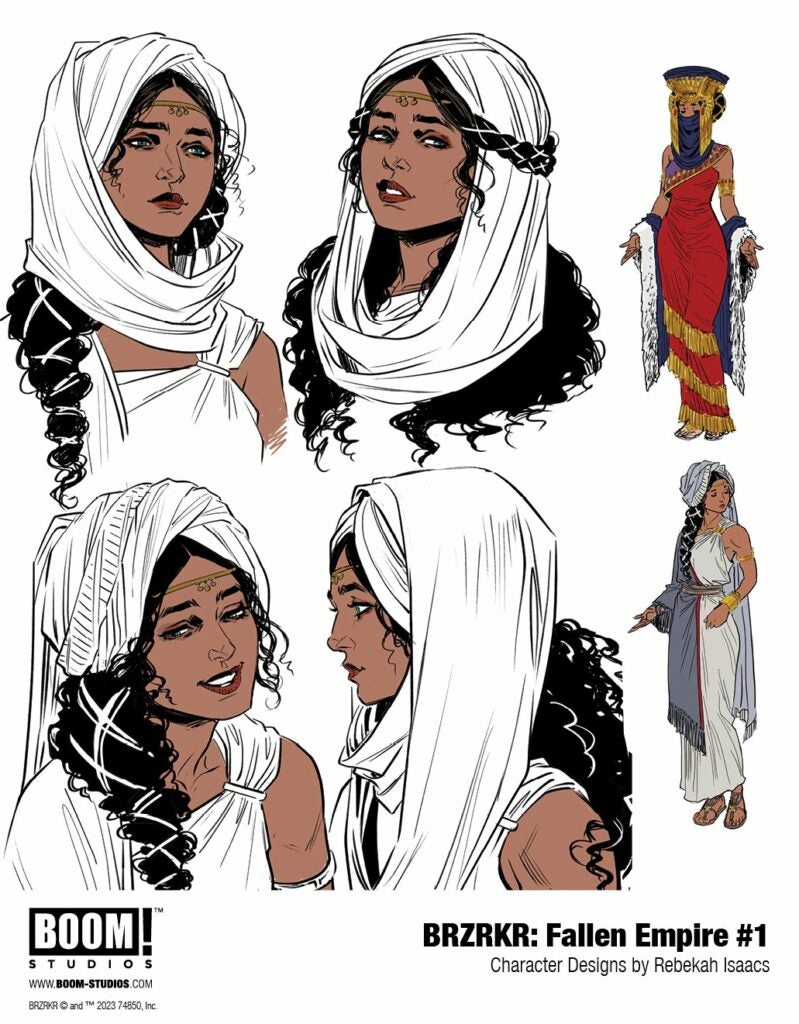 About Mattson Tomlin:
Mattson Tomlin is a writer whose film credits include Project Power and Little Fish. He made his directing debut in 2021 with Mother/Android, starring Chloë Grace Moretz. He's currently showrunning an anime series based on The Terminator, adapting the BOOM! comic BRZRKR into a feature film, and co-writing The Batman Part II with director Matt Reeves. In comics, he wrote BATMAN: THE IMPOSTER at DC and A VICIOUS CIRCLE for BOOM! He's psyched to be here.
About Rebekah Isaacs:
Rebekah Isaacs is a comics illustrator based in Queens, NY. She's drawn interiors and covers for nearly every American comics publisher, most notably Buffy the Vampire Slayer and Angel & Faith for Dark Horse, Reaver for Skybound, Money Shot at Vault, and DV8: Gods & Monsters for DC/WildStorm. When she's at a restaurant she has to drink ALL of the free water before leaving.
BRZRKR: FALLEN EMPIRE #1 is the newest release from BOOM! Studios' eponymous imprint, home to critically acclaimed original series, including BRZRKR by Keanu Reeves, Matt Kindt, and Ron Garney; Something is Killing the Children by James Tynion IV and Werther Dell'Edera; Once & Future by Kieron Gillen and Dan Mora; Wynd by James Tynion IV and Michael Dialynas; Grim by Stephanie Phillips and Flaviano; Briar by Christopher Cantwell and Germán García; Stuff of Nightmares by R.L. Stine and A.L. Kaplan; The Approach by Jeremy Haun, Jason A. Hurley, and Jesus Hervas; Damn Them All by Simon Spurrier and Charlie Adlard; Behold, Behemoth by Tate Brombal and Nick Robles; Once Upon a Time at the End of the World by Jason Aaron, Alexandre Tefenkgi, Leila del Duca, and Nick Dragotta; Know Your Station by Sarah Gailey and Liana Kangas; A Vicious Circle by Mattson Tomlin and Lee Bermejo; Mosely by Rob Guillory and Sam Lotfi; Harrower by Justin Jordan and Brahm Revel; The Neighbors by Jude Ellison S. Doyle and Letizia Cadonici; The Seasons Have Teeth by Dan Watters and Sebastián Cabrol; Ghostlore by Cullen Bunn and Leomacs; and Sirens of the City by Joanne Starer and Khary Randolph. The imprint also publishes popular licensed properties, including Dune: House Harkonnen from Brian Herbert, Kevin J. Anderson, and Michael Shelfer; Mighty Morphin Power Rangers from Melissa Flores and Simona Di Gianfelice; Magic from Jed McKay, Rich Douek, and Ig Guara; and The Expanse: Dragon Tooth by Andy Diggle and Rubine.