"High school can be hell and no one knows that better than Buffy the Vampire Slayer, who returns to her teenage roots in a new comic book series from BOOM! Studios"—The New York Times
"Whether you're a new fan or old, reading through this debut feels like the first exciting step on a new adventure. Welcome back to the Hellmouth, Buffy. We've missed you."—CBR
"Slayers, vamps, witches, Watchers and innocent bystanders everywhere will want to follow this new era from day one."—Paste Magazine
"There's no doubt that Buffy and friends have found a great new home."—IGN
BOOM! Studios today unveiled a first look at BUFFY THE VAMPIRE SLAYER #5, the start of a new story arc dealing with the consequences of the shocking events of the previous issue, in partnership with 20th Century Fox Consumer Products, available in stores June 2019.
Acclaimed artist David López (Captain Marvel) joins Eisner Award-nominated writer Jordie Bellaire (Redlands), along with series creator and story consultant Joss Whedon (the visionary writer/director behind Firefly, Marvel's The Avengers, and more), to reimagine the pop culture phenomenon in BUFFY THE VAMPIRE SLAYER #5.
The reimagining of Joss Whedon's groundbreaking hit series kicks off a brand new story arc as Team Slayer deals with the devastating consequences of Xander becoming a vampire. Buffy and the Scooby Gang have lost one of their own to Team Vamp…but what if there's a way to get their friend back? The Slayer will walk the line between responsibility and rampage as she searches for anything that'll bring back her friend, balancing her quest with her duties as the Slayer while trying not to lose anyone else in the process. What do you do when your entire purpose is killing vampires and your friend just turned into one?
BUFFY THE VAMPIRE SLAYER #5 features cover art by Mondo illustrator Marc Aspinall, as well as acclaimed artists Kevin Wada (She-Hulk), Morgan Beem (The Family Trade), Becca Carey, and Yasmine Putri (Nightwing).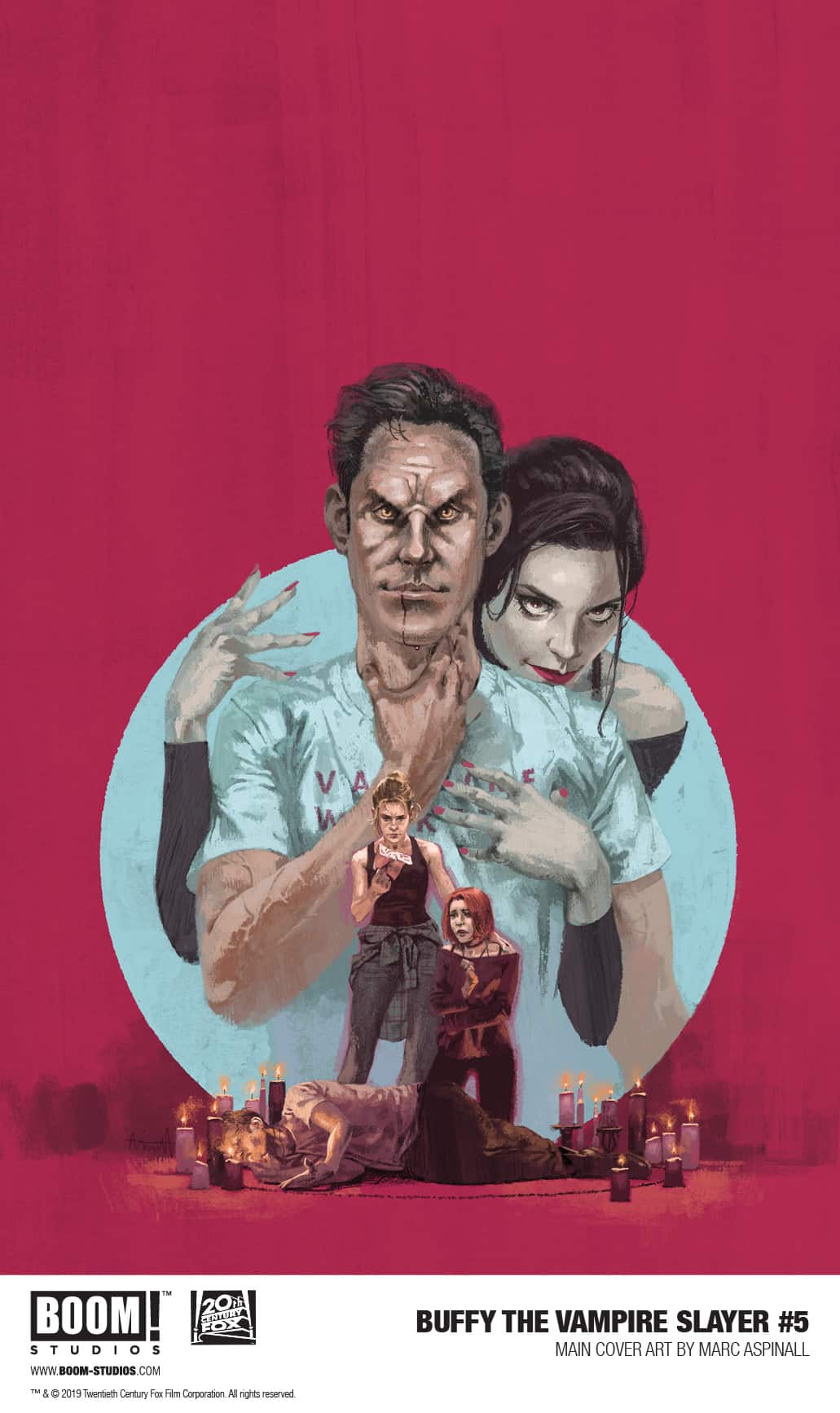 Buffy The Vampire Slayer premiered on the WB Network on March 10th, 1997. The Emmy and Golden Globe-nominated series, which ran for seven seasons from 1997-2003, starred Sarah Michelle Gellar as "Buffy Summers." Chosen to battle vampires, demons and other forces of darkness, Buffy was aided by her Watcher, Rupert Giles, and a circle of friends known as the "Scooby Gang."
BUFFY THE VAMPIRE SLAYER is the newest release from BOOM! Studios' eponymous imprint, home to critically acclaimed original series, including Once & Future by Kieron Gillen and Dan Mora; Faithless by Brian Azzarello and Maria Llovet; Abbott from Saladin Ahmed and Sami Kivelä; Bury The Lede from Gaby Dunn and Claire Roe; Grass Kings from Matt Kindt and Tyler Jenkins; and Klaus from Grant Morrison and Dan Mora. The imprint also publishes popular licensed properties including Joss Whedon's Angel from Bryan Edward Hill and Gleb Melnikov, Firefly from Greg Pak and Dan McDaid, Buffy The Vampire Slayer from Jordie Bellaire and David López, and Mighty Morphin Power Rangers from Ryan Parrott and Danielle Di Nicuolo.
Print copies of BUFFY THE VAMPIRE SLAYER #5 will be available for sale on June 5, 2019 exclusively at local comic book shops (use comicshoplocator.com to find the nearest one) or at the BOOM! Studios webstore. Digital copies can be purchased from content providers, including comiXology, iBooks, Google Play, and the BOOM! Studios app.