An Exclusive Look at the Hotly Anticipated Pop Culture ReVAMP in 2019
BOOM! Studios today unveiled a first look at BUFFY THE VAMPIRE SLAYER #1, the highly anticipated start of the all newBUFFY THE VAMPIRE SLAYER monthly comic book series that will debut on January 23rd, 2019, in partnership with 20th Century Fox Consumer Products.
Eisner Award-nominated writer Jordie Bellaire (Redlands) and Russ Manning Award-winning artist Dan Mora (Klaus, Saban's Go Go Power Rangers), along with series creator and story consultant Joss Whedon (the visionary writer/director behind Firefly, Marvel'sThe Avengers, and more), reimagine the groundbreaking pop culture phenomenon from the very beginning in BUFFY THE VAMPIRE SLAYER #1.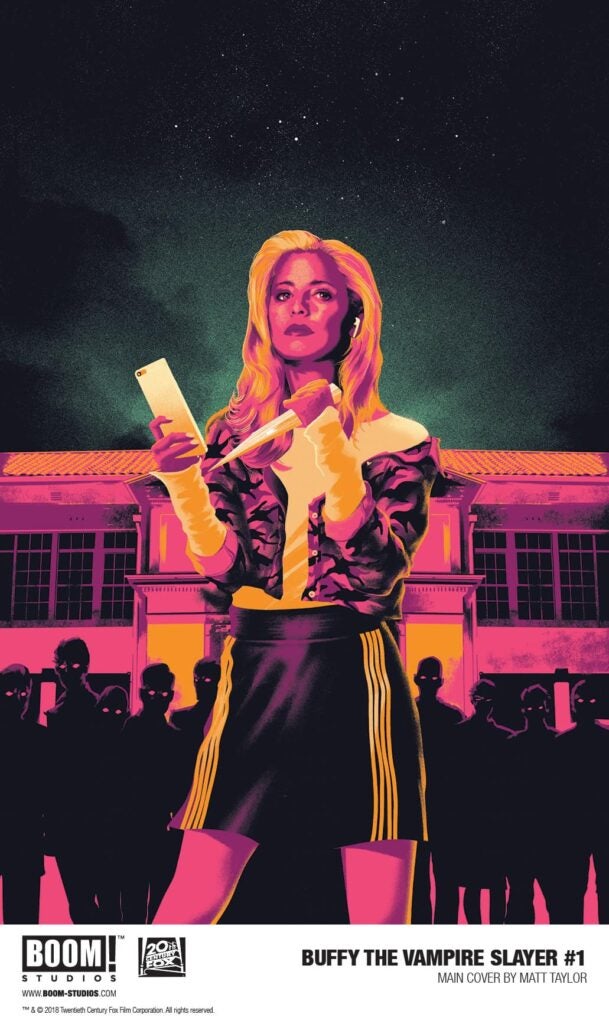 This is the Buffy Summers you know, who wants what every average teenager wants: friends at her new school, decent grades, and to escape her imposed destiny as the next in a long line of vampire slayers tasked with defeating the forces of evil. But the Slayer's world looks a lot more like the one outside your window, as this new series brings her into a new era with new challenges, new friends…and a few enemies you might already recognize. The more things change, the more they stay the same, as the Gang – Giles, Willow, Xander, Cordelia and more – faces brand new Big Bads, and a threat lurking beneath the perfectly manicured exterior of Sunnydale High, confirming what every teenager has always known: high school truly is hell.
WELCOME BACK TO THE HELLMOUTH, FOR THE FIRST TIME!
BUFFY THE VAMPIRE SLAYER #1 features a main cover by acclaimed Mondo illustrator Matthew Taylor, along with variant covers by superstar Kevin Wada (She-Hulk), Royal Dunlap (Spitball), Becca Carey, and Jen Bartel (Blackbird).
Fans can join the fight between Good and Evil by choosing between two special interactive variant covers from acclaimed artist Miguel Mercado (Mighty Morphin Power Rangers). Hold each one up to your face to reveal your inner Slayer or inner Demon! Will you stand with the Chosen One (#TeamSlayer) or will you side with the Vampires (#TeamVamp)?
You can also track down two rare variant covers from artist Kaiti Infante that depict fan favorite Willow Rosenberg on both sides of the battle, one as Buffy's best friend and the other…as Vampire Willow?!
Buffy The Vampire Slayer premiered on the WB Network on March 10th, 1997. The Emmy and Golden Globe-nominated series, which ran for seven seasons from 1997-2003, starred Sarah Michelle Gellar as "Buffy Summers." Chosen to battle vampires, demons and other forces of darkness, Buffy was aided by her Watcher, Rupert Giles, and a circle of friends known as the "Scooby Gang."
BUFFY THE VAMPIRE SLAYER is the latest release from BOOM! Studios' eponymous imprint, home to a world-class group of licensed comic book series and ambitious original series, including Joss Whedon's Firefly, Lev Grossman's The Magicians, Mighty Morphin Power Rangers, Planet of the Apes, Abbott, Mech Cadet Yu, Grass Kings, and Klaus.
Print copies of BUFFY THE VAMPIRE SLAYER #1 will be available for sale on January 23rd, 2019 exclusively at local comic book shops (use comicshoplocator.com to find the nearest one) or at the BOOM! Studios webstore. Digital copies can be purchased from content providers, including comiXology, iBooks, Google Play, and the BOOM! Studios app.