"High school can be hell and no one knows that better than Buffy the Vampire Slayer, who returns to her teenage roots in a new comic book series from Boom! Studios"—The New York Times
"Whether you're a new fan or old, reading through this debut feels like the first exciting step on a new adventure. Welcome back to the Hellmouth, Buffy. We've missed you."—CBR
"Slayers, vamps, witches, Watchers and innocent bystanders everywhere will want to follow this new era from day one."—Paste Magazine
"There's no doubt that Buffy and friends have found a great new home."—IGN
BOOM! Studios today unveiled a first look at BUFFY THE VAMPIRE SLAYER #2, the highly anticipated next chapter of the all new BUFFY THE VAMPIRE SLAYER monthly comic book series, in partnership with 20th Century Fox Consumer Products.
Eisner Award-nominated writer Jordie Bellaire (Redlands) and Russ Manning Award-winning artist Dan Mora (Klaus, Saban's Go Go Power Rangers), along with series creator and story consultant Joss Whedon (the visionary writer/director behind Firefly, Marvel's The Avengers, and more), continue to reimagine the groundbreaking pop culture phenomenon in BUFFY THE VAMPIRE SLAYER #2.
The Slayer traditionally walks a lonely road as the Chosen One, forsaking family, friends, and anything remotely resembling a social life in order to fight the forces of evil and keep darkness at bay night after night. But this is Buffy Summers, who wants what every teenager wants: friends at her new school, decent grades, a cute crush, and to escape a destiny she neither chose nor asked for as a lone warrior imbued with supernatural strength and a terrible calling. When her classmates Willow and Xander find out about her secret identity as a vampire-hunting Slayer, they dive right in but there's a reason why the Slayer is usually alone, and Buffy must face her fears about what happens when you let people into your life and put them in harm's way.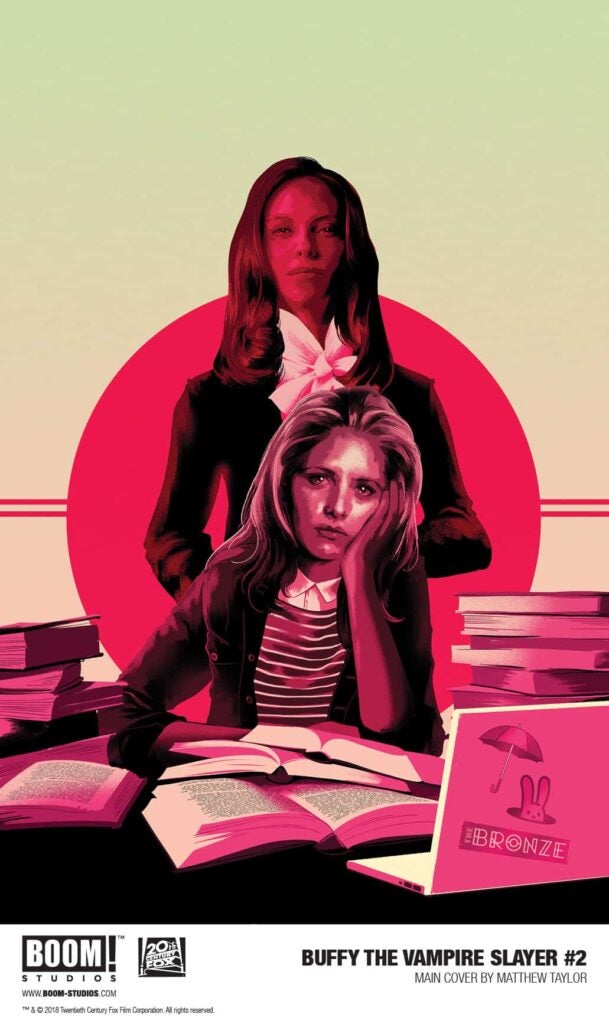 BUFFY THE VAMPIRE SLAYER #2 features a main cover by acclaimed Mondo illustrator Matthew Taylor, along with variant covers by artists Kevin Wada (She-Hulk), Celia Lowenthal (Over The Garden Wall: Hollow Town),  Ryan Inzana (Ichiro), and Audrey Mok (Archie).
Buffy The Vampire Slayer premiered on the WB Network on March 10th, 1997. The Emmy and Golden Globe-nominated series, which ran for seven seasons from 1997-2003, starred Sarah Michelle Gellar as "Buffy Summers." Chosen to battle vampires, demons and other forces of darkness, Buffy was aided by her Watcher, Rupert Giles, and a circle of friends known as the "Scooby Gang."
BUFFY THE VAMPIRE SLAYER #2 is the latest release from BOOM! Studios' eponymous imprint, home to a world-class group of licensed comic book series and ambitious original series, including Joss Whedon's Firefly, Lev Grossman's The Magicians, Mighty Morphin Power Rangers, Planet of the Apes, Abbott, Mech Cadet Yu, Grass Kings, and Klaus. 
Print copies of BUFFY THE VAMPIRE SLAYER #2 will be available for sale on February 27, 2019 exclusively at local comic book shops (use comicshoplocator.com to find the nearest one) or at the BOOM! Studios webstore. Digital copies can be purchased from content providers, including comiXology, iBooks, Google Play, and the BOOM! Studios app.
For continuing news on BUFFY THE VAMPIRE SLAYER comic books, graphic novels and more from BOOM! Studios, stay tuned to www.boom-studios.com and follow @boomstudios on Twitter. And follow Buffy the Vampire Slayer on Facebook, Twitter, and Instagram