Discover The Depths of The Interdimensional Hustle from BOOM! Studios in July 2018
BOOM! Studios is proud to present your first look at BY NIGHT #2, the next chapter in the acclaimed new monthly series from 2018 Eisner Award-nominated writer John Allison (Giant Days) and artist Christine Larsen (Adventure Time) about coming home, discovering identity, and accidentally smashing a hole to another dimension.
After meeting a friendly new face in the alternate dimension they've stumbled upon, Heather (eagerly) and Jane (reluctantly) agree to venture further in. With their trusty camcorder to record what they find and an inhuman new buddy, there's no turning back! Now, if they can just make their documentary while also surviving the monsters and magic in this new world, they'll be super-rich and everything will be great. As far as fool-proof plans go…well, it's a plan.
"This series is a spooky, goofy pleasure, and just keeps getting better!" said Shannon Watters, Senior Editor, BOOM! Studios.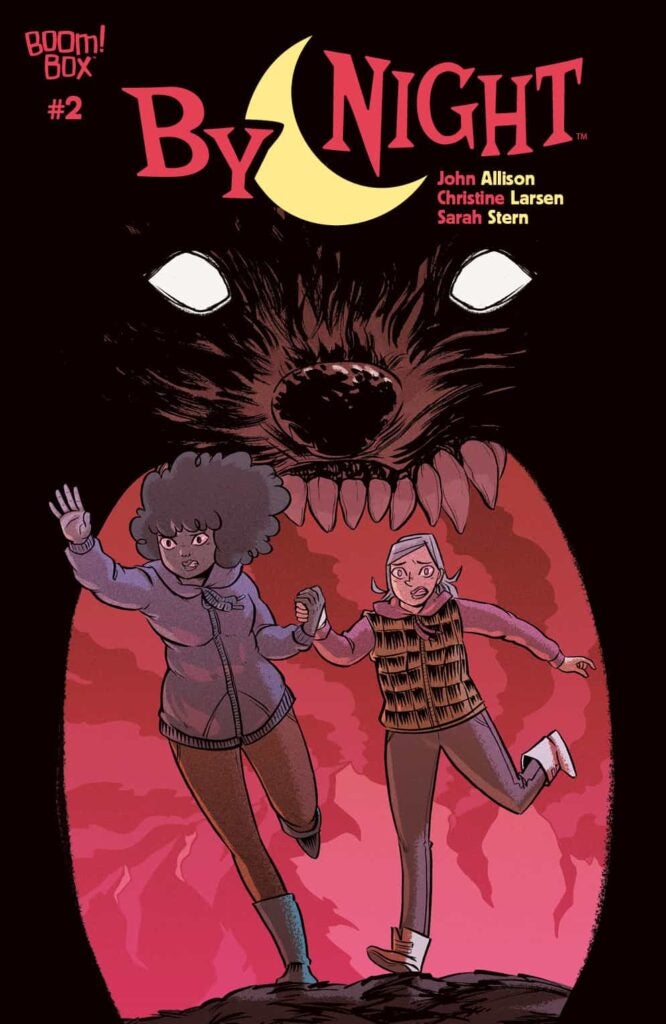 BY NIGHT #2, featuring a main cover by Christine Larsen and a variant cover by John Allison, is the latest release from BOOM! Studios' critically acclaimed BOOM! Box imprint, home to popular original series such as Lumberjanes by Shannon Watters, Grace Ellis, Brooklyn A. Allen, and Noelle Stevenson; Giant Days by John Allison, Lissa Treiman, and Max Sarin; The Backstagers by James Tynion IV and Rian Sygh; SLAM! by Pamela Ribon, Veronica Fish, and Mar Julia; Fence by C.S. Pacat and Johanna The Mad; and Goldie Vance by Hope Larson and Brittney Williams.
Print copies of BY NIGHT #2 will be available for sale at local comic book shops (use comicshoplocator.com to find the nearest one) on July 18. Digital copies of BY NIGHT #2 will be available to purchase on digital book marketplaces, including ComiXology, iBooks, Google Books, and the BOOM! Studios app.