Summer Is Like Totally Forever For Cher, Dionne and Tai in November 2018
BOOM! Studios today unveiled a new look at CLUELESS: ONE LAST SUMMER, the brand new follow up to the 2017 smash hitClueless: Senior Year that arrives in stores November 2018. The writing duo of actress, filmmaker, and author Amber Benson (Buffy the Vampire Slayer, The Witches of Echo Park, Death's Daughter) and author Sarah Kuhn (Heroine Complex, Barbie) reunite with artist Siobhan Keenan (Adventure Time) for another comic book based on Paramount Pictures' hit film.
In CLUELESS: ONE LAST SUMMER, Cher, Dionne, and Tai journey out for their final summer vacation before they head off to college and the world of adulthood.  However when life threatens to topple their elaborate plans for the summer to remember, they'll be challenged to stay true to their best selves amidst the chaos. Luckily they've got each other to lean on, because that's what best friends are for…and because no one stops Cher when she makes up her mind!
"Everyone's busy digging out their winter clothes, but for the girls of Clueless, there's still time for one last summer to remember," says Shannon Watters, Senior Editor, BOOM! Studios. "Amber, Sarah, and Siobhan bring all the charm, warmth, and laughter to this new adventure for Cher, Dionne, and Tai – along with a few new challenges for our favorite trio."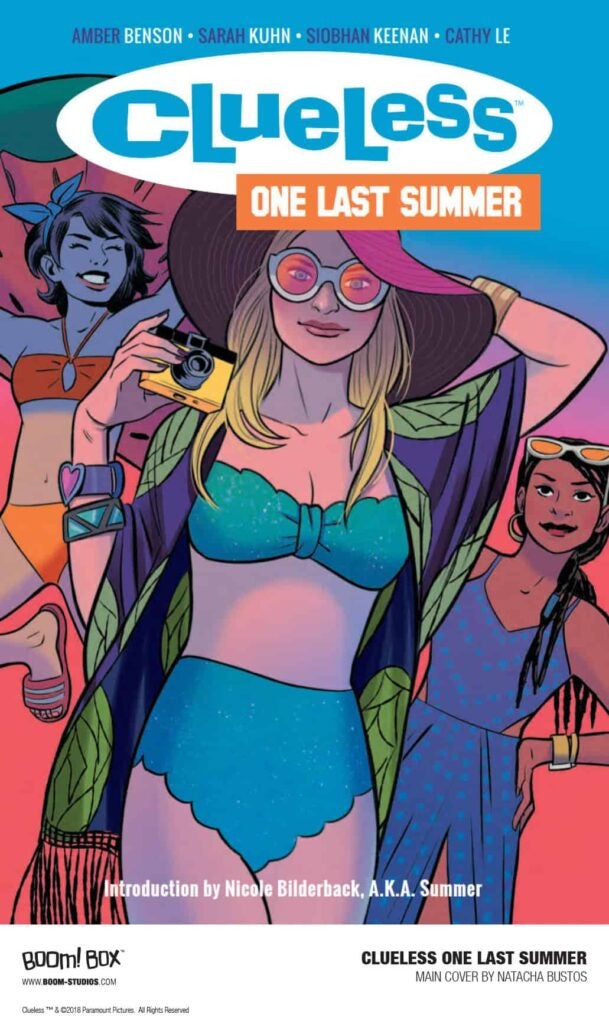 CLUELESS: ONE LAST SUMMER, featuring a cover illustrated by Natacha Bustos (Lumberjanes/Gotham Academy), is the latest release from BOOM! Studios' award-winning BOOM! Box imprint, home to groundbreaking original series such as Lumberjanesby Shannon Watters, Grace Ellis, Brooklyn Allen, and Noelle Stevenson; Giant Days by John Allison, Lissa Treiman, and Max Sarin; Misfit City by Kiwi Smith, Kurt Lustgarten, and Naomi Franquiz; Fence by C.S. Pacat and Johanna The Mad; and Goldie Vance by Hope Larson and Brittney Williams.
Print copies of CLUELESS: ONE LAST SUMMER will be available for sale on November 28th at local comic book shops (use comicshoplocator.com to find the nearest one), on December 4th at bookstores, or at the BOOM! Studios webstore. Digital copies can be purchased from content providers, including comiXology, iBooks, Google Play, and the BOOM! Studios app.
WHERE TO BUY:
Check out a list of dedicated retail partners carrying the BOOM! books you love HERE.
To find these and other comic shops near you, enter your zip code below: