Discover The Terror Once Again in November 2018
BOOM! Studios announced today the return of superstar writer Cullen Bunn (Bone Parish, Harrow County) to one of his most popular creations in THE EMPTY MAN #1 in November 2018. Teaming with artist Jesús Hervás (Lucas Stand, Clive Barker's Hellraiser), this new ongoing comic book series delivers terrifying new horrors, perfect for new readers and longtime fans alike, in the world that captivated fans worldwide and led to a feature film adaptation currently in production at 20th Century Fox.
Debuting in 2014, The Empty Man captivated readers as Bunn and Eisner Award-nominated artist Vanesa R. Del Rey (Redlands) introduced their unflinching look at a dystopic version of the world we know, where a terrifying disease has taken on almost deific connotations. The cause is unknown, and the symptoms include fits of rage, hideous hallucinations, suicidal dementia, followed by death, or a near lifeless, "empty" state of catatonia. As cults rose nationwide, the FBI and CDC entered a joint investigation of the Empty Man, hoping to piece together clues to stop the cults and uncover a cure.
Now, THE EMPTY MAN #1 brings reads back to a nation still in the grips of the terrible Empty Man pandemic. Government quarantines are mandatory, so for Melissa Kerry, one of the afflicted, the next step should be to isolate her—but those who enter the system are never seen again. Melissa's family won't let that happen. All they have to do is care for her, keep her worsening condition a secret—and they'll do anything, trust anyone, to keep her safe.
"Why am I writing this book now? I guess I could say the Empty Man made me do it," said Cullen Bunn. "The original run of The Empty Man came out during a time of great uncertainty and fear in my life. The story, with its air of surreal dread and horror, seemed to mirror a lot of what was going on in my head. It's only fitting, then, that we return to THE EMPTY MAN now, during another strange and uncertain time in my life. Maybe unease and unpredictability and restlessness are part of the sorcery that calls THE EMPTY MAN into existence. I always knew it would come back. The story is so much larger and stranger than the tale that's already been told. If you haven't read the original limited series, don't despair. The new book sets everything up for you. There's a new mystery to be solved and new horrors to be revealed. And, for those of you who have read the original series, there will be plenty of connective tissue to grab onto. The world of THE EMPTY MAN is only getting weirder as the influence of this terrifying unseen force continues to spread."
"The horror genre has always been one of my favorites, first as a reader and spectator and later as an artist, so I'm excited to join THE EMPTY MAN family. Not only is this the kind of story I enjoy personally, but I get the opportunity to work with Cullen Bunn, who's created such a hypnotic and disturbing series." said Jesús Hervás. "Drawing terror is always fun because it has its own codes and allows you to explore very experimental, creative ways. Vanesa really did an amazing job in the first series, so joining the party to continue in her artistic footsteps is an exciting challenge. The look of this book is inspired by a number of diverse sources, from Goya to HR Giger, and I'm excited for fans to check it out!"
THE EMPTY MAN is the latest release from BOOM! Studios' eponymous imprint, home to the critically-acclaimed licensed comic book series and ambitious original series, including Mighty Morphin Power Rangers, Bone Parish, Abbott, Coda, Mech Cadet Yu, WWE and Klaus.
"It's a challenge to think of a voice in comics more synonymous with horror than Cullen Bunn, and THE EMPTY MAN is a perfect example of why," said Eric Harburn, Senior Editor, BOOM! Studios. "This is a smaller, more personal story than the original limited series, and it's all the more haunting for it. Cullen has found new ways to peek inside the darkness of our own selves, and Jesús, Niko, and Ed brilliantly capture the terrors lurking around every corner in a world that seems like it may be teetering on the edge."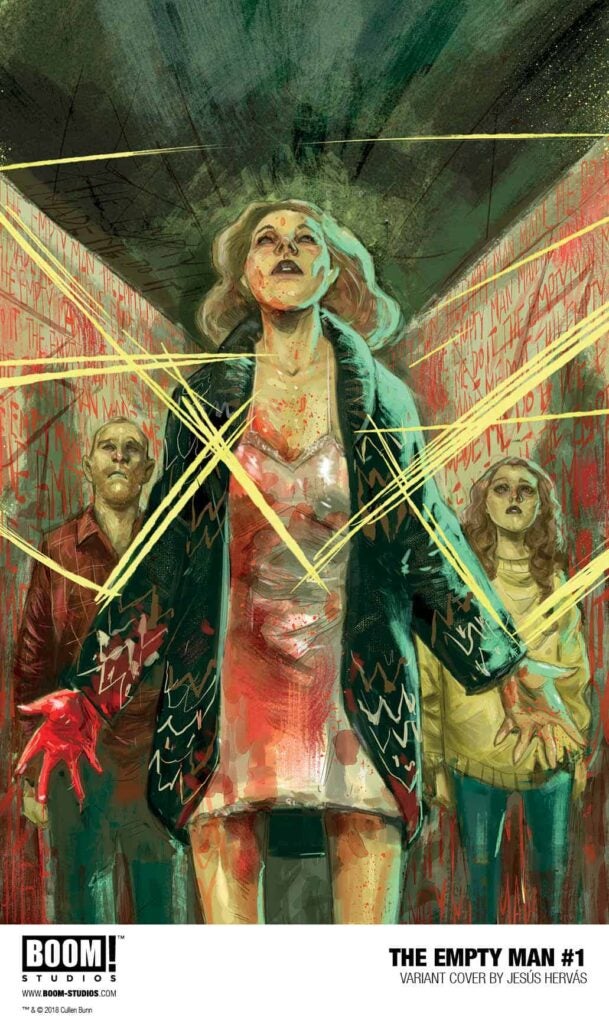 Print copies of THE EMPTY MAN #1 featuring a main cover by Del Rey and a variant by Hervás will be available for sale in November 2018, exclusively at local comic book shops (use comicshoplocator.com to find the nearest one). Digital copies can be purchased from content providers, including comiXology, iBooks, Google Play, and the BOOM! Studios app.