All Star Creative Team Announces New Original Graphic Novel About Life After Humans in October 2020
BOOM! Studios announced today ORIGINS, a brand new original graphic novel by Arash Amel (A Private War), Joseph Oxford (Me + Her), and Lee Toland Krieger (The Age of Adaline), acclaimed writer Clay McLeod Chapman (Absolute Carnage: Separation Anxiety) and illustrator Jakub Rebelka (Judas), that presents a stunning view of a future where humanity's last hope may be the person who created its destruction, available in October 2020.
One thousand years after humans have become extinct and replaced by artificial intelligence, a single man is brought back to life – David Adams, who created the technology that destroyed his people. Even with the help of the same android who revived him, Adams may not be enough to reignite the spark of humanity – and stop the AI overlords who plan to eliminate mankind permanently. Now Adams embarks on the greatest journey of his life, as he seeks to find redemption for his biggest mistake and discover if humanity can – or should – have any kind of future.
"ORIGINS is biopunk science-fiction that explores what happens to our planet in a post-human world, and the impact on Mother Nature of the tech our disappearance will eventually leave behind." said co-creator Arash Amel. "In the spirit of my favorite classics such as Planet of the Apes, it is an exploration of human hubris and folly, and large-scale world building only truly possible in a graphic novel. I'm excited to be working with BOOM! Studios again after our previous collaboration on Butterfly."
Clay McLeod Chapman writes books, children's books, comic books, film and television. His most recent novel is The Remaking from Quirk Books. He is currently writing the ongoing Marvel Comics series Scream: Curse of Carnage.
"After corrupting college with the contagion kegger-epic Lazaretto, it is an absolute honor to return to BOOM! Studios with ORIGINS. The story we have set out to tell, exploring parenthood after the apocalypse and what it means to be human in the absence of humankind, is something I believe readers of sci-fi and beyond will love," said writer Clay Mcleod Chapman. "Being able to collaborate with Jakub Rebelka is a total dream come true and I can't wait for everyone to be introduced to the lush and terrifying world we have created… "
Jakub Rebelka is an illustrator, comics creator, and concept artist from Poland. Rebelka is the author of the comic book series Doktor Bryan and Ester Klemens, as well as art book Element Chaosu. He has published short comics stories in various Polish magazines and worked as an illustrator for CD Projekt RED and Flying Wild Hog on The Witcher 2: Assassin of Kings and Shadow Warrior. Along with Johan Radomski, he released fantasy story "City of Dogs" published in France and Poland. For BOOM!Studios, together with Steve Orlando he created the series "Namesake", and with Jeff Lovenese series "Judas".
"Humans are gone, megafauna have been resurrected, and only robots remember the old days. All that remains of the old world is covered with wild plant life while the towers of Manhattan are the silent witnesses of this new dawn," said artist Jakub Rebelka. "It's everything I always wanted to draw, and I'm very excited to show readers the brave new world of ORIGINS."
"An absolute dream-team has been assembled to bring ORIGINS to life. Staggeringly beautiful and wholly original artwork accompanies an incredible story set in the post-apocalypse like you've never seen it before" said co-creator Joseph Oxford. "I can't gush over Jakub's artwork enough. The stuff he's creating for this book is utterly stunning."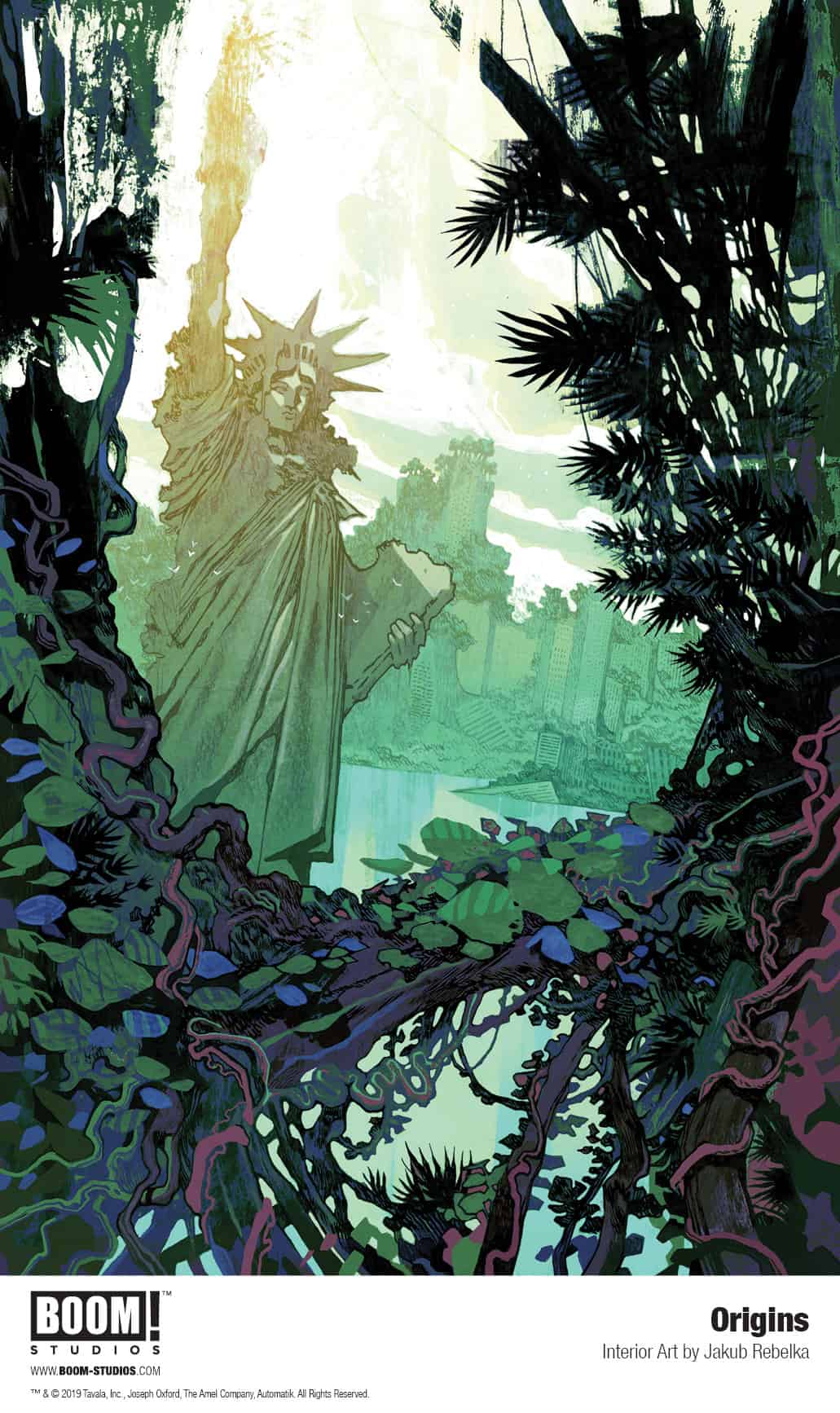 ORIGINS, featuring cover art by Rebelka, is the newest release from BOOM! Studios' eponymous imprint, home to critically acclaimed original series, including Once & Future by Kieron Gillen and Dan Mora; Faithless by Brian Azzarello and Maria Llovet; Abbott by Saladin Ahmed and Sami Kivelä; Bury The Lede by Gaby Dunn and Claire Roe; Klaus by Grant Morrison and Dan Mora; Something is Killing The Children by James Tynion IV and Werther Dell'Edera; Folklords by Matt Kindt and Matt Smith; and The Red Mother by Jeremy Haun and Danny Luckert. The imprint also publishes popular licensed properties including Joss Whedon's Firefly from Greg Pak and Dan McDaid; Buffy The Vampire Slayer from Jordie Bellaire and David Lopez; and Mighty Morphin Power Rangers from Ryan Parrott and Daniele Di Nicuolo.
"This is a thrilling science fiction epic with a huge concept at its core and a keen insight into the type of legacy that we will leave behind after we're long gone—a timely message for the world," said Dafna Pleban, Editor, BOOM! Studios. "Clay and Jakub have done an amazing job of bringing to life Arash, Lee, and Joseph's story about the very best and worst of what humanity has to offer this planet and its other occupants."
Print copies of ORIGINS will be available for sale in October 2020 at local comic book shops (use comicshoplocator.com to find the nearest one), bookstores, or at the BOOM! Studios webstore. Digital copies can be purchased from content providers, including comiXology, iBooks, Google Play, and Madefire.