Discover the True Stories of Marginalized Trailblazers in New Graphic Novel Series SEEN From BOOM! Studios
A Groundbreaking Graphic Novel Series Sheds Light on Pivotal Historical Figures Starting in September 2020
BOOM! Studios today announced SEEN: TRUE STORIES OF MARGINALIZED TRAILBLAZERS, an all-new original graphic novel series debuting in September 2020 from a group of acclaimed comics creators, including Jasmine Walls, Bex Glendining, Birdie Willis, Rii Abrego, Anthony Oliveira, and Killian Ng. This brand new graphic novel series illuminates the triumphs and struggles of important historical figures who aren't found in traditional textbooks, but deserve to be remembered for their contributions to humanity and their inarguable strength and courage in the face of impossible odds.
SEEN: TRUE STORIES OF MARGINALIZED TRAILBLAZERS will be published through the company's award-winning BOOM! Box imprint, with each original graphic novel spotlighting a different trailblazer who changed the course of history. In this new series, you'll find the stories of the real groundbreakers who impacted our world for the better. They're the heroes— the inventors, the artists, the activists, and more—whose stories you won't want to miss.
"Traditionally, the history books do not provide a clear lens to examine the accomplishments, gifts, and world-changing acts of countless unsung figures who fall outside of the typical classroom curricula. We wanted to create beautiful, accessible comic pocketbooks for young adults and teens that tell the stories of those whose impact was as large and meaningful as anyone you may have learned about in school," said Shannon Watters, Senior Editor, BOOM! Studios. "Thanks to Jasmine and Bex, the first spotlight is thrown on the accomplished, innovative sculptor and artist, Edmonia Lewis, who rose to prominence on the strength of her remarkable artistry and skill."
In the first graphic novel of the series, SEEN: EDMONIA LEWIS, writer Jasmine Walls and artist Bex Glendining present the true story of Edmonia Lewis, the woman who changed America during the Civil War by becoming the first sculptor of African-American and Native American heritage to earn international acclaim.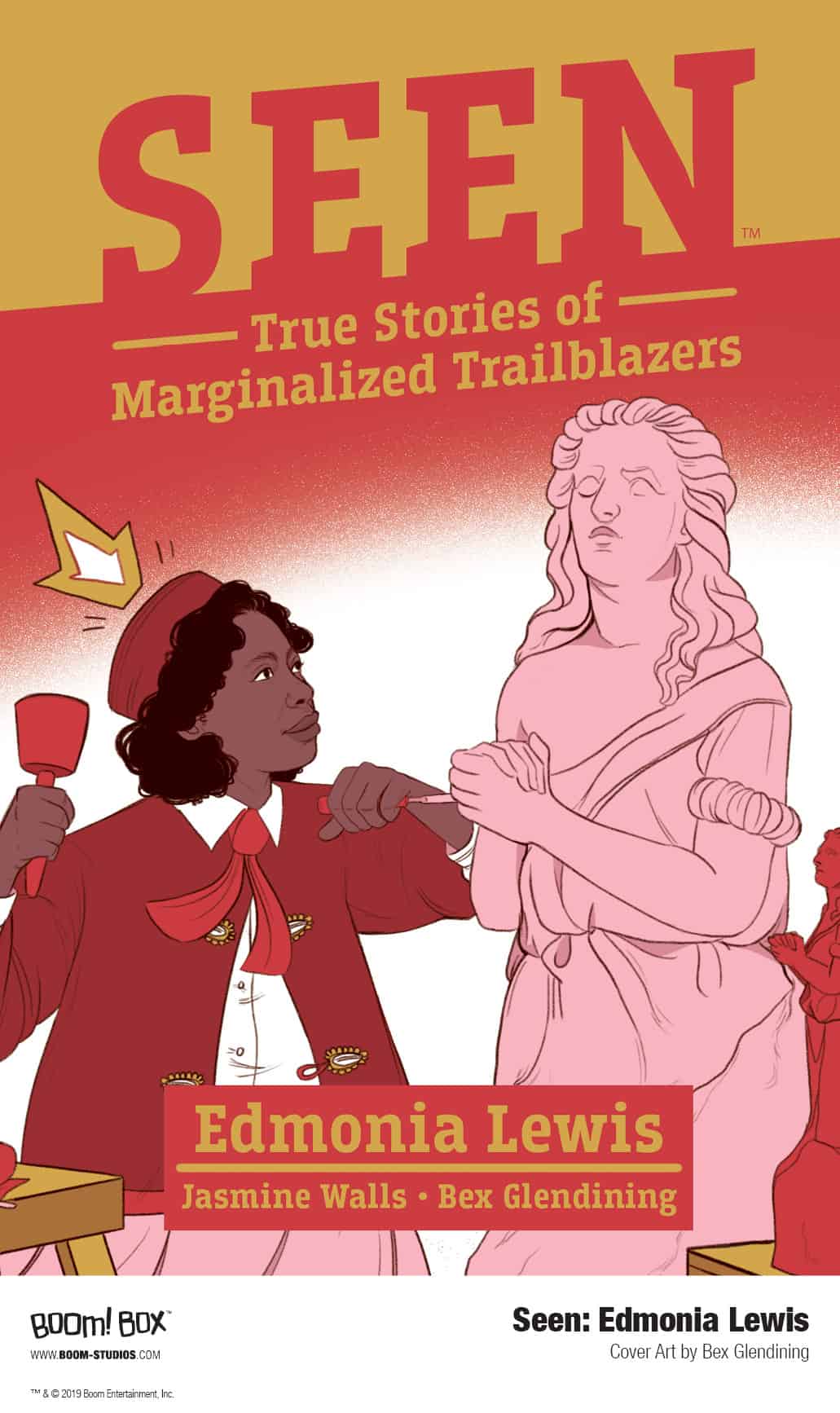 "I'm incredibly excited to share SEEN: EDMONIA LEWIS! This globe-trotting, groundbreaking sculptor defied the roles expected of her, and paved her own path to international acclaim." said Jasmine Walls, a comic writer and artist currently based in Chicago. "She's a role model I wish I'd known about as a young artist, and I hope she inspires a new generation."
"SEEN: EDMONIA LEWIS tells the story of African American and Native American sculptor Edmonia Lewis. Edmonia stood her ground and took the fine art world by storm with her incredible sculptures," said Bex Glendining, UK based illustrator and comic artist/colourist. "I can't wait to help bring this amazing historical figure to life along with writer Jasmine Walls. I hope you'll connect and fall in love with her story too!"
SEEN: EDMONIA LEWIS is the latest release from BOOM! Studios' award-winning BOOM! Box imprint, home to groundbreaking original series such as Lumberjanes by Shannon Watters, Grace Ellis, Brooklyn Allen, and Noelle Stevenson; Giant Days by John Allison, Lissa Treiman, and Max Sarin; The Avant-Guards by Carly Usdin and Noah Hayes; b.b. free by Gabby Rivera and Royal Dunlap; Fence by C.S. Pacat and Johanna the Mad; and Goldie Vance by Hope Larson and Brittney Williams.
Print copies of SEEN: EDMONIA LEWIS will be available for sale in September 2020 at local comic book shops (use comicshoplocator.com to find the nearest one), bookstores or at the BOOM! Studios webstore. Digital copies can be purchased from content providers, including comiXology, iBooks, Google Play, and Madefire. The SEEN series will continue with SEEN: RACHEL CARSON from writer Birdie Willis and artist Rii Abrego, available in December 2020.