A Brand New Look at DREW AND JOT: DUELING DOODLES from BOOM! Studios
Sketches and Superheroes Abound in Award-Winning Cartoonist's New Creation Arriving December 2019
BOOM! Studios today revealed a first look at DREW AND JOT: DUELING DOODLES, the first original graphic novel release in a three volume series by Eisner and Harvey Award-winning cartoonist, Art Baltazar (Tiny Titans), about the thrilling sketchbook adventures of superhero Drew, his trusty sidekick Jot, and their sworn nemesis Doctor Danger, available in stores December 18, 2019.
In DREW AND JOT: DUELING DOODLES, Andrew and Foz become best friends on the first day of fifth grade through their mutual love of drawing fun characters and crazy action. Their sketches practically come to life in their notebooks where they draw the amazing adventures of the flying superhero Drew, his canine sidekick Jot, and the diabolical villain Doctor Danger. It's a world of two best friends using their art to go on fun adventures and save the day – that is, until Andrew's little sister gets her hands on his notebook and scribbles a brand new threat that could ruin everything!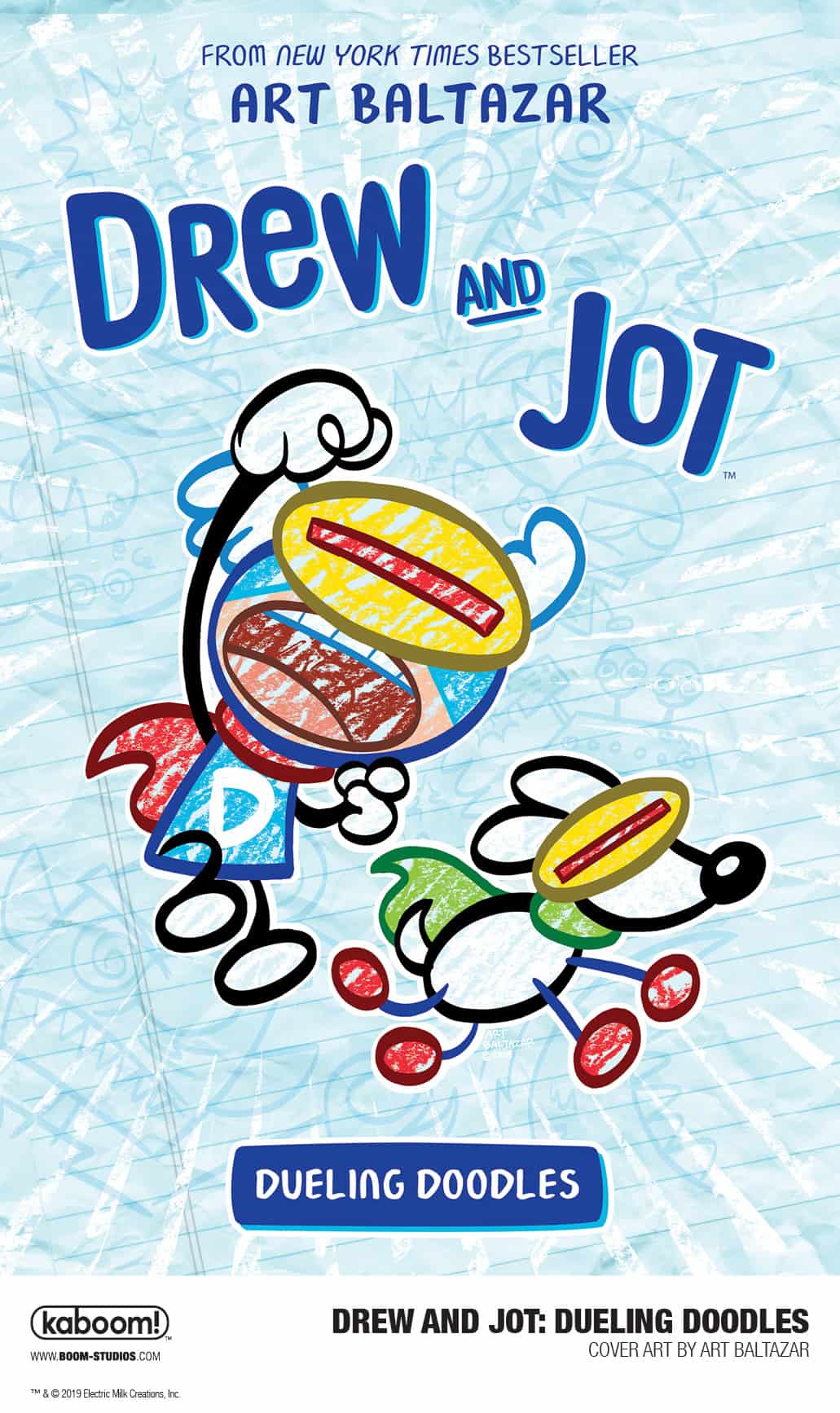 DREW AND JOT: DUELING DOODLES is the latest release from BOOM! Studios' award-winning KaBOOM! imprint, home to comics for middle grade and younger readers including licensed series such as Adventure Time, Steven Universe, Regular Show, Ben 10, and Over The Garden Wall, along with original series like Just Beyond: The Scare School by R.L. Stine and Kelly & Nichole Matthews, Hex Vet by Sam Davies, RuinWorld by Derek Laufman, and Pandora's Legacy by Kara Leopard, Kelly & Nichole Matthews.
Print copies of DREW AND JOT: DUELING DOODLES will be available for sale on December 18, 2019 at local comic book shops (use comicshoplocator.com to find the nearest one), January 7, 2020 at bookstores and the BOOM! Studios webstore. Digital copies can be purchased from content providers, including comiXology, iBooks, Google Play, and Madefire.