DUNE: HOUSE HARKONNEN #1 SELLS OUT & RETURNS WITH SECOND PRINTING
Discover New Comic Book Series From the Authors of Official Prequel to Frank Herbert's 'Dune' in February 2023
BOOM! Studios today proudly announced DUNE: HOUSE HARKONNEN #1, the premiere issue of a brand new twelve-issue comic book series expanding the rich mythology of Frank Herbert's Dune, has sold out at the distributor level! The second official, New York Times Bestselling prequel to Dune is adapted for the first time by award-winning novelists Brian Herbert and Kevin J. Anderson and artist Michael Shelfer (Domino), colorist Patricio Delpeche, and letterer Ed Dukeshire, unveiling a closer look at the rising conflict between beloved characters and bitter villains.
Fans will gain insight into how the early years of iconic figures Gurney Halleck, Lady Jessica, and Liet Kynes had their future shaped by the complex and brutal machinations of House Harkonnen! What difficult choices will tear Leto Atreides apart as Baron Harkonnen plots against not just House Atreides, but the Bene Gesserit and the Emperor himself?
In response to the overwhelming support from retailers and fans, BOOM! Studios has announced DUNE: HOUSE HARKONNEN #1 SECOND PRINTING, featuring brand new cover art by series artist Shelfer with Dan Jackson, available in stores February 15, 2023.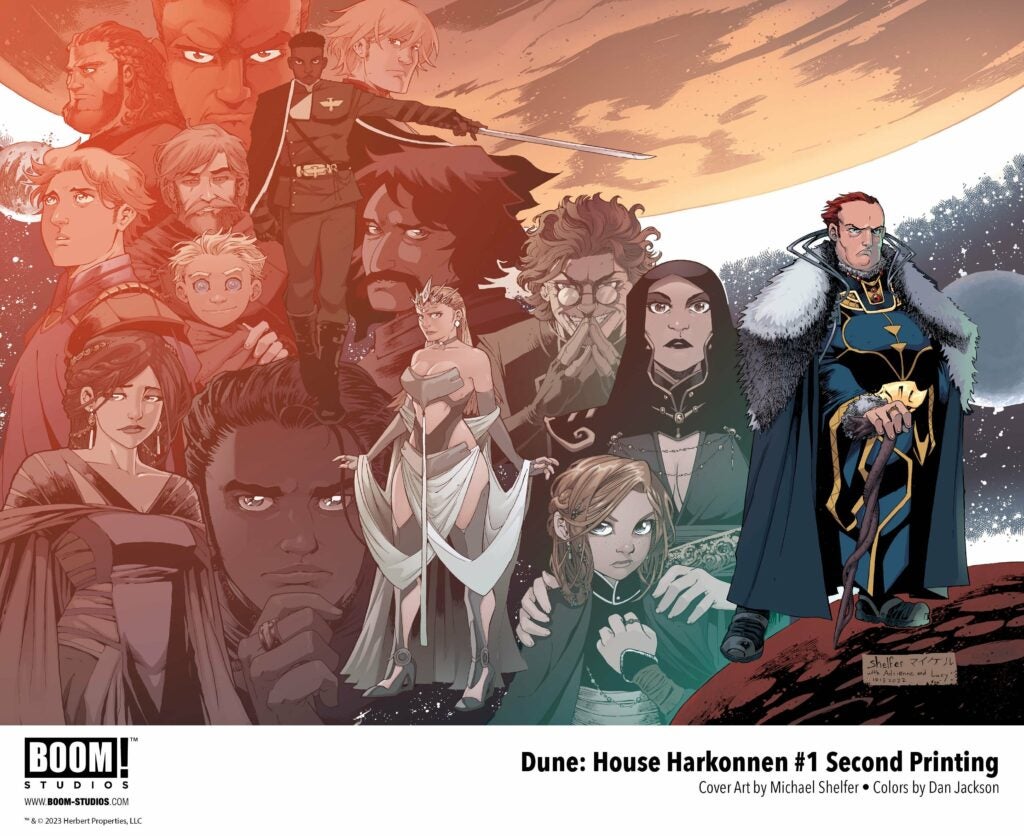 "The expansive universe of DUNE flows with stories like the spice of Arrakis," said Filip Sablik, President, Publishing & Sales, BOOM! Studios. "We leapt at the chance to adapt this second prequel with Brian, Kevin, Michael, Patricio, and Ed, particularly with so many new fans discovering Frank Herbert's masterpiece through the blockbuster film series. It's no surprise that this first chapter sold immediately!"
Created by visionary writer Frank Herbert, Dune debuted in 1965, has sold millions of copies and is arguably the most admired science fiction novel of all time. After winning the Hugo Award and inaugural Nebula Award, Dune inspired a best-selling novel series and led to multiple live-action adaptations, including the upcoming feature film from Legendary Pictures. The influence of Dune extends well beyond the world of entertainment, with an incalculable influence on modern scientific thinking about politics, religion, outer space, environmentalism, and more.
DUNE: HOUSE HARKONNEN is the newest release from BOOM! Studios' eponymous imprint, home to critically acclaimed original series, including BRZRKR by Keanu Reeves, Matt Kindt, and Ron Garney; Something is Killing the Children by James Tynion IV and Werther Dell'Edera; Once & Future by Kieron Gillen and Dan Mora; Eve by Victor LaValle and Jo Mi-Gyeong; The Many Deaths of Laila Starr by Ram V and Filipe Andrade; Wynd by James Tynion IV and Michael Dialynas; Grim by Stephanie Phillips and Flaviano; Briar by Christopher Cantwell and Germán García; Stuff of Nightmares by R.L. Stine and A.L. Kaplan; The Approach by Jeremy Haun, Jason A. Hurley, and Jesus Hervas; Damn Them All by Simon Spurrier and Charlie Adlard; Behold, Behemoth by Tate Brombal and Nick Robles; Specs by David M. Booher and Chris Shehan; Once Upon a Time at the End of the World by Jason Aaron, Alexandre Tefenkgi, Leila del Duca, and Nick Dragotta; Know Your Station by Sarah Gailey and Liana Kangas; A Vicious Circle by Mattson Tomlin and Lee Bermejo; Mosely by Rob Guillory and Sam Lotfi; and the upcoming Harrower by Justin Jordan and Brahm Revel; and The Neighbors by Jude Ellison S. Doyle and Letizia Cadonici. The imprint also publishes popular licensed properties, including Mighty Morphin Power Rangers from Melissa Flores and Simona Di Gianfelice; and Magic from Jed McKay, Rich Douek, and Ig Guara.
Print copies of DUNE: HOUSE HARKONNEN #1 may be available now at local comic book shops (use comicshoplocator.com to find the one nearest you), or at the BOOM! Studios webstore. Digital copies can be purchased from content providers like comiXology, iBooks, Google Play, and Kindle.