Discover a New Horror Series from the Hugo Award-Winning Author of 'Magic for Liars' in August 2021
BOOM! Studios today announced EAT THE RICH, a chilling new original five-issue comic book series from Hugo Award-winning author Sarah Gailey (The Echo Wife, Magic For Liars) with artist Pius Bak (Firefly, The Magicians), colorist Roman Titov, and letterer Cardinal Rae, about the unspeakable horrors lying in wait within the perfect facade of the idyllic lives of the one percent, available in August 2021.
Welcome to Crestfall Bluffs! With law school and her whole life ahead of her, Joey plans to spend the summer with her boyfriend Astor in his seemingly perfect hometown. It's a chance to finally meet his family and childhood friends, all while enjoying a vacation where every need is attended to. But beneath the affluent perfection lies a dark, deadly rot… will Joey discover the truth before it's too late, and even if she does, can she survive to tell the tale?
Hugo Award winner and bestselling author Sarah Gailey is an internationally published writer of fiction and nonfiction. Their nonfiction has been published by Mashable and the Boston Globe. Their short fiction credits include Vice and The Atlantic. Their debut novella, River of Teeth, was a 2018 Hugo and Nebula Award finalist. Their bestselling adult novel debut, Magic For Liars, was published in 2019. Their most recent novel, The Echo Wife, is available now.
"EAT THE RICH is about class inequality and the systems that allow the wealthy to feed on vulnerable people. It's also a feverish love letter to the soapy primetime dramas I hold dear," said Gailey. "This has been years in the making, and I couldn't be more excited to share it with the world. Welcome to Crestfall Bluffs, friends. I hope you're hungry."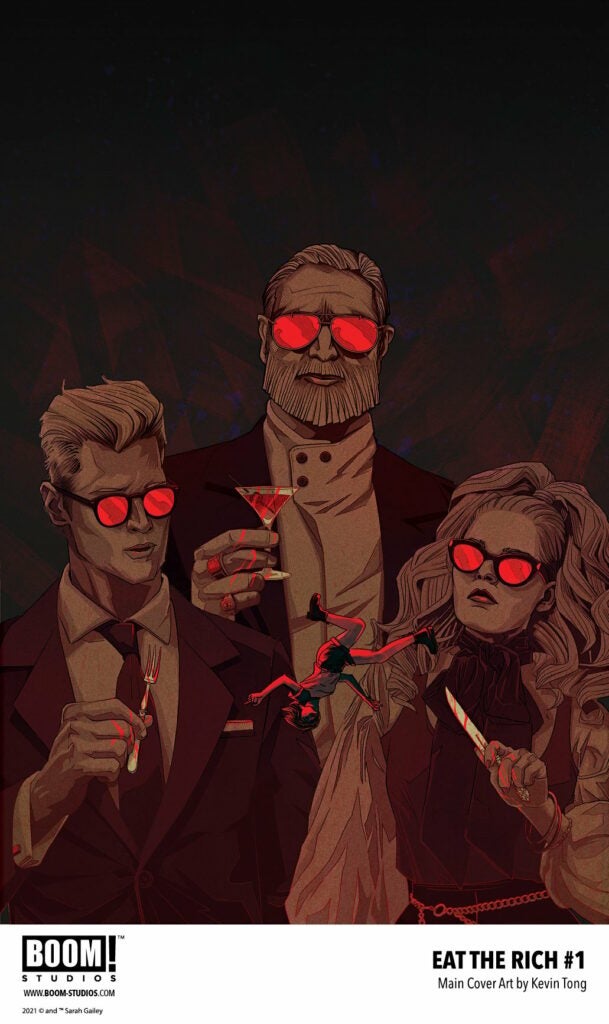 Pius Bak is an illustrator and comic book artist, working and living in Lithuania. Mostly self-taught, he started off as a freelance concept artist before transitioning into drawing comics. In his five year long career as a comic book artist he has worked with comic book publishers such as BOOM! Studios, IDW, and Dark Horse on various titles including Firefly, The Magicians, Adventure Time, Stranger Things, Jim Henson's Labyrinth, and more.
"I'm very excited to be working on EAT THE RICH. Sarah is a brilliant writer and I'm having a lot of fun turning their wonderful narrative and ideas into drawings," said Bak. "I'm also very happy to have talented colorist Roman Titov and letterer Cardinal Rae on the team, as well as the friendliest editors from BOOM! Studios, working on this series."
EAT THE RICH #1 features main cover art by famed illustrator Kevin Tong and variant covers by acclaimed artists Becca Carey (Buffy the Vampire Slayer), Jenny Frison (Something is Killing the Children), and Leila del Duca (Wonder Woman: Tempest Tossed).
"What's better than a horror story that expertly peels back the layers of corruption and greed embedded into supposedly civilized society to expose the monstrosity within—one that's also darkly hilarious and striking in its insight into human nature," said Elizabeth Brei, Editor, BOOM! Studios. "EAT THE RICH is all of that and more! It's been an absolute blast working with the creative team on this series and we can't wait for everyone to catch a glimpse of what we have in store."
EAT THE RICH is the newest release from BOOM! Studios' eponymous imprint, home to critically acclaimed original series, including BRZRKR by Keanu Reeves, Matt Kindt, and Ron Garney; Proctor Valley Road by Grant Morrison, Alex Child, and Naomi Franquiz; We Only Find Them When They're Dead by Al Ewing and Simone Di Meo; Seven Secrets by Tom Taylor and Daniele Di Nicuolo; Something is Killing the Children by James Tynion IV and Werther Dell'Edera; Once & Future by Kieron Gillen and Dan Mora; The Many Deaths of Laila Starr by Ram V and Filipe Andrade; and Eve by Victor LaValle and Jo Mi-Gyeong. The imprint also publishes popular licensed properties, including Dune: House Atreides from Brian Herbert, Kevin J. Anderson, and Dev Pramanik; Mighty Morphin and Power Rangers from Ryan Parrott, Marco Renna, and Francesco Mortarino; and Magic from Jed McKay and Ig Guara.
Print copies of EAT THE RICH #1 will be available for sale in August 2021 exclusively at local comic book shops (use comicshoplocator.com to find the nearest one) or at the BOOM! Studios webstore. Digital copies can be purchased from content providers, including comiXology, iBooks, Google Play, and Kindle.