Discover the Hidden Secrets Behind an Epic Legend and a Twisted Reality in November 2019
BOOM! Studios is proud to announce FOLKLORDS, an all-new original five-issue series from Eisner Award-nominated writer Matt Kindt (Grass Kings, Black Badge) and acclaimed artist Matt Smith (Hellboy & the BPRD: Long Night at Goloski, Lake of Fire) about a young man whose forbidden quest reveals the shocking truth about his world and turns everything he ever knew upside down, available in November 2019.
In a world of magic and monsters, Ansel is an outsider haunted by visions of well-pressed suits and modern technology. When it comes time for him to declare his Quest, Ansel decides to seek out a legend that is only spoken in hushed whispers—the Folklords—hoping they can explain his visions…but looking for the Folklords is expressly forbidden and going on a rogue quest is punishable by death. What will Ansel risk to find out about the world he has never truly belonged in?
Matt Kindt is the New York Times bestselling writer and artist of the comics and graphic novels Dept. H, Mind MGMT, Revolver, 3 Story, Super Spy, 2 Sisters, and Pistolwhip, as well as the writer of Eisner Award-nominated Grass Kings and Black Badge with BOOM! Studios, Ether with Dark Horse Comics, Justice League of America with DC Comics, Spider-Man with Marvel Comics, and Unity, Ninjak, Rai, and Divinity with Valiant Comics. He has won the PubWest book design award, been nominated for six Eisner Awards, and six Harvey Awards (and won once). His work has been published in French, Spanish, Italian, German, and Korean.
"Ideas usually sneak up on you. But this one came in a flash. As soon as my plucky editor, Eric, said the word 'FOLKLORDS', I had an image of this teenage kid in a black suit and tie…walking through a small folk tale-style village full of gnomes, witches, and trolls. It looked jarring, seeing that kid there. He was completely out of place. What's this kid wearing a suit for? Is he living in a fairy tale? Why is he there?" said writer Matt Kindt. "I'm not sure why the word triggered that image in my head but I didn't question it. The question I did have? Who the heck are the FOLKLORDS? This kid…in this suit and tie…who doesn't seem to belong? He's going to find out."
Matt Smith is an illustrator and comic artist based out of Massachusetts. He started out in comics with his tribute to the medieval Icelandic Sagas, Barbarian Lord, published by Clarion Books. Since then, Smith has gone on to collaborate with comics creator Mike Mignola on the upcoming Hellboy & the BPRD: Long Night at Goloski Station for Dark Horse Comics, writer Nathan Fairbairn on Lake of Fire for Image Comics, and several short stories for BOOM! Studios, including Planet of the Apes: When Worlds Collide with writer Matt Kindt.
"Getting to work with Matt Kindt again was something I couldn't pass up. He brings a depth and thoughtfulness to the characters that makes me want to invest in them. That's what I look for in a script. Well, that and a great story to put those characters in," said artist Matt Smith. "Of course, it also doesn't hurt that there are armored librarians, psychotic killers, angry gnomes, and a big ol' troll, too. Ok, forget all that stuff about depth and whatever, it's about the troll."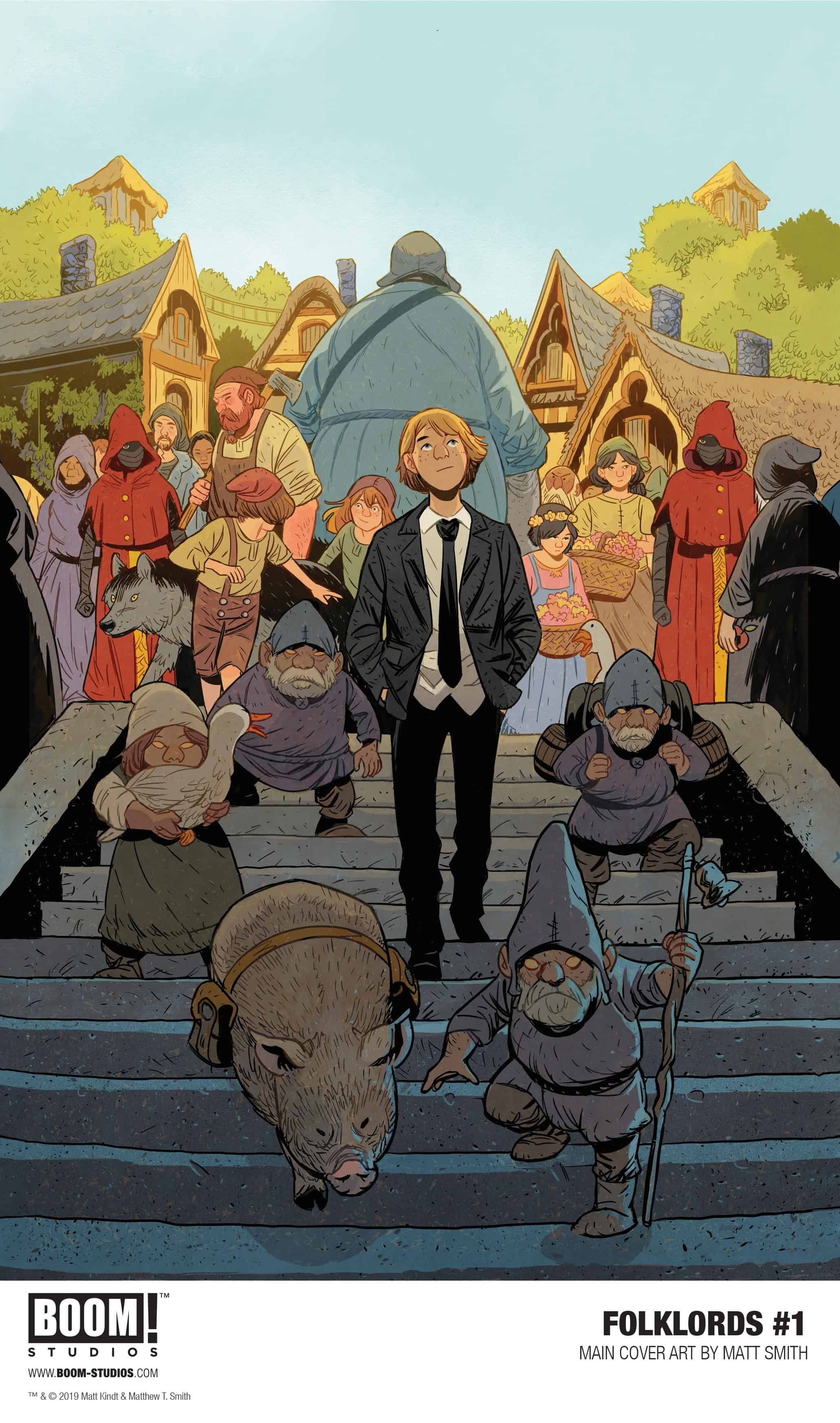 FOLKLORDS is the newest release from BOOM! Studios' eponymous imprint, home to critically acclaimed original series, including Once & Future by Kieron Gillen and Dan Mora; Faithless by Brian Azzarello and Maria Llovet; Abbott by Saladin Ahmed and Sami Kivelä; Bury The Lede by Gaby Dunn and Claire Roe; and Klaus by Grant Morrison and Dan Mora. The imprint also publishes popular licensed properties including Joss Whedon's Firefly from Greg Pak and Dan McDaid; Buffy The Vampire Slayer from Jordie Bellaire and David Lopez; and Mighty Morphin Power Rangers from Ryan Parrott and Daniele Di Nicuolo.
"We've all had that sense that we just don't fit in, that there's some other world out there where we truly belong — and for Ansel, that might just be the case," said Eric Harburn, Senior Editor, BOOM! Studios. "Matt Kindt and Matt Smith, along with colorist Chris O'Halloran and letterer Jim Campbell, are a powerhouse team with a brilliant new take on the epic fantasy quest, one that no reader will see coming."
Print copies of FOLKLORDS #1 will be available for sale November 13, 2019 exclusively at local comic book shops (use comicshoplocator.com to find the nearest one) or at the BOOM! Studios webstore. Digital copies can be purchased from content providers, including comiXology, iBooks, Google Play, and the BOOM! Studios app.