Discover this collection of fun, humorous, and radically honest stories in July 2019
BOOM! Studios today announced GREASE BATS, the first original graphic novel inspired by the online phenomenon created by Archie Bongiovanni (A Quick & Easy Guide to They/Them Pronouns). Arriving in stores July 2019, this oversized collection of Archie Bongiovanni's hit webcomic, previously seen on the Autostraddle Saturday Morning Cartoons series, features brand-new stories only available here, making it a must-have for fans and new readers alike.
GREASE BATS follows the daily adventures of two best friends — Andy, a trans genderqueer individual who is both tough and loving, and their BFF Scout, an all-feelings-all-the-time mistake-maker — as they navigate friendships, roommates, and romances within their community. From sexcapades gone awry to the meaning of tarot and the realities of finding your place within queer spaces, these stories use wry humor to show that being queer comes from the heart! And the head!  And occasionally sometimes the groin!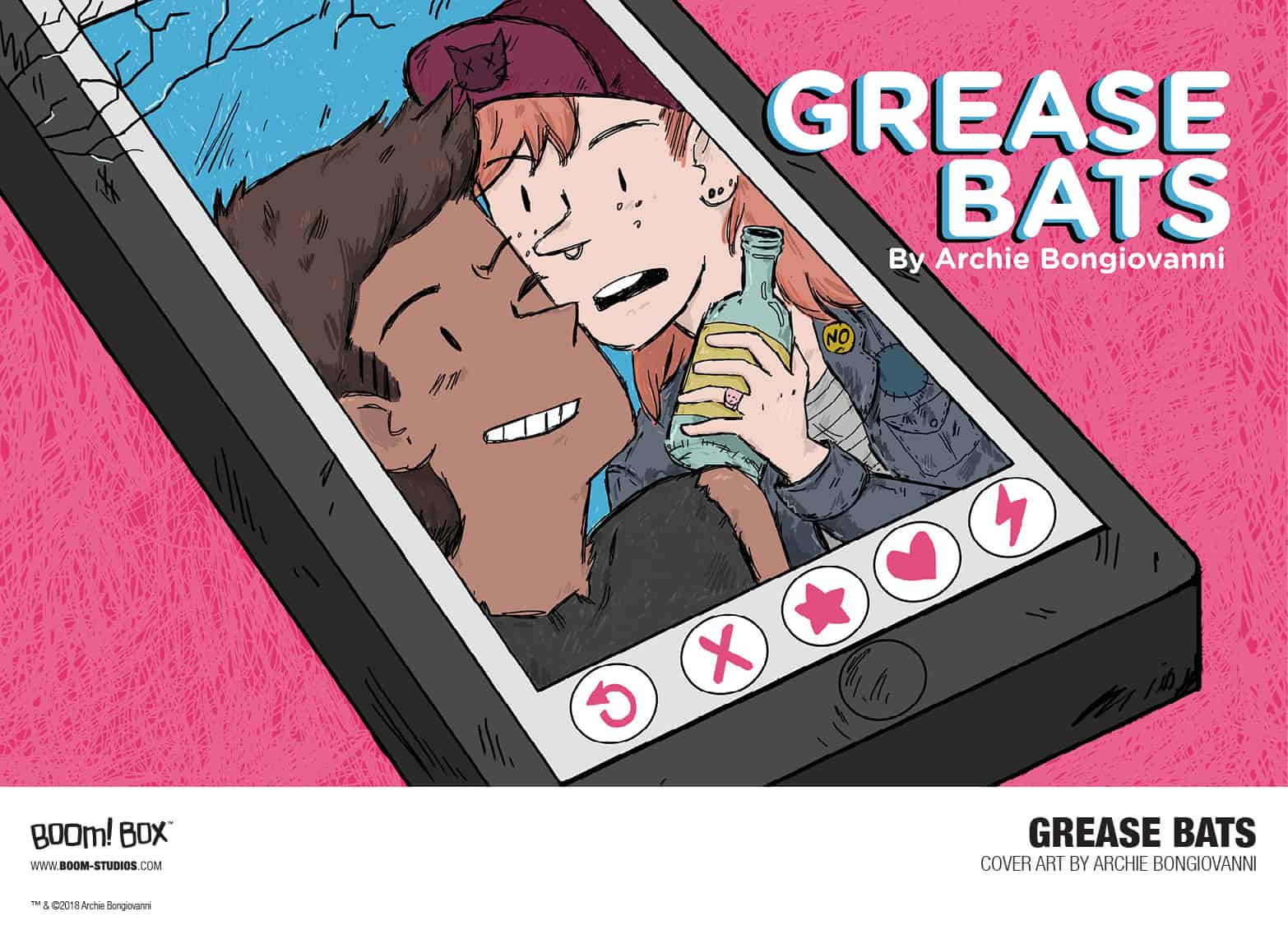 "When I created GREASE BATS, I sought to draw what the possibilities of radical friendship can look like. I wanted to draw a comic that reflected the nuances of who my community was — of who I am." said Bongiovanni. "My characters are flawed, diverse, weird, and living in a world where there isn't one way to be, act, look, date, or handle the complicated situation of going to a party where all your exes are."
GREASE BATS is the latest release from BOOM! Studios' critically acclaimed BOOM! Box imprint, home to popular original series such as Lumberjanes by Shannon Watters, Grace Ellis, Brooklyn A. Allen, and Noelle Stevenson; Giant Days by John Allison, Lissa Treiman, and Max Sarin; The Backstagers by James Tynion IV and Rian Sygh; SLAM! by Pamela Ribon, Veronica Fish & Mar Julia; Fence by C.S. Pacat and Johanna The Mad; and Goldie Vance by Hope Larson and Brittney Williams.
"GREASE BATS is rooted in emotional honesty and a very real portrayal of some of the ins and outs of being queer," said Shannon Watters, Editor, BOOM! Studios. "And Archie is such a dynamic and hilarious cartoonist that it's hard not to identify with Andy and Scout as they make their way through their various misadventures in love and life."
Print copies of GREASE BATS  will be available for sale at local comic book shops (use comicshoplocator.com to find the nearest one) and bookstores in July 2019. Digital copies  will be available to purchase on digital book marketplaces, including ComiXology, iBooks, Google Books, and the BOOM! Studios app.