RISE Above the Competition in C.S. Pacat & Johanna the Mad's FENCE
Discover a Brand New Graphic Novel Set in World of the GLAAD Award-Nominated Series in August 2022
BOOM! Studios is proud to announce a new original graphic novel, FENCE: RISE, from the GLAAD Award-nominated series and best-selling novelist C.S. Pacat (Captive Prince), fan favorite artist Johanna the Mad, colorist Joana LaFuente (Mighty Morphin Power Rangers), and letterer Jim Campbell (Giant Days), presenting the next all-new thrilling chapter in the story of the Kings Row fencing team, available in August 2022.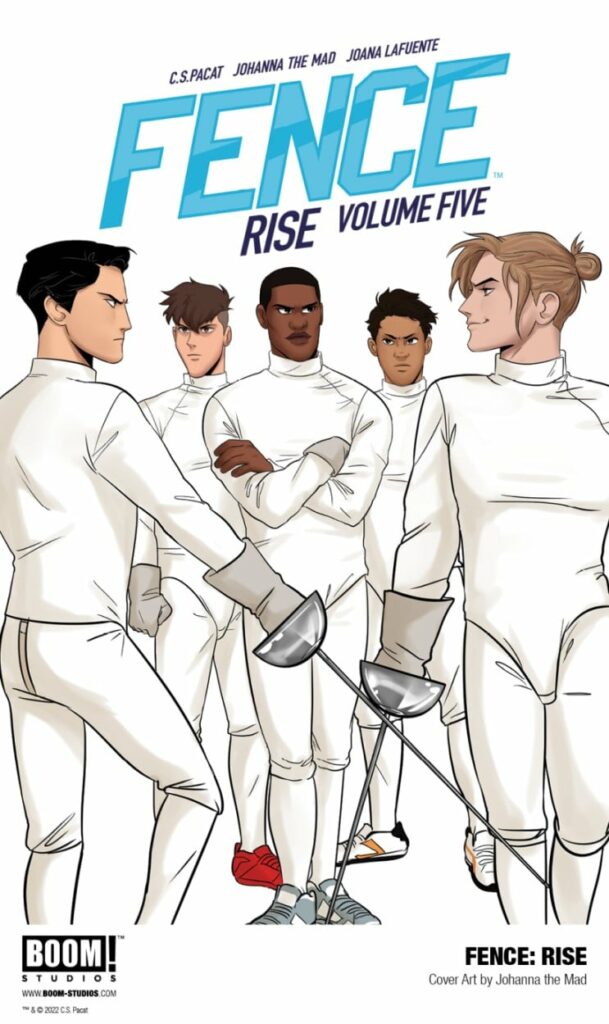 Excitement is in the air as Nicholas and his friends celebrate their coveted invitation to the Halverton Training Camp. They immediately come face-to-face with the best fencing teams in the country, and Nicholas struggles as he suffers defeat after defeat by an old enemy. Will a new addition to a rival team bring Nicholas closer to the rest of the Kings Row team and awaken the resilience within that he needs to prevail?
But Seiji, in contrast to Nicholas, remains unchallenged and let down by the camp. With Seiji's goal to learn (instead of win) stuck in his head, will Nicholas step up to pose a real challenge to Seiji, maybe even growing their friendship as a result?
FENCE: RISE is the latest release from BOOM! Studios' award-winning BOOM! Box imprint, home to groundbreaking original series such as Lumberjanes by Shannon Watters, Grace Ellis, ND Stevenson, and Gus Allen; Juliet Takes a Breath by Gabby Rivera and Celia Moscote; Giant Days by John Allison, Lissa Treiman, and Max Sarin; Buckhead by Shobo and George Kambadais; Mamo by Sas Milledge; Save Yourself! by Bones Leopard and Kelly and Nichole Matthews; Specter Inspectors by Bowen McCurdy and Kaitlyn Musto; The Last Witch by Conor McCreery and V.V. Glass; Ghosted in LA by Sina Grace and Siobhan Keenan; The Avant-Guards by Carly Usdin and Noah Hayes; Goldie Vance by Hope Larson and Brittney Williams; Misfit City by Kirsten 'Kiwi' Smith, Kurt Lustgarten, and Naomi Franquiz; educational series Seen: True Stories of Marginalized Trailblazers; and the upcoming Hollow by Shannon Watters, Branden Boyer-White, Berenice Nelle.
Print copies of the FENCE: RISE will be available in August 2022 at local comic book shops (use comicshoplocator.com to find the nearest one) and at the BOOM! Studios webstore. Digital copies can be purchased from content providers, including comiXology, iBooks, Google Play, and Kindle.