Fear the Walking Bigheads of O-Town in June 2019
BOOM! Studios today revealed a first look at ROCKO'S MODERN AFTERLIFE #3, available in stores June 2019. In this exciting next chapter from writer Anthony Burch (Borderlands 2) and artist Mattia Di Meo (Adventure Time/Regular Show), everyone's favorite wallaby, Rocko, is trying to survive the zombie outbreak that's taken over his home of O-Town!
Rocko and Filbert have finally made it to Casa del Heffer but his best friend's been bitten by the ravenous zombies! It's only a matter of time before Heffer becomes just another mindless, ravaging citizen of O-town unless Rocko can get him to the only place in town that might hold some answers and a potential cure: Hook Labs. Only one snafu: they don't actually know where Hook Labs is located. Will the team be able to track down the hidden location of the secret Conglom-O labs in time to save Heffer's brain from turning into mush?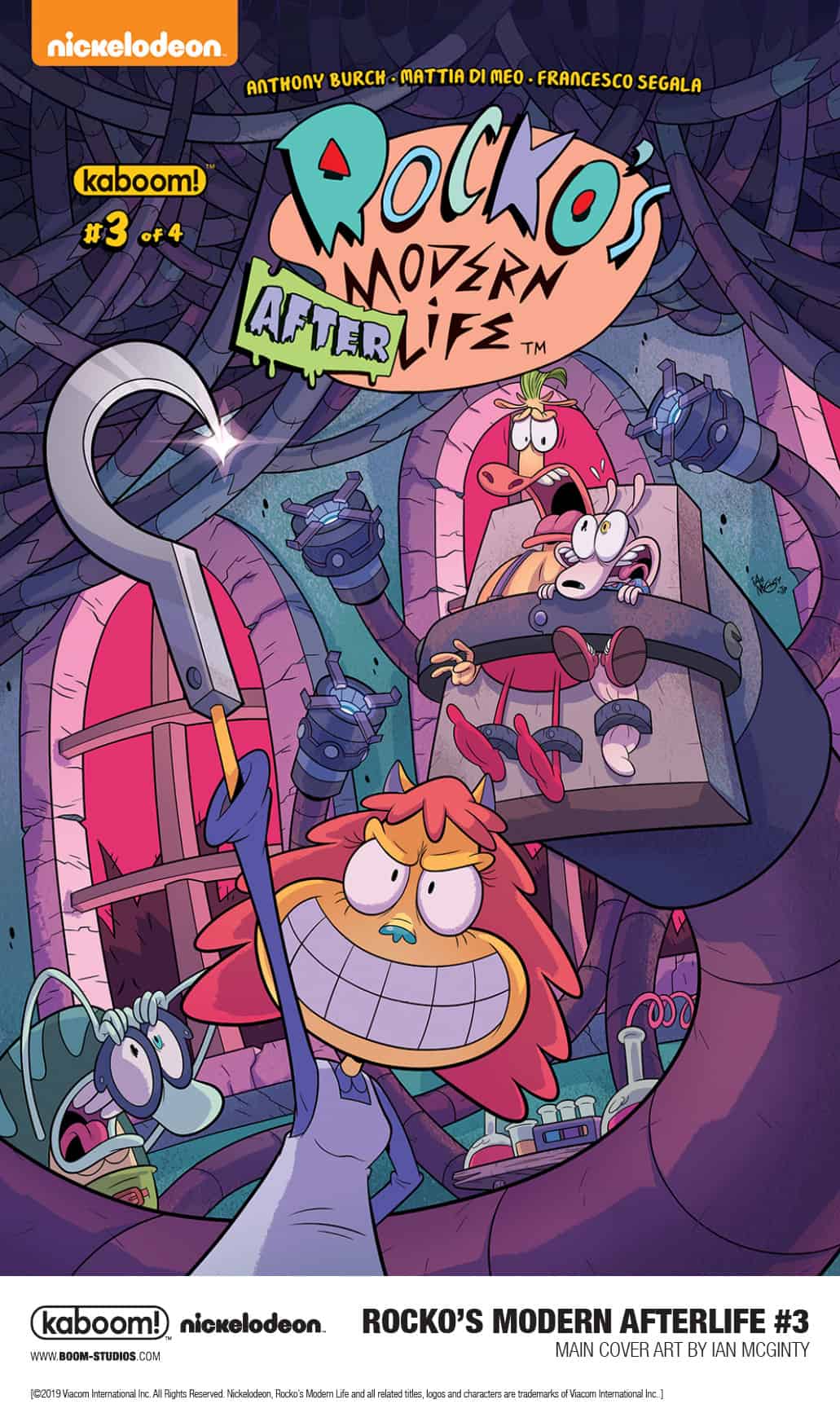 ROCKO'S MODERN AFTERLIFE #3, features a main cover by Ian McGinty (Glint) and a variant cover by illustrator and artist Joey McCormick (Teen Titans Go To The Movies).
ROCKO'S MODERN AFTERLIFE is the latest release from BOOM! Studios' award-winning KaBOOM! imprint, home to comics for middle grade and younger readers including licensed series such as Adventure Time, Steven Universe, Regular Show, Ben 10, and Over The Garden Wall, along with original series like Just Beyond: The Scare School by R.L. Stine and Kelly & Nichole Matthews, Hex Vet by Sam Davies, RuinWorld by Derek Laufman, Hotel Dare by Terry Blas and Claudia Aguirre, and Pandora's Legacy by Kara Leopard, Kelly & Nichole Matthews.
Print copies of ROCKO'S MODERN AFTERLIFE #3 will be available on June 5, 2019 at local comic book shops (use comicshoplocator.com to find the one nearest you), or at the BOOM! Studios webstore. Digital copies can be purchased from content providers like comiXology, iBooks, Google Play, and the BOOM! Studios app.