The Most Dangerous Woman in the 'Verse Returns With A New Special in March 2019
BOOM! Studios today revealed a first look at the highly anticipated FIREFLY: BAD COMPANY #1, the first oversized special issue from the company's sold out continuation of Joss Whedon's sci-fi epic, in partnership with 20th Century Fox Consumer Products, giving us the secret origin story of the infamous Mrs. Reynolds, available in stores March 2019.
Writer Josh Lee Gordon and artists Francesco Mortarino (Mighty Morphin Power Rangers), Giuseppe Cafaro (Power Rangers: Soul of the Dragon), and Moy R. (Dinosaucers) reveal the long awaited origins of the most beloved Firefly character in the 'Verse—SAFFRON! Long before she was Yolanda or Saffron or Bridget, she was a pickpocket on the streets of an Alliance planet, close enough to touch the rich and admire their wealth yet too far to ever dream of being a part of their glamorous world. Go all the way back to the early days of Saffron's story and learn how she became the extraordinary grifter and master thief who's wreaked countless havoc throughout the 'Verse and caused especial trouble for Serenity and her crew, including the current bounty on Mal's head in the pages of Firefly…unless she's lying about this, too.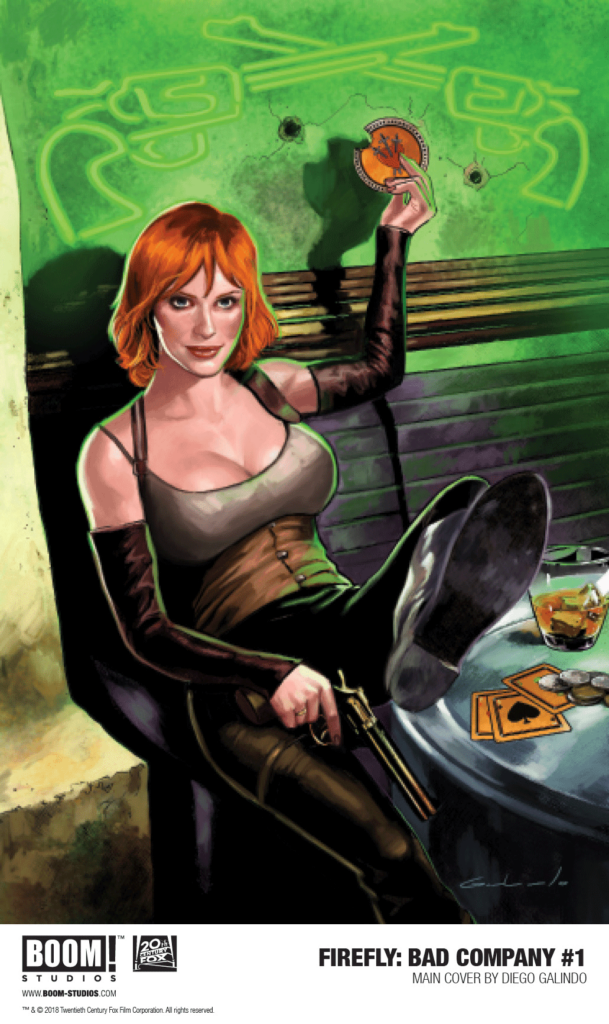 FIREFLY: BAD COMPANY #1 features a main cover by Diego Galindo (Mighty Morphin Power Rangers) and a variant cover by Jamal Campbell (Green Arrow).
"Saffron is an enigma wrapped in a mystery surrounded by a puzzle, but at the heart of all the fake names and complicated lies is a woman who learned early on how to fend for herself and who knew that if she wanted anything in life, she had to go out and grab it," said Jeanine Schaefer, Executive Editor, BOOM! Studios. "BAD COMPANY takes us on an eye-opening journey through Saffron's early adventures as we discover the daring escapades that helped the infamous YoSaffBridge craft each new layer of mystery and intrigue around herself to become the baddest woman in the entire system."
Created by Whedon and set 500 years in the future in the wake of a universal civil war, FIREFLY centers on the crew of Serenity, a small transport spaceship that doesn't have a planet to call home. Captain Malcolm "Mal" Reynolds, a defeated soldier who opposed the unification of the planets by the totalitarian governed Alliance, will undertake any job — legal or not — to stay afloat and keep his crew fed. Thrust together by necessity but staying together out of loyalty, these disparate men and women are seeking adventure and the good life, but face constant challenges on the new frontier, such as avoiding capture by the Alliance, and evading the dangers you find on the fringes of the universe.
FIREFLY is the latest release from BOOM! Studios' eponymous imprint, home to a world-class group of licensed comic book series and ambitious original series, including Joss Whedon's Buffy The Vampire Slayer, Mighty Morphin Power Rangers, Planet of the Apes, Abbott, Mech Cadet Yu, Grass Kings, and Klaus.
Print copies of FIREFLY: BAD COMPANY #1 will be available for sale on March 20, 2019, exclusively at local comic book shops (use comicshoplocator.com to find the nearest one). Digital copies can be purchased from content providers, including comiXology, iBooks, Google Play, and the BOOM! Studios app.