BOOM! Studios and Cartoon Network today revealed a first look at STEVEN UNIVERSE™: FUSION FRENZY #1, an oversized one-shot comic book special inspired by the world of the Cartoon Network Emmy® Award-nominated series, Steven Universe™. This jam-packed special contains stories about everyone's favorite fusions, available in stores March 13, 2019.
An amazing array of writers and artists deliver these incredible stories that prove that humans and gems can face any challenge as long they're together. Fans will get stories about Sugilite, Garnet, Opal, Smoky Quartz, and Stevonnie from Hugo Award-winning writer Sarah Gailey with artist Maurizia Rubino, Hugo and Nebula Award-nominated writer JY Yang (Black Tides of Heaven) with artist Doki Rosi, writer Steve Foxe with artist Xiao Tong Kong (Adventure Time) and colorist Cristina Rose Chua (Adventure Time), writer Nicole Andelfinger (Rugrats: R is for Reptar) with artist Mollie Rose and colorist Jamie Loughran, and writer Anthony Oliveira with artist Ver.
"Fusion is such a powerful concept within Steven Universe™. It demonstrates the strength of togetherness and the value of individuality." said Matthew Levine, Editor, BOOM! Studios. "In STEVEN UNIVERSE™: FUSION FRENZY #1 readers will find stories about their favorite fusions and how these unique combinations of gems and humans balance their abilities to become the best versions of themselves!"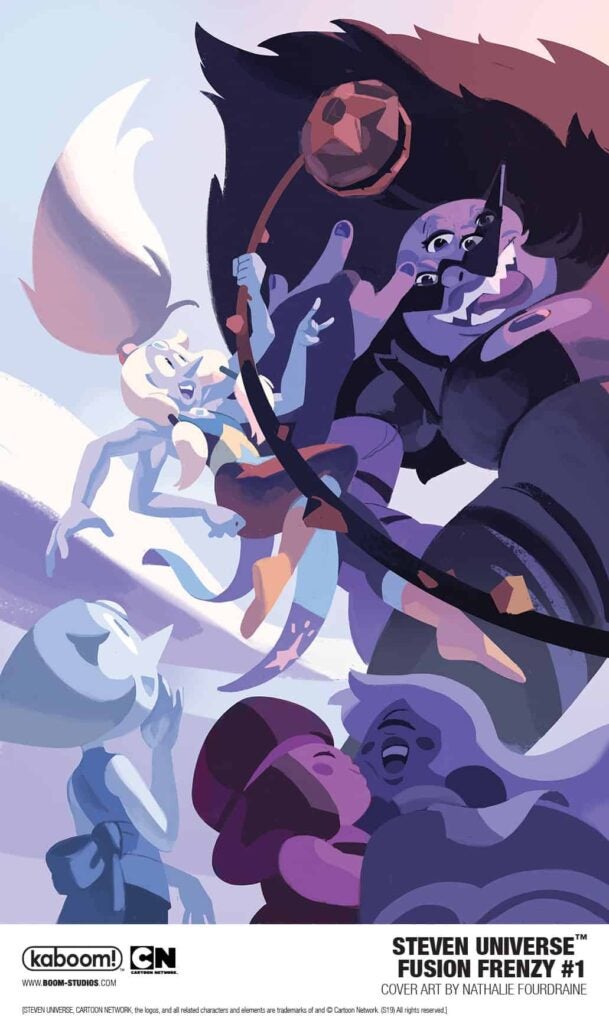 STEVEN UNIVERSE™: FUSION FRENZY #1 features two main connecting covers by Nathalie Fourdraine (Sonic the Hedgehog), along with a variant cover by Abigail L. Dela Cruz (Aru Shah and the End of Time).
STEVEN UNIVERSE™: FUSION FRENZY #1 is the latest release from BOOM! Studios' award-winning KaBOOM! imprint, home to comics for middle grade and younger readers including licensed series such as Cartoon Network's Adventure Time and Steven Universe; Peanuts, and Garfield, along with original series like Mega Princess by Kelly Thompson and Brianne Drouhard, Bodie Troll by Jay Fosgitt, Ruinworld by Derek Laufman, and The Deep by Tom Taylor and James Brouwer.
Print copies of STEVEN UNIVERSE™: FUSION FRENZY #1 will be available for sale at local comic book shops (use comicshoplocator.com to find the nearest one) on March 13, 2019 or at the BOOM! Studios webstore. Digital copies can be purchased from content providers, including comiXology, iBooks, Google Play, and the BOOM! Studios app.