Discover How Jeopardy Changed One Man's Life in November 2018
BOOM! Studios is proud to present your first look at FORM OF A QUESTION, a moving new original graphic novel memoir from the acclaimed creative team of writer Andrew J. Rostan and artist Kate Kasenow (An Elegy for Amelia Johnson) arriving in stores November 2018.
Revisiting one of the most formative events in Rostan's life, FORM OF A QUESTION tells the true story of his journey at age twenty-two to become a contestant on JEOPARDY!, the very show he associates with the happiest moments in his life. But even with an uncanny ability to remember the smallest details and his almost unparalleled depth of knowledge, there's one thing Rostan hasn't learned yet – life is like his favorite game show. In fact, all the answers are staring you in the face if only you ask the right questions.
"Each of us is struggling with having questions without answers and answers without the questions, which is at the core of FORM OF A QUESTION," said Sierra Hahn, Executive Editor, BOOM! Studios. "Andrew and Kate have created a beautiful rumination on how we're transformed by the entertainment we experience with people we love most."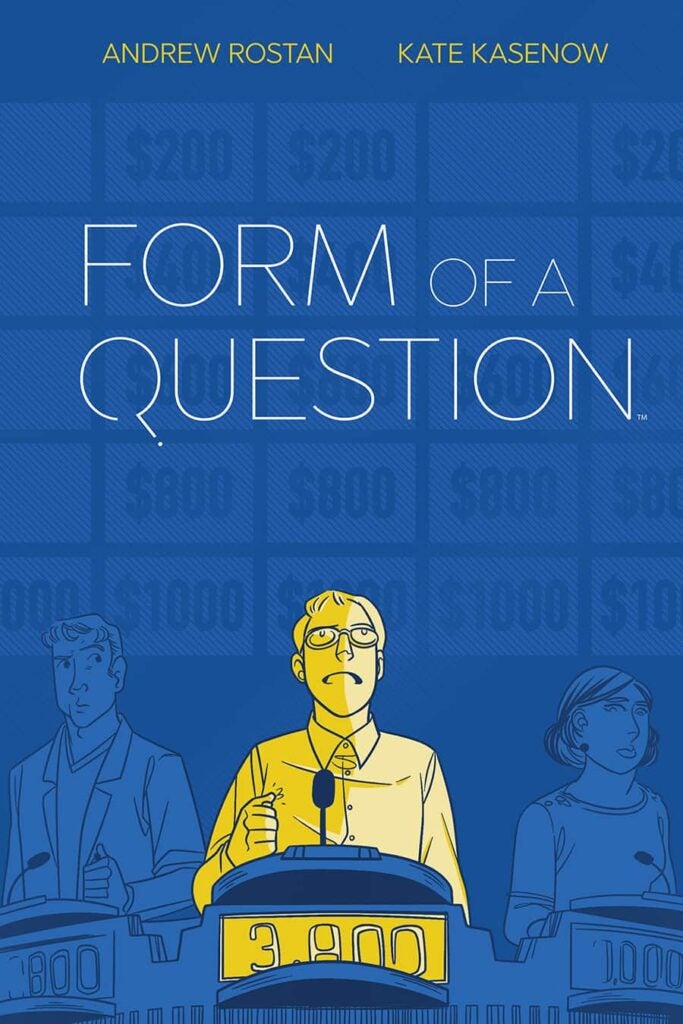 FORM OF A QUESTION is the latest release from BOOM! Studios' ambitious Archaia imprint, home to graphic novels such as Mouse Guard by David Petersen; Rust by Royden Lepp; Bolivar by Sean Rubin; Jane by Aline Brosh McKenna and Ramón K. Pérez; A Girl in The Himalayas by David Jesus Vignolli; and licensed series like Jim Henson's The Power of the Dark Crystal and Jim Henson's Labyrinth: Coronation.
Print copies of FORM OF A QUESTION will be available for sale in November 2018 at local comic book shops (use comicshoplocator.com to find the nearest one), book stores or at the BOOM! Studios webstore. Digital copies can be purchased from content providers, including comiXology, iBooks, Google Play, and the BOOM! Studios app.