Discover a Love That Crosses All of Time and Space in a New Power Rangers Graphic Novel in October 2020
BOOM! Studios, under license by Hasbro, Inc. (NASDAQ: HAS), today announced an original graphic novel POWER RANGERS: SINS OF THE FUTURE, with story by Trey Moore (Mighty Morphin Power Rangers), written by Matthew Erman (Bonding), illustrated by Giuseppe Cafaro (Saban's Power Rangers: Soul of The Dragon), and lettered by Ed Dukeshire. This all-new graphic novel, available in October 2020, features two of the most popular Rangers of all time and what happens to them after the events of the hit Power Rangers: Time Force television series!
After defeating the villainous Ransik alongside their allies in the time-traveling Time Force, Pink Ranger Jen Scotts and Red Ranger Wes Collins want to try for a real relationship. But without sacrificing their commitments to the Silver Guardians and Time Force, can the two actually make the ultimate long-distance relationship work?
When Jen returns from the future, she and Wes are attacked by a mysterious stranger who has dire news – if these two stay together, they'll disrupt the timeline and change the destiny of humanity! The shocking identity of their accuser sets them on a collision course with an enemy they never expected.
Matthew Erman is a comics writer from Columbus, Ohio. Alongside Lisa Sterle, he co-created the critically acclaimed comic horror series, Long Lost, which was optioned for Film/TV by Producer Jenny Klein (The Witcher, Daisy Jones and The Six). Since then, he's worked with IDW on a new Care Bears: Unlock the Magic series as well as Vault Comics on his upcoming original graphic novel Bonding, with artist and co-creator Emily Pearson. His short work can be found in anthologies such as Corpus (2018), Dead Beats (2019), and Everything is Going Wrong (2019).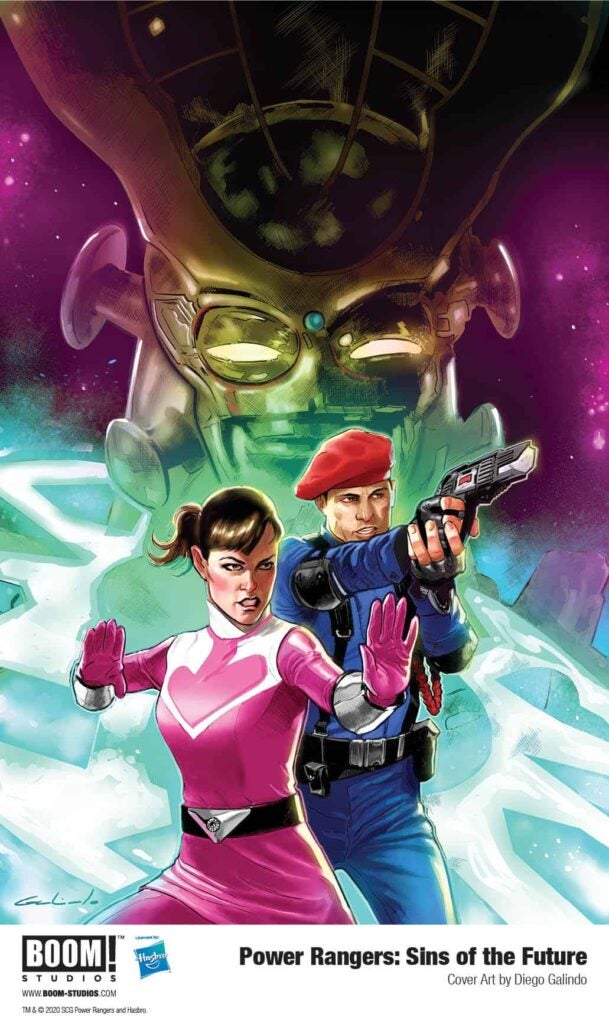 "I was once six years old eating malted milk-balls in my pj's, glued to the television, exclusively watching Mighty Morphin' Power Rangers. 25 years later, I'm actually writing Power Rangers, and it is bonkers: a literal dream come true. POWER RANGERS: SINS OF THE FUTURE is the story that my six year old self would have wanted to write," said writer Matthew Erman. "Jen Scotts of Power Rangers Time Force takes center stage in this story, and she's such a deep, interesting character with so much to pull from that writing her and other characters from Time Force has been a real gift. It's been so wild to play in this sandbox and easy to see why it's regarded by fans as some of the best the franchise has to offer. I can't wait for everyone to read this!"
Giuseppe Cafaro is an Italian comic book artist who has worked in the industry since 2010 to great acclaim. Cafaro has been the artist for titles such as Catwoman, Suicide Squad, and Superman/Wonder Woman for DC Comics, Fathom and Soulfire for Aspen Comics, and Power Rangers: The Psycho Path, Power Rangers: Soul of the Dragon and Firefly: Bad Company for BOOM! Studios.
"I'm extremely honored to be the artist for a new Power Rangers graphic novel," said artist Giuseppe Cafaro. "BOOM! Studios is doing a huge and amazing job on every single book of the Power Rangers and I'm sure SINS OF THE FUTURE will be even more fun and intense than ever before!"
Currently, Power Rangers is celebrating 26 continuous years on the air, making it one of the longest running kids' live-action series in television history with nearly 900 episodes aired to date. Created by Haim Saban and launched in 1993 with Mighty Morphin Power Rangers, the franchise celebrates its milestone anniversary year with the 26th season, "Power Rangers Beast Morphers" currently airing on Saturdays at 8 a.m. (ET/PT) on Nickelodeon in the U.S.
"POWER RANGERS: SINS OF THE FUTURE reunites two fan favorites in a love that crosses all of time and space while threatening the very fabric of the universe. For the first time ever, fans will find out what happened to Jen and Wes in this new original graphic novel " said Dafna Pleban, Senior Editor, BOOM! Studios. "And just when you think the Rangers will find their happily ever after, a new threat arises that could end not only their romance but also their realities. It doesn't get more epic than this!"
Print copies of POWER RANGERS: SINS OF THE FUTURE will be available in October 2020 at local comic book shops (use comicshoplocator.com to find the one nearest you), or at the BOOM! Studios webstore. Digital copies can be purchased from content providers like comiXology, iBooks, Google Play, and Madefire.
Softcover collections of MIGHTY MORPHIN POWER RANGERS, and other Power Rangers releases from BOOM! Studios are available now, everywhere books are sold.