Garfield Roams the Streets in Brand New Graphic Novel GARFIELD: GARZILLA from BOOM! Studios
Discover Several All New Stories About the World's Most Beloved Lazy Cat and His Friends in March 2020
BOOM! Studios, in partnership with PAWS Inc, revealed today a first look at GARFIELD: GARZILLA, a new original graphic novel featuring three original stories about the King of Mondays and lasagna, available in stores March 2020.
A secret science experiment goes awry, unleashing giant pets – iguanas, ferrets, hamsters and birds – upon an unsuspecting city. Can a super-sized Garfield save the day?
The Cat returns in an all-new original graphic novel, featuring an extra large story by Garfield regulars Scott Nickel & Antonio Alfaro about the biggest Garfield ever, as well as a story featuring the return of private eye, Sam Spayed. Also, cartoonist Lee Gatlin joins the party to write & illustrate a short where Jon, in a quest to grow a beard, may have turned into a werewolf!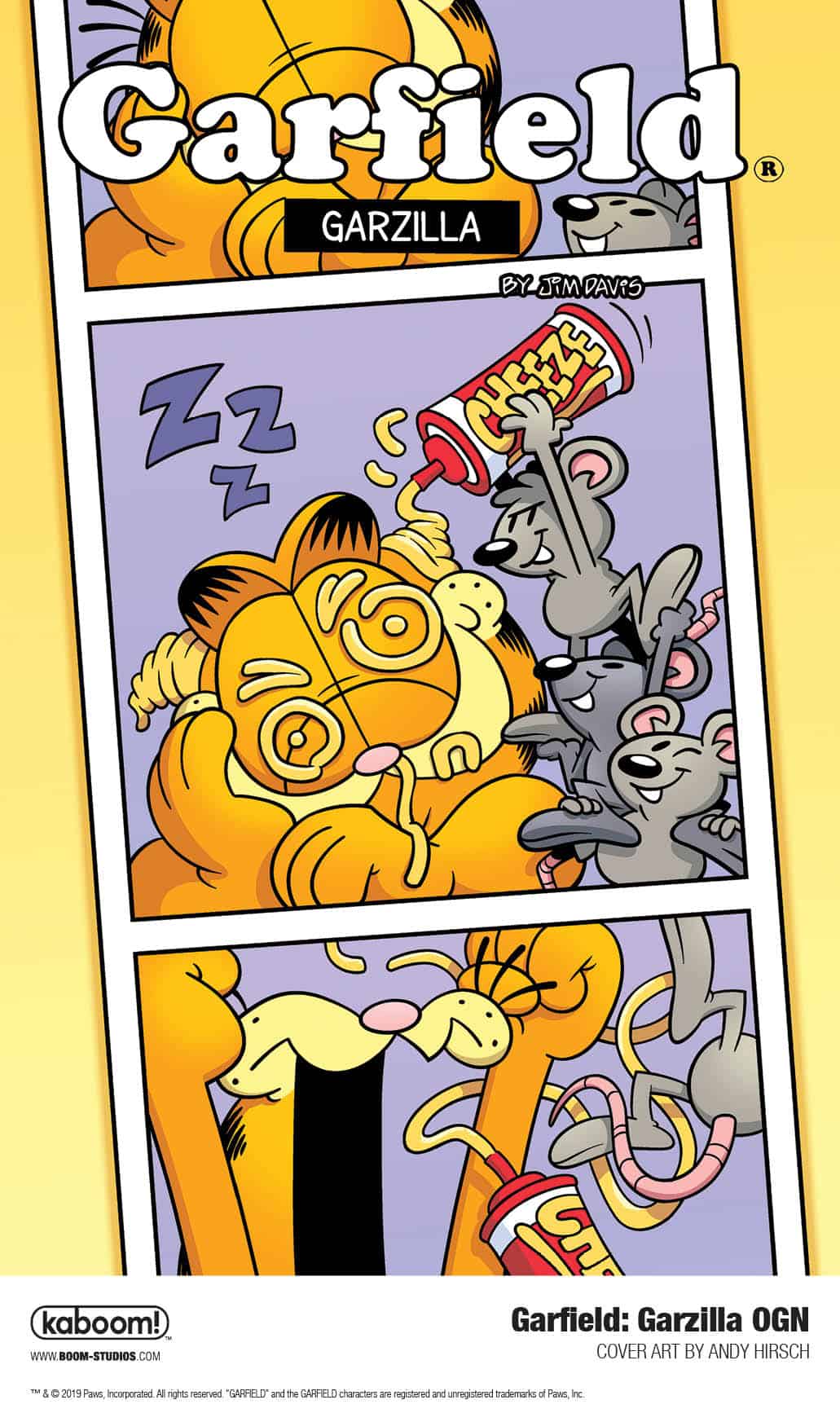 GARFIELD: GARZILLA, featuring an all-new cover by Andy Hirsch (Adventure Time), is the latest release from BOOM! Studios' award-winning KaBOOM! imprint, home to comics for middle grade and younger readers including licensed series such as Adventure Time, Steven Universe, Regular Show, Ben 10, and Over the Garden Wall, along with original series like Just Beyond: The Scare School by R.L. Stine and Kelly & Nichole Matthews, Hex Vet by Sam Davies, RuinWorld by Derek Laufman, Hotel Dare by Terry Blas and Claudia Aguirre, and Pandora's Legacy by Kara Leopard and Kelly & Nichole Matthews.
Print copies of GARFIELD: GARZILLA will be available for sale on March 18, 2020 at local comic book shops (use comicshoplocator.com to find the nearest one), on March 24, 2020 at bookstores, or at the BOOM! Studios webstore. Digital copies can be purchased from content providers, including comiXology, iBooks, Google Play, and Madefire.