Shea Fontana and Celia Moscote are GETTING DIZZY with BOOM! Studios
Discover a Rad New Superheroic Skate Series from the Acclaimed Writer of 'DC Super Hero Girls' in November 2021
BOOM! Studios today announced a new original four-issue limited series, GETTING DIZZY, from New York Times bestselling author Shea Fontana (DC Super Hero Girls, Wonder Woman Rebirth) and acclaimed artist Celia Moscote (Juliet Takes a Breath) with a superhero story that reveals a true hero is nothing without her friends, available in November 2021.
Dizzy wants to be the best! But with everything she's tried, including roller skating, this teen can only achieve one thing – disaster. Just when Dizzy is ready to pack it in, everything changes when the Negatrixes attack, forcing her to take up the super-powered mantle of 'Burb Defender! But if she wants to save the world, she's going to have to assemble the coolest skating crew the 'Burbs have ever seen!
Shea Fontana is a writer for film, television and graphic novels. She is currently showrunning the new Monster High animated series for Nickelodeon and Mattel. Her credits include DC Super Hero Girls, Polly Pocket, Wonder Woman, and Batman: Overdrive. She can be found on Twitter and Instagram @sheafontana.
"GETTING DIZZY is where friendship, super powers, and skating collide. I'm so excited for readers to meet superheroes-in-the-making, Dizzy and her skater pals, and experience the friendships that can only be formed by falling on your face ten thousand times in front of each other," said Fontana. "These quirky teens bring the laughs and the heart to the skatepark — all while saving the day in a major way."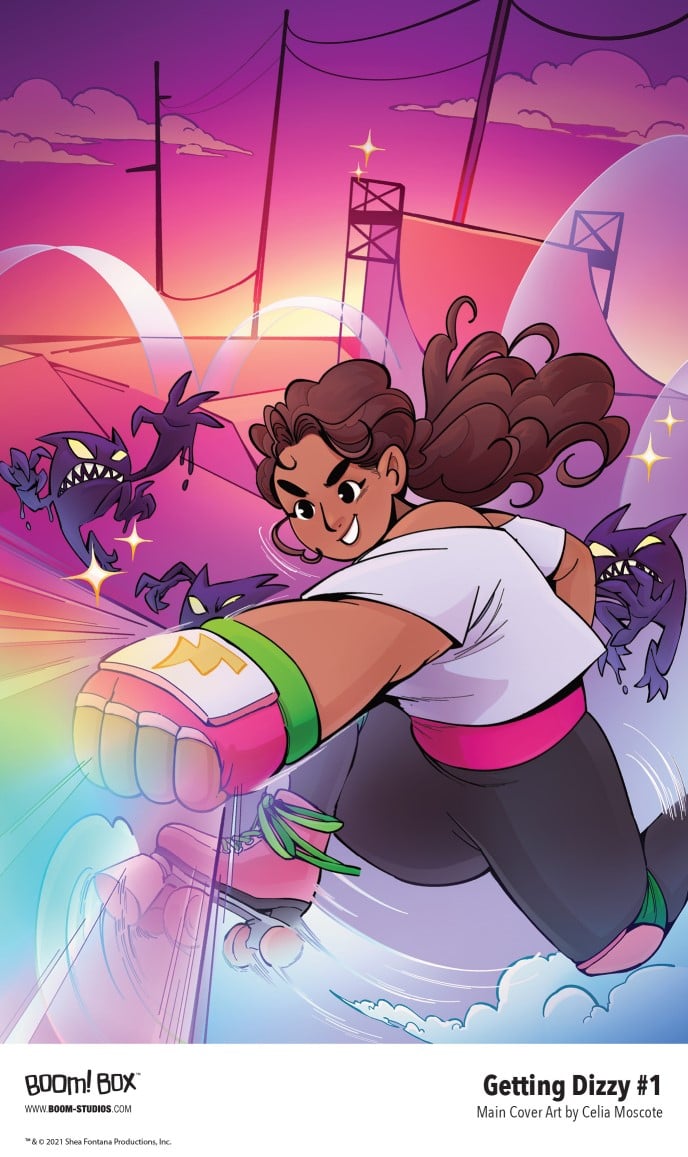 Celia Moscote is a storyboard artist and illustrator based out of the greater Los Angeles area who is best known for their work on Gabby Rivera's Juliet Takes a Breath graphic novel from BOOM! Studios and the animated film Tina and the Gucci Flip Flop, as well as their representation of diverse characters within their zines, comics, and character designs.
GETTING DIZZY #1 features main cover art by series artist Moscote, and variant cover art by Cara McGee (Star Wars) and Miguel Mercado (Mighty Morphin).
"Strap on your pads and put on your helmets 'cause GETTING DIZZY is going to take you for the ride of your life! Shea and Celia have got the coolest crew of teens saving the world by doing what they do best—looking out for each other and skating like there's no tomorrow!" said Shannon Watters, Editor, BOOM! Studios.
GETTING DIZZY is the latest release from BOOM! Studios' award-winning BOOM! Box imprint, home to groundbreaking original series such as Lumberjanes by Shannon Watters, Grace Ellis, Brooklyn Allen, and Noelle Stevenson; Juliet Takes a Breath by Gabby Rivera and Celia Moscote; Giant Days by John Allison, Lissa Treiman, and Max Sarin; Mamo by Sas Milledge; Save Yourself! by Bones Leopard and Kelly and Nichole Matthews; Specter Inspectors by Bowen McCurdy and Kaitlyn Musto; The Last Witch by Conor McCreery and V.V. Glass; Ghosted in LA by Sina Grace and Siobhan Keenan; The Avant-Guards by Carly Usdin and Noah Hayes; Fence by C.S. Pacat and Johanna the Mad; Goldie Vance by Hope Larson and Brittney Williams; and educational series Seen: True Stories of Marginalized Trailblazers.
Print copies of GETTING DIZZY #1 will be available for sale in November 2021 exclusively at local comic book shops (use comicshoplocator.com to find the nearest one) or at the BOOM! Studios webstore. Digital copies can be purchased from content providers, including comiXology, iBooks, Google Play, and Kindle.