CULLEN BUNN AND LEOMACS TELL GHOST STORIES AT BOOM! STUDIOS
What ghost stories do ghosts tell?
Acclaimed author of The Empty Man and Harrow County, Cullen Bunn, superstar artist Leomacs (Basketful of Heads), and colorist Jason Wordie (Abbott, Wasted Space)—along with a cavalcade of guest artists illustrating haunting short stories in each issue starting with Manor Black's Brian Hurtt—tell a new kind of ghost story this May at BOOM! Studios with GHOSTLORE.
We've all heard of ghost stories…but what ghost stories to the ghost themselves tell?
After a deadly accident, estranged father and daughter Lucas and Harmony Agate can see the dead–an overwhelming amount of them. Each one with their own warnings, cries for help, and malevolence alike. But the pastor and his daughter aren't the only ones with this haunting ability; there are other nearly-deads, some of which have malicious intentions…
Cullen Bunn is not expecting to grow flowers in the desert, but he can live and breathe and see the sun in the wintertime. He is the writer of creator-owned comic books such as THE SIXTH GUN, HARROW COUNTY, BONE PARISH, THE DAMNED, THE EMPTY MAN, REGRESSION, BASILISK, SHOCK SHOP, BASILISK, and DOOR TO DOOR, NIGHT BY NIGHT. He also writes books such as DEADPOOL KILLS THE MARVEL UNIVERSE, MAGNETO, UNCANNY X-MEN, SINESTRO, LOBO, VENOM, and GODZILLA VS. THE MIGHTY MORPHIN POWER RANGERS. He is the editor/curator of the horror imprint Outer Shadows from Outland Entertainment. You can follow him on Patreon (www.patreon.com/cullenbunn) or subscribe to his weekly e-newsletter (https://cullenbunn.substack.com/)
"Ghostlore is something of an ambitious concept," says series writer, Cullen Bunn. "It started with a simple question I asked myself. 'What ghost stories would ghosts tell?' From there, though, it spun into this epic story of family, loss, grief, and—just possibly—the end of the world. It's been in my head for a while, but I wanted to wait until the stars aligned, so to speak, to even give it a try. I'm lucky to be working with an artist as talented as Leomacs on the main story, and I couldn't be more thrilled with the cadre of amazing creators who will be illustrating the ghost stories in each and every issue. It all comes together in a book unlike anything else I've worked on."
Leomacs is an Italian comic book and storyboard artist based in Rome, Italy. For DC Comics he has drawn the Hill House Comics thriller BASKETFUL OF HEADS written by Joe Hill, and ROGUES, written by Joshua Williamson, as well as a collaboration on LUCIFER. In Europe he has many titles under his belt. Most notably, for Sergio Bonelli Editore, in Italy, he has worked extensively on best-selling comics TEX and DYLAN DOG, while for the French market he has drawn the graphic novels THE INVISIBLE MOUNTAIN written by Pierre Makyo and Frédéric Richaud, published by Delcourt, and APPRENDRE À MAÎTRISER SON DESTIN, MÉMOIRE VIVE written by Pierre Makyo for Glénat edition. Leomacs has also collaborated as a storyboard artist with Colingwood & Co. for the animated series HORRID HENRY.
"I'm super thrilled to be drawing Cullen Bunn's Ghostlore for BOOM! Studios," says Ghostlore artist, Leomacs. "This story has pathos, drama and plenty of thrills to keep everyone on the edge of their seats. As for me, I love a good horror story, especially when the human element is strong and very relatable. Here there will be many layers to peel, and underneath you'll find more and more elements that will draw you in, demand your sympathy, scare and move you… and I'm going to enjoy drawing every single panel of Ghostlore."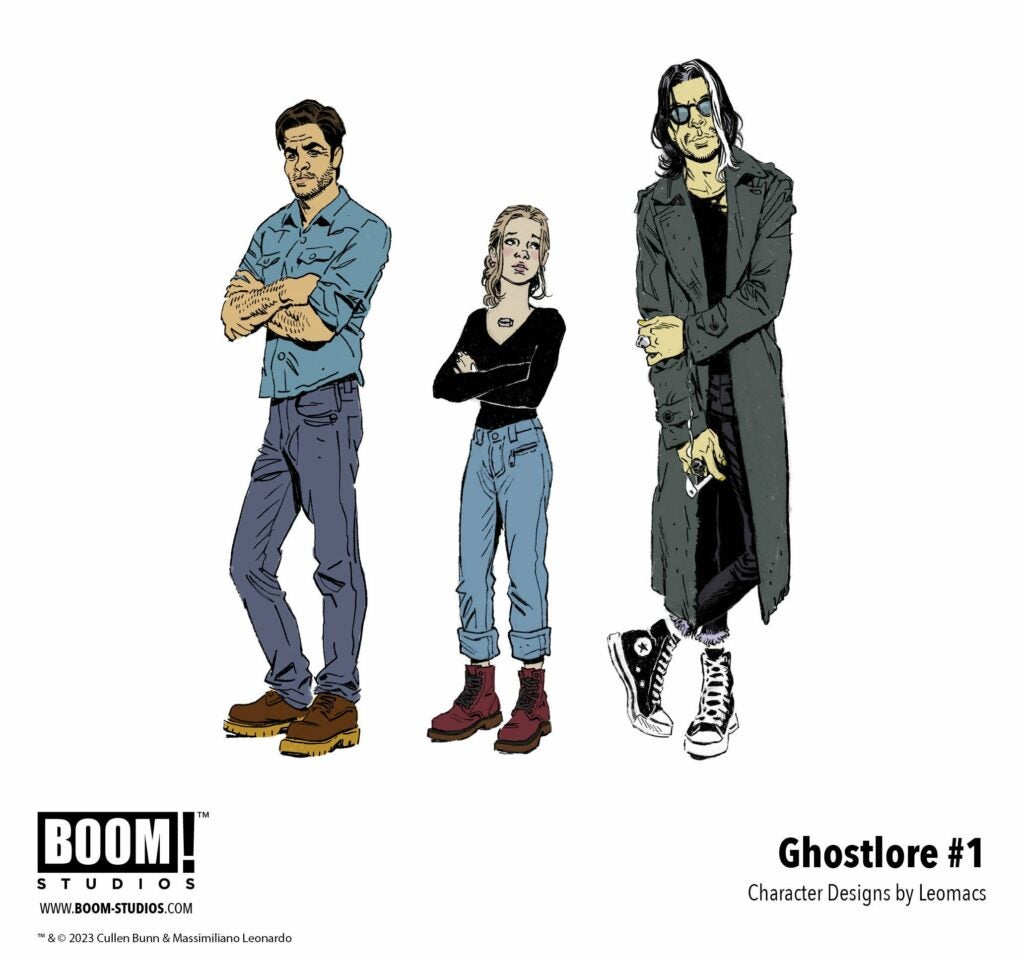 GHOSTLORE #1 features a standard cover by Leomacs, and variant covers by Brian Hurtt (Manor Black, The Sixth Gun), Tonči Zonjić (Skulldigger and Skeleton Boy, Shadowman), Reiko Murakami (Basketful of Heads, Nightmare Country), and Jenny Frison (Wonder Woman, Catwoman)!
"Cullen is a storyteller like no other, marrying heartfelt humanism with dark, gothic horror. Ghostlore is no exception, and the exploration of the horrors of parenthood and the trauma of surviving is the beating heart of this ghost story," says series editor, Ramiro Portnoy. "I can think of no one better than Leomacs and our star-studded cast of guest artists to help bring that level of emotion to life."
GHOSTLORE is the newest release from BOOM! Studios' eponymous imprint, home to critically acclaimed original series, including BRZRKR by Keanu Reeves, Matt Kindt, and Ron Garney; Something is Killing the Children by James Tynion IV and Werther Dell'Edera; Once & Future by Kieron Gillen and Dan Mora; Eve by Victor LaValle and Jo Mi-Gyeong; The Many Deaths of Laila Starr by Ram V and Filipe Andrade; Wynd by James Tynion IV and Michael Dialynas; Grim by Stephanie Phillips and Flaviano; Briar by Christopher Cantwell and Germán García; Stuff of Nightmares by R.L. Stine and A.L. Kaplan; The Approach by Jeremy Haun, Jason A. Hurley, and Jesus Hervas; Damn Them All by Simon Spurrier and Charlie Adlard; Behold, Behemoth by Tate Brombal and Nick Robles; Specs by David M. Booher and Chris Shehan; Once Upon a Time at the End of the World by Jason Aaron, Alexandre Tefenkgi, Leila del Duca, and Nick Dragotta; Know Your Station by Sarah Gailey and Liana Kangas; A Vicious Circle by Mattson Tomlin and Lee Bermejo; Mosely by Rob Guillory and Sam Lotfi; and the upcoming Harrower by Justin Jordan and Brahm Revel; The Neighbors by Jude Ellison S. Doyle and Letizia Cadonici; and The Seasons Have Teeth by Dan Watters and Sebastián Cabrol. The imprint also publishes popular licensed properties, including Dune: House Harkonnen from Brian Herbert, Kevin J. Anderson, and Michael Shelfer; Mighty Morphin Power Rangers from Melissa Flores and Simona Di Gianfelice; Magic from Jed McKay, Rich Douek, and Ig Guara; and The Expanse: Dragon Tooth by Andy Diggle and Rubine.
GHOSTLORE #1 will be in comic shops in May 2023. It is available for pre-order at your local comic shop or at the BOOM! Studios webstore. Digital copies can be purchased from content providers, including comiXology, iBooks, Google Play, and Kindle.