Giant Days Brings the Holiday Cheer
in an All-New Special!
Celebrate your favorite time of the year with BOOM! Studios in November 2017
LOS ANGELES, CALIF. (August 16, 2017) – BOOM! Studios is excited to announce the GIANT DAYS 2017 SPECIAL, on-sale in November 2017. Just in time for the holiday season, Eisner Award-nominated Giant Days creator John Allison (Bad Machinery) is teaming up with Jem & the Misfits  artist Jenn St-Onge for a tribute to the films of Richard Curtis, because nothing says London at Christmastime like Love, Actually. 
When Esther is invited to stay with her friend and mentor, Shelley Winters—who is less a mentor and more utterly mental—she brings Daisy and Susan with her.  Shelley Winters is a great and distinguished career woman who is hopelessly in love. Susan, Esther and Daisy observe (read: aggressively meddle in) her life, falling back on tried-and-true rom-com cliches to teach her some valuable life lessons.
"It's a tribute to the films of Richard Curtis, and the Bridget Jones movies, by someone who has seen those movies perhaps once, and maybe not all the way through," says Allison.
The GIANT DAYS 2017 SPECIAL is also a tribute to the fictionalized London-as-written for Americans, according to Allison. "Iconic locations are presented as if they're a brief walk away from each other, 1950s throwbacks still seem to walk the streets, it's very clean, there are no poor people," Allison describes.  "The ghosts of Mary Poppins and bad dentistry loom large, but not as large as Colin Firth. He's everywhere."
"Readers can expect some holiday hijinx from our main ladies (with only the best intentions, of course), some gentle 'Love, Actually' inspiration, and the return of some familiar faces for longtime readers of John Allison's comics," adds artist Jenn St-Onge. "I'm a huge fan of Giant Days and I really hope that as a guest artist (and non-Brit) I do this special justice!"
Giant Days is one of BOOM! Studios' most acclaimed series, earning numerous award nominations, including Eisners, Harveys, and one for Best Humor Comic by the inaugural Ringo Awards (which comics pros can vote on at ringoawards.com.) The ongoing series was first illustrated by animation artist Lissa Treiman and is currently drawn by Max Sarin and Liz Fleming, who won a National Cartoonists Society Award for their work.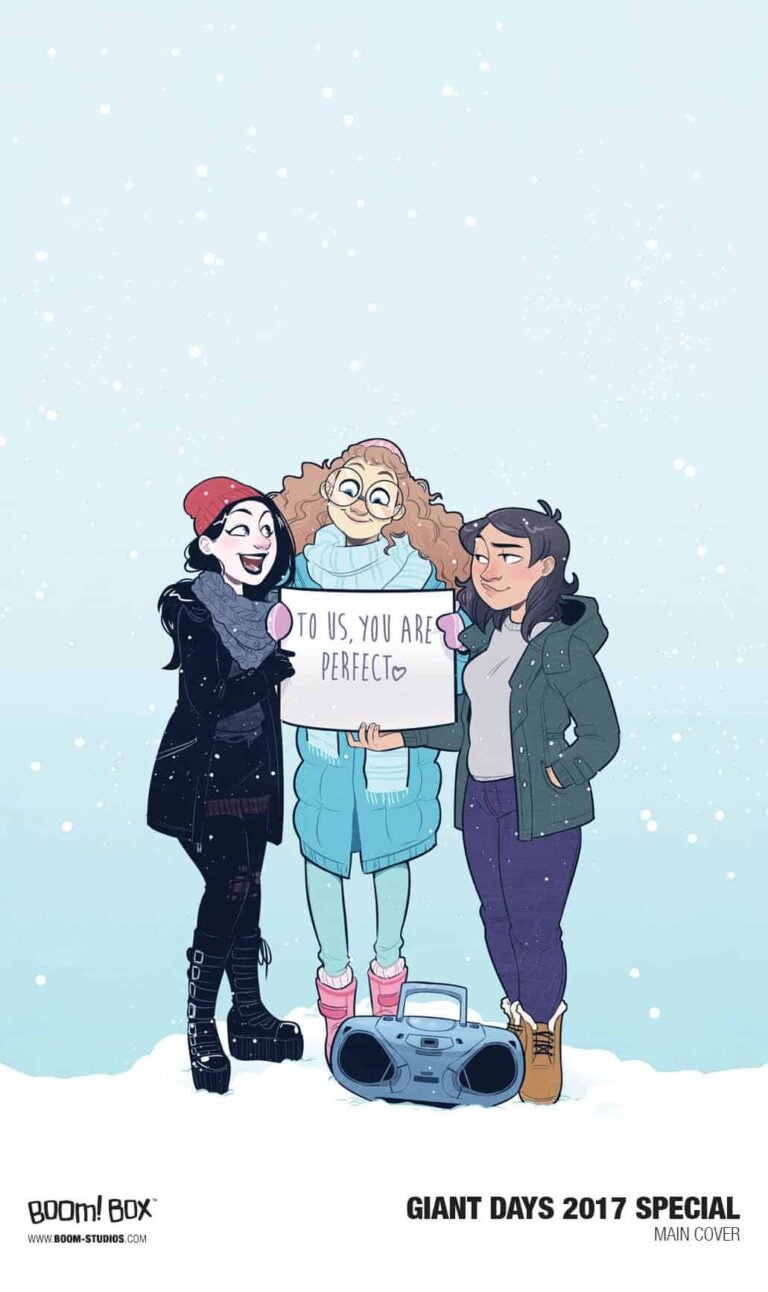 Print copies of the GIANT DAYS 2017 SPECIAL will be available for sale at local comic book shops (use comicshoplocator.com to find the nearest one) or at the BOOM! Studios webstore in November. Digital copies can be purchased from content providers including comiXology, iBooks, Google Books, and the BOOM! Studios app.
The GIANT DAYS 2017 SPECIAL is the latest release from BOOM! Studios' critically acclaimed BOOM! Box imprint, home to popular original series such asLumberjanes by Shannon Watters, Grace Ellis, Brooke A. Allen, and Noelle Stevenson; The Backstagers by James Tynion IV and Rian Sygh; SLAM! by Pamela Ribon and Veronica Fish; and Goldie Vance by Hope Larson and Brittney Williams.
For news on the GIANT DAYS 2017 SPECIAL  and more from BOOM! Studios, stay tuned to www.boom-studios.com and follow @boomstudios on Twitter.