Giant Days Returns in a Deluxe Hardcover From BOOM! Studios
Discover the First Volume of the Beloved Eisner Award-Winning Series in a Brand New Format
BOOM! Studios today announced the first of seven sturdy hardcovers collecting the entirety of the Eisner Award-winning slice-of-life comic series written by John Allison (Wicked Things, Steeple) and illustrated by Lissa Treiman (Minötar) and Max Sarin (Harley Quinn: The Animated Series: The Eat. Bang! Kill Tour) with GIANT DAYS LIBRARY EDITION VOL. 1, collecting the first eight issues of the hit series!
The school year is just beginning at Sheffield University, jam-packed with new classes, professors, and places to explore… not to mention new clubs, cliques, and shenanigans galore!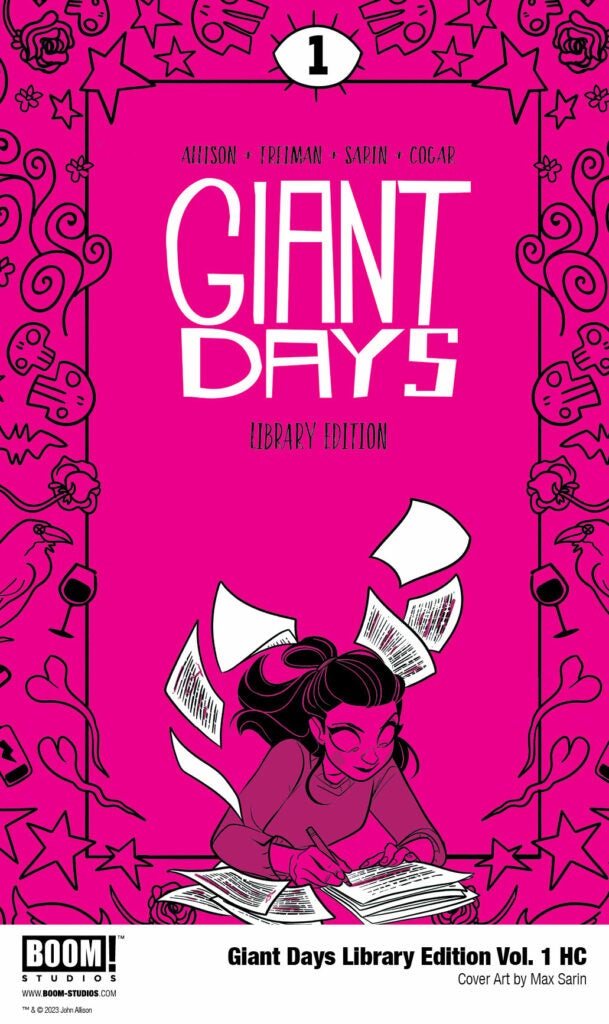 For first years Daisy, Esther, and Susan, they've got new friends on lock, forming a tight bond from their first days as next-dorm neighbors. But learning to navigate life as brand new (almost) adults isn't as easy as it looks.
Between old nemeses popping up, academic struggles, and new crushes on the horizon, it's a good thing these three have each other to help survive Hall Balls, bantering lads, and drama vortexes (vortices?)!
Collects the first eight issues of the Eisner Award-winning and Harvey Award-nominated series, along with an issue of the original webcomic and a brand new educational guide, all in a sturdy, deluxe hardcover!
GIANT DAYS LIBRARY EDITION VOL. 1 is the latest release from BOOM! Studios' award-winning BOOM! Box imprint, home to groundbreaking original series such as Juliet Takes a Breath by Gabby Rivera and Celia Moscote; Giant Days by John Allison, Lissa Treiman, and Max Sarin; Mamo by Sas Milledge; Save Yourself! by Bones Leopard and Kelly and Nichole Matthews; Specter Inspectors by Bowen McCurdy and Kaitlyn Musto; The Last Witch by Conor McCreery and V.V. Glass; Ghosted in LA by Sina Grace and Siobhan Keenan; The Avant-Guards by Carly Usdin and Noah Hayes; Fence by C.S. Pacat and Johanna the Mad; Goldie Vance by Hope Larson and Brittney Williams; educational series Seen: True Stories of Marginalized Trailblazers, Getting Dizzy by Shea Fontana and Celia Moscote, and Hollow by Shannon Watters, Branden Boyer-White, and Berenice Nelle.
GIANT DAYS LIBRARY EDITION VOL. 1 will be available in comic shops August 23, 2023 and in bookstores September 5, 2023. Digital copies can be purchased from content providers, including comiXology, iBooks, Google Play, and Kindle.