Discover a Brand New Series of Captivating Tales That'll Terrify and Delight in March 2020
BOOM! Studios announced today JIM HENSON'S THE STORYTELLER: GHOSTS, a brand new four-issue comic book series based on the Emmy Award-winning classic television show, Jim Henson's The Storyteller, presenting several extraordinary folk tales of life after death. The first story from cartoonist Márk László and letterer Jim Campbell (Coda) about the perils of getting entangled in a ghost's affairs, available in March 2020.
In Scandinavian folklore, there exists a vengeful ghost known as the Myling. A man traveling at night comes across a haunting cry from within the forest. He enters it to find a spirit who demands to be carried to its proper burial site. The man agrees, but as he travels forth, the spirit's grip tightens… it grows in size…and the man moves slower and slower. Can he unburden himself of this terrifying weight before it brings him down for good?
JIM HENSON'S THE STORYTELLER: GHOSTS #1 features main cover art by artist Michael Walsh (Black Hammer/Justice League) and variant cover art by László.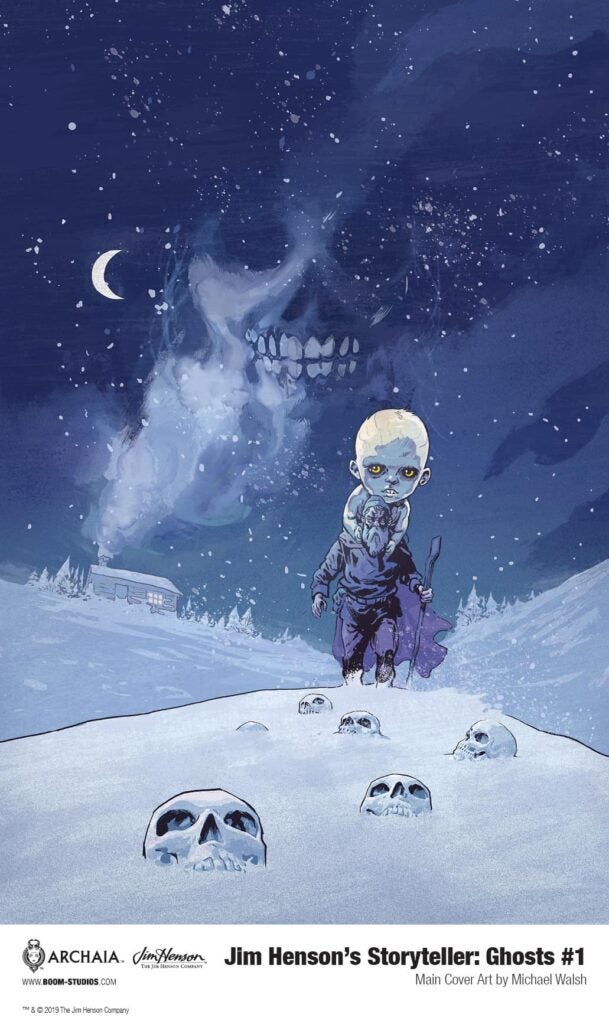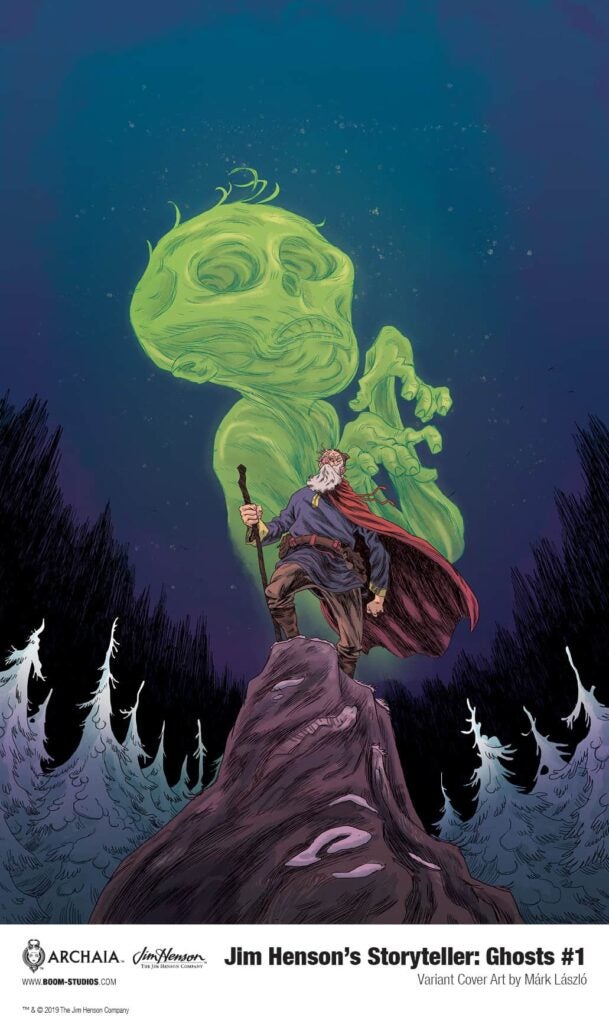 "Ghosts can shock and terrify us, but they also can reveal something profound about loss, grief, and the value of life." said Matthew Levine, Editor, BOOM! Studios. "Storyteller: Ghosts aims higher than just what goes bump in the night. This diverse collection of supernatural folklore will present plenty of scares, but you might be surprised by how touching these tales can be. "
JIM HENSON'S THE STORYTELLER: GHOSTS is the latest release from BOOM! Studios' ambitious Archaia imprint, home to graphic novels such as Bolivar by Sean Rubin; Mouse Guard by David Petersen; Girl in the Himalayas and New World by David Jesus Vignolli; Jane by Aline Brosh McKenna and Ramón Pérez; Persephone by Loïc Locatelli-Kournwsky and licensed series including Lev Grossman's The Magicians by Lilah Sturges and Pius Bak; Jim Henson's The Power of the Dark Crystal and Jim Henson's Labyrinth: Coronation.
Print copies of JIM HENSON'S THE STORYTELLER: GHOSTS #1 will be available for sale on March 11, 2020 at local comic book shops (use comicshoplocator.com to find the nearest one) or at the BOOM! Studios webstore. Digital copies can be purchased from content providers, including comiXology, iBooks, Google Play, and Madefire.