Get Ready For the Fight of the Millenium in HEAVY VINYL: Y2K-O! in March 2020
BOOM! Studios is proud to continue The Road to San Diego, a ten-day, ten-announcement spotlight on the most exciting comic book and graphic novel news in advance of Comic Con International in San Diego (July 17–21), with the announcement today of HEAVY VINYL: Y2K-O!. The brand new original graphic novel, available in stores March 2020, reunites the acclaimed team of filmmaker and writer Carly Usdin (The Avant-Guards) and artist Nina Vakueva (League of Legends: Ashe – Warmother) for a brand-new adventure with the music store crew—and secret fight club—of HEAVY VINYL.
Your favorite girl gang is back and on the brink of a new millennium! It's the summer of 1999, and while the staff of Vinyl Destination is dealing with growing up and getting out into the world, the tension over Y2K is mounting into an all-out panic! Can this group of music-loving vigilantes balance their work lives with their dating lives, prevent the total collapse of modern society, AND be home in time for dinner?! Only one way to find out!
Carly Usdin is an award-winning filmmaker based in Los Angeles. Her first feature, Suicide Kale, won the Audience Award for Best First Feature at Outfest 2016. Carly is also the creator and writer of two comic book series for BOOM! Studios: Heavy Vinyl and The Avant-Guards. Heavy Vinyl was nominated for a 2018 Prism Award, honoring the best in LGBTQIA+ comics.
Carly has recently completed her short film Misdirection, created as part of the American Film Institute's Directing Workshop for Women, class of 2019. Currently she is developing several projects through her production company Scheme Machine Studios, which she owns with her wife, photographer and producer Robin Roemer.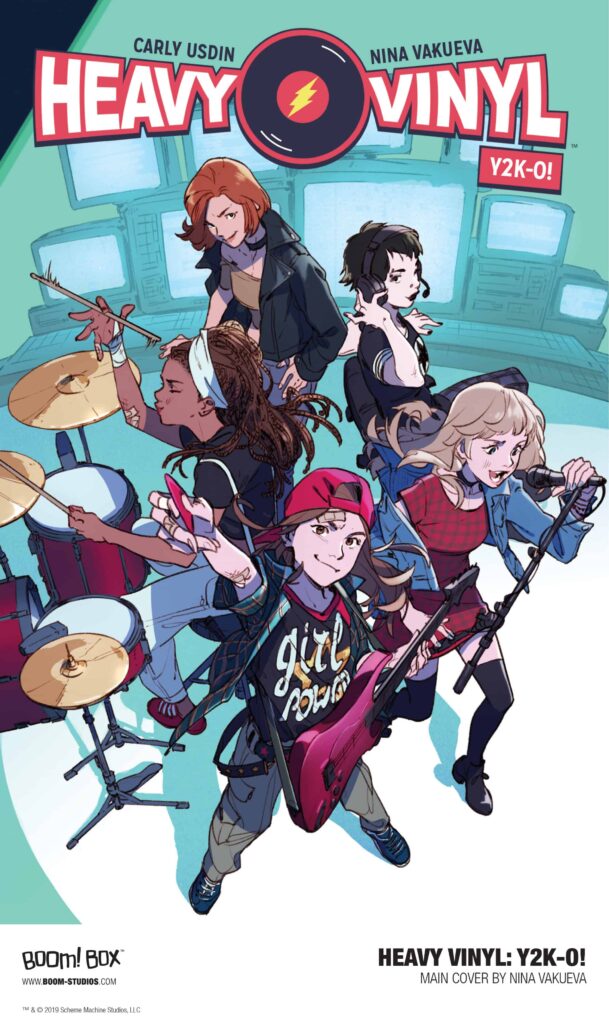 "Getting the chance to continue the Heavy Vinyl story is a dream come true! I'm thrilled to be reunited with my precious little '90s babies. The story picks up a few months later — it's 1999, digital music and file sharing have upset the status quo, and Y2K approaches!!"said writer, Carly Usdin. "You can expect the same level of exhaustively-researched pop culture references with new characters, a new mystery, and more Chris/Maggie cuteness. I've been having a great time writing it, and I can't wait for fans to read it."
Nina Vakueva is a self-taught freelance artist born and based in Moscow. She graduated from Moscow Architectural University in 2014, worked briefly for the Architectural Bureau then moved to comic books and character design. Nina worked as part of Russian comic studio, Bubble, and currently works as an artist on Heavy Vinyl for BOOM! Studios, League of Legends: Ashe – Warmother for Marvel Entertainment, and on her original webcomic, Lilith's Word.
"It's time for Chris and the rest of the vigilante girl group from HEAVY VINYL to tackle Y2K!" said artist Nina Vakueva. "These teens are always up for a big adventure, so catch them hacking computers and fighting crime, all while playing their favorite music and having fun with their friends in the new HEAVY VINYL: Y2K-O!"
The HEAVY VINYL: Y2K-O! cover will feature artwork by Nina Vakueva.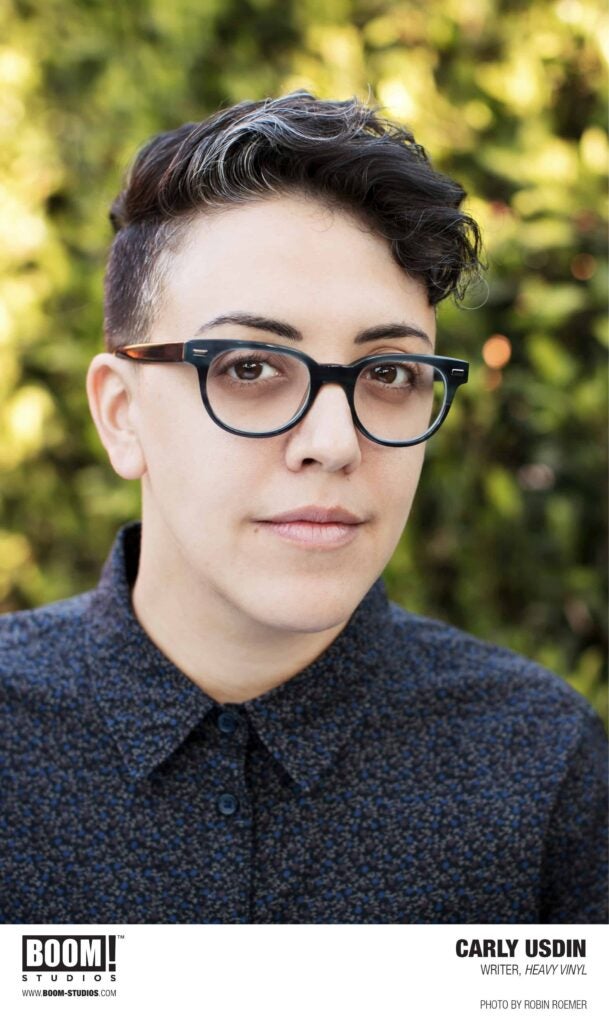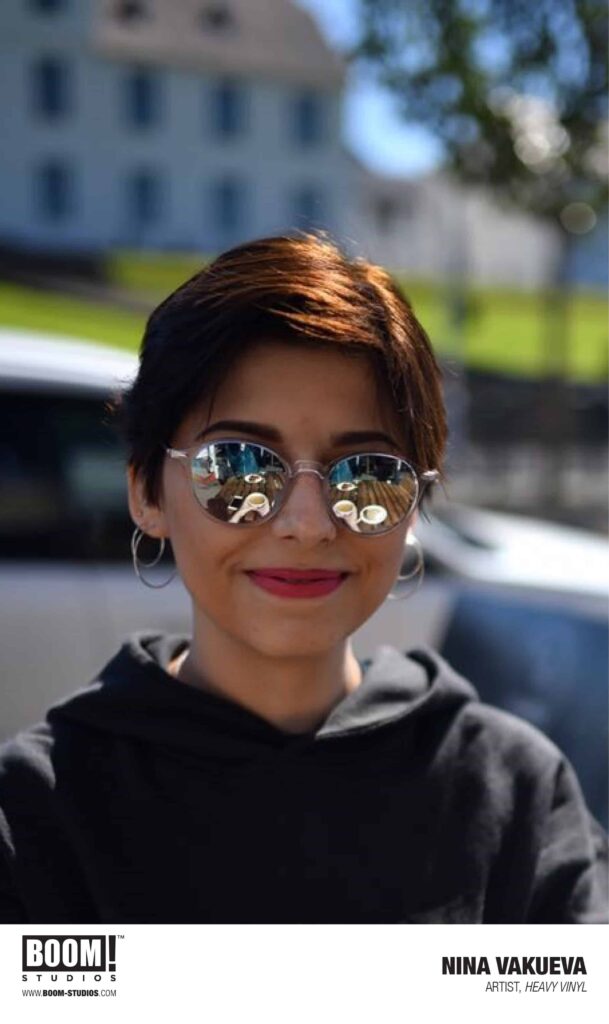 "We're absolutely thrilled to be teaming up with Carly and Nina to bring everyone a brand new graphic novel set in the kick-ass, action-packed world of Heavy Vinyl." said Shannon Watters, Senior Editor, BOOM! Studios. "There'll be plenty of sweet, sweet lady romance, action, mystery, and late '90s fashion and goofy good times in this love letter to the historic manic panic of the Y2K craze."
HEAVY VINYL: Y2K-O! is the latest release from BOOM! Studios' award-winning BOOM! Box imprint, home to groundbreaking original series such as Lumberjanes by Shannon Watters, Grace Ellis, Brooklyn Allen, and Noelle Stevenson; Giant Days by John Allison, Lissa Treiman, and Max Sarin; The Avant-Guards by Carly Usdin and Noah Hayes; Misfit City by Kiwi Smith, Kurt Lustgarten, and Naomi Franquiz; Fence by C.S. Pacat and Johanna The Mad; and Goldie Vance by Hope Larson and Brittney Williams.
Print copies of HEAVY VINYL: Y2K-O! will be available in March 2020 at local comic book shops (use comicshoplocator.com to find the nearest one), bookstores, or at the BOOM! Studios webstore. Digital copies can be purchased from content providers, including comiXology, iBooks, Google Play, and the BOOM! Studios app.