Open The Door To New Worlds in April 2019
BOOM! Studios today unveiled a first look at HOTEL DARE, an all-new original graphic novel written by Terry Blas (Dead Weight) and illustrated by rising talent Claudia Aguirre (Kim & Kim) arriving in stores April 2019.
This world-hopping fantasy follows Olive and her adopted siblings, Darwin and Charlotte, as they spend their summer with their estranged Grandmother, Mamá Lupe at her creepy hotel in Mexico. When their boring chores lead them to discover a secret hiding behind every door of the hotel—thanks to a mysterious ancient mask—the kids are transported to three magical worlds filled with space pirates, bearded wizards, and cotton-candied kingdoms. But if they're gonna save these three worlds from certain jeopardy, they'll need to embrace the love and acceptance of family…before they tear themselves apart!
"What if you could open a door that would lead you to an all-new adventure that was so extraordinary that it surpassed the limits of imagination? For Olive, Darwin, and Charlotte, this is only the beginning of their summer with their abuela." said Whitney Leopard, Editor, BOOM! Studios. "Terry and Claudia's HOTEL DARE explores how we relate to new places, new cultures, and new families. This is an amazingly beautiful story filled with action, adventure, and the cutest and yet most terrifying creatures you've ever seen."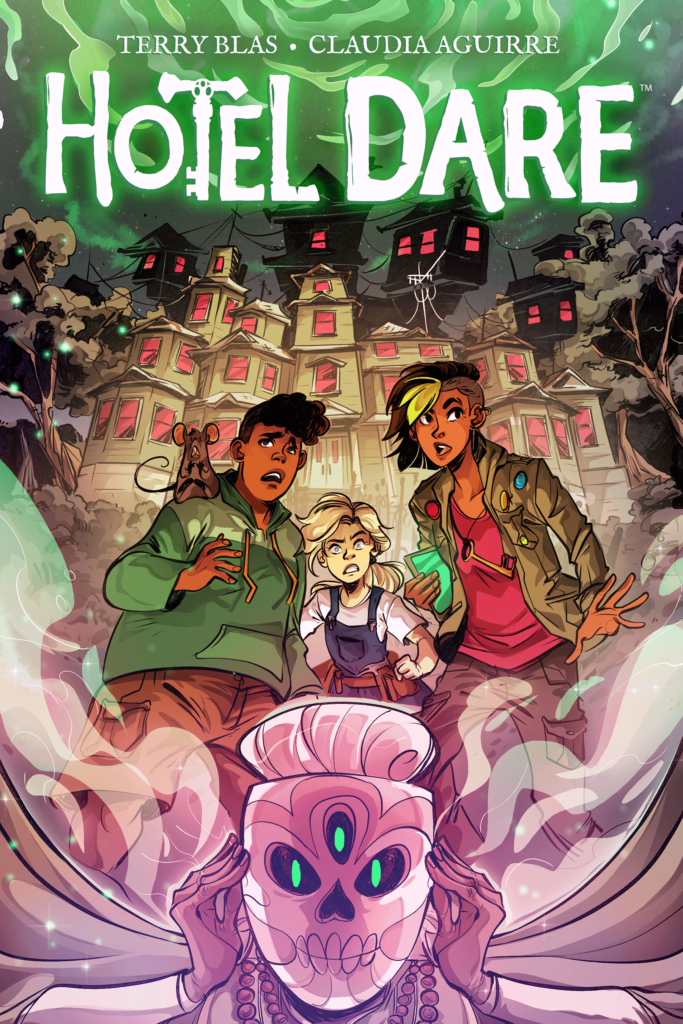 HOTEL DARE is the latest release from BOOM! Studios' critically acclaimed KaBOOM! imprint, publisher of award-winning comics for middle grade and younger readers including licensed series such as Adventure Time, Steven Universe, Rugrats, Peanuts, and Garfield, along with original series like Dodo by Felipe Nunes, Mega Princess by Kelly Thompson and Brianne Drouhard, Bodie Troll by Jay Fosgitt, Ruinworld by Derek Laufman, and The Deep by Tom Taylor and James Brouwer.
Print copies of HOTEL DARE will be available for sale in April 2019  at local comic book shops (use comicshoplocator.com to find the nearest one), bookstores or at the BOOM! Studios webstore. Digital copies can be purchased from content providers, including comiXology, iBooks, Google Play, and the BOOM! Studios app.
WHERE TO BUY:
Check out a list of dedicated retail partners carrying the BOOM! books you love HERE.
To find these and other comic shops near you, enter your zip code below: