Your First Look at JIM HENSON'S THE DARK CRYSTAL: AGE OF RESISTANCE #4 from BOOM! Studios
The Official 'The Dark Crystal: Age of Resistance' Tie-In Continues in December 2019
BOOM! Studios today revealed a first look at JIM HENSON'S THE DARK CRYSTAL: AGE OF RESISTANCE #4, the latest issue in a new comic book series, introducing an explosive story leading up to the events of The Jim Henson Company's new Netflix series The Dark Crystal: Age of Resistance. Delve into the secret history of the world of Thra and its inhabitants before the Age of Resistance.
Enter a world of wonder, danger, and excitement with writer Nicole Andelfinger (Adventure Time), artist Esdras Cristobal (Rugrats), colorist Rod Fernandes, and letterer Jim Campbell as they uncover an epic story from the world of Thra in the time before Age of Resistance. War and chaos reign over the once peaceful land and Gelfling everywhere must fight for the survival of their clans against the terrifying Arathim.
Ordon, a mighty Gelfling warrior, and a young stowaway, Fara, set off on a quest to retrieve the one item that could save their kind. Now, with the end of their quest in sight, Ordon and Fara finally have hope that they will be able to save their village. But the journey home proves just as treacherous, and the two of them may arrive too late to stop the destruction of everything they love…
JIM HENSON'S THE DARK CRYSTAL: AGE OF RESISTANCE #4 features main cover art by illustrator Mona Finden and variant connecting cover art by artists Kelly & Nichole Matthews (R.L. Stine's Just Beyond).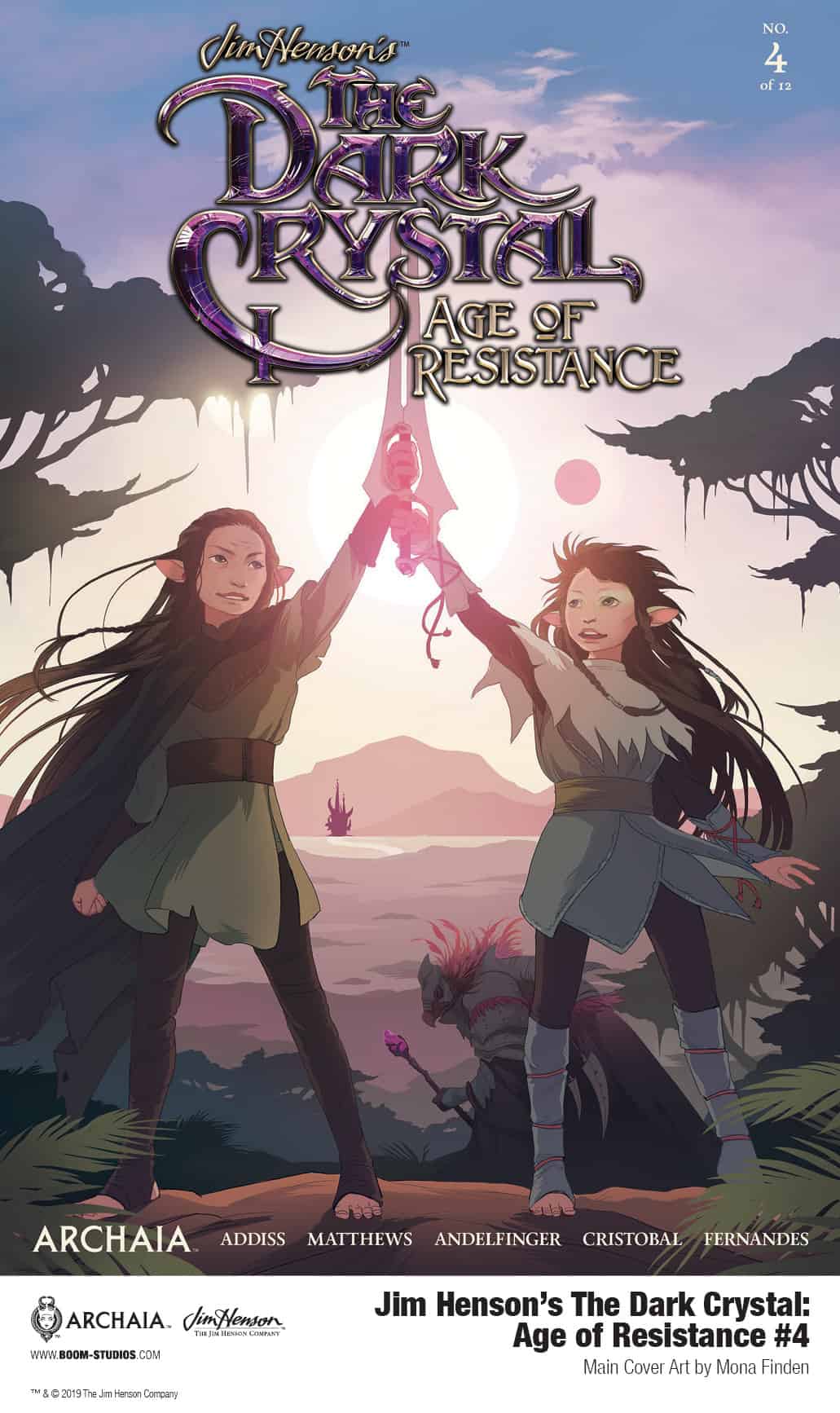 JIM HENSON'S THE DARK CRYSTAL: AGE OF RESISTANCE #4 is the latest release from BOOM! Studios' ambitious Archaia imprint, home to graphic novels such as Bolivar by Sean Rubin; Mouse Guard by David Petersen; Girl in the Himalayas and New World by David Jesus Vignolli; Jane by Aline Brosh McKenna and Ramón Pérez; Persephone by Loïc Locatelli-Kournwsky and licensed series including Lev Grossman's The Magicians by Lilah Sturges and Pius Bak; Jim Henson's The Power of the Dark Crystal and Jim Henson's Labyrinth: Coronation.
Print copies of JIM HENSON'S THE DARK CRYSTAL: AGE OF RESISTANCE #4 will be available for sale on December 18, 2019 at local comic book shops (use comicshoplocator.com to find the nearest one) or at the BOOM! Studios webstore. Digital copies can be purchased from content providers, including comiXology, iBooks, Google Play, and Madefire. A softcover edition of JIM HENSON'S THE DARK CRYSTAL CREATION MYTHS: THE COMPLETE COLLECTION is now available in bookstores.