BOOM! Studios Celebrates 40 Years of Jim Henson's THE DARK CRYSTAL on Kickstarter
Award-Winning Publisher's Deluxe Pre-Order Campaign Features Prestige Graphic Novel Collections, Merchandise & More in Honor of Henson's Fantasy Masterwork
In 1982, visionary filmmaker Jim Henson ushered in a new milestone in fantasy with THE DARK CRYSTAL – a visually stunning tale of heroism, and good versus evil in the creature-filled world of Thra. More than 20 years later, that legend began anew when Archaia, the multiple Eisner Award-winning imprint of acclaimed comic book publisher, BOOM! Studios, returned to Henson's realm for a series of all-new comic book and graphic novel collaborations that would expand, explore, and further enrich the wonderous world and characters first introduced in the original film.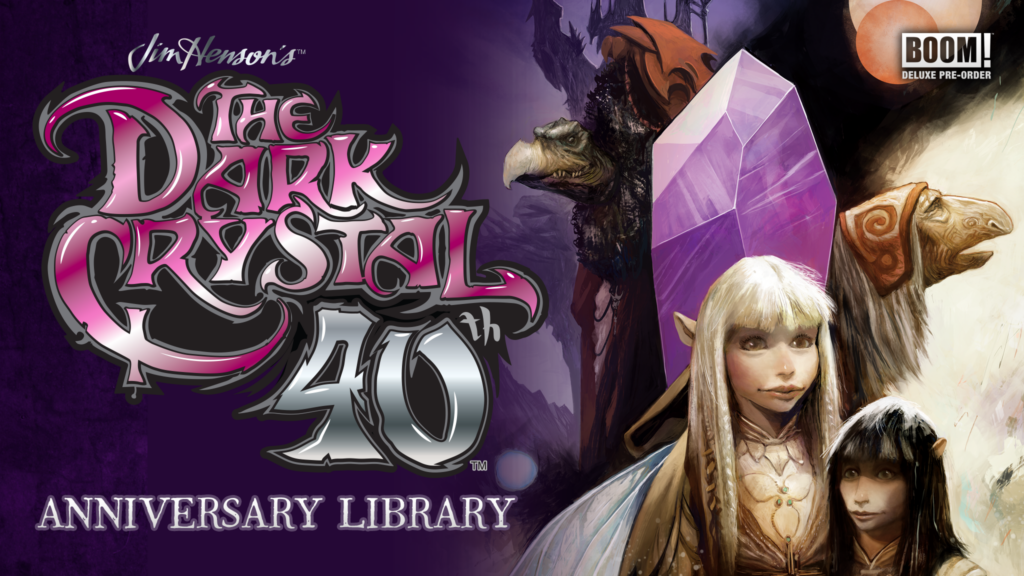 Now, in conjunction with the 40th anniversary of the original film's release, Archaia is proud to present THE DARK CRYSTAL 40th ANNIVERSARY LIBRARY – presenting, for the first time, the complete corpus of BOOM!/Archaia's DARK CRYSTAL comics and graphic novels in one stunning, seven-volume collection, available exclusively on Kickstarter as part of the latest BOOM! DELUXE PRE-ORDER initiative.
Reuniting original DARK CRYSTAL creator designer Brian Froud with acclaimed comics creators including GLAAD Media Award winner Si Spurrier (Damn Them All), Eisner Award nominee Phillip Kennedy Johnson (Action Comics), Eisner Award nominee Joshua Dysart (Unknown Soldier), artist Matthew Dow Smith (Hellboy), artists Kelly & Nichole Matthews (R.L. Stine's Just Beyond), and many more, THE DARK CRYSTAL 40th ANNIVERSARY LIBRARY spans seven volumes – five oversized (7.5 x 11") hardcovers, plus two supplemental volumes – bound in spellbinding faux purple leather and foil-stamped with an ornate invocation of The Great Conjunction's sacred alignment in the following sequence:
JIM HENSON'S THE DARK CRYSTAL: CREATION MYTHS HC
JIM HENSON'S THE DARK CRYSTAL: AGE OF RESISTANCE HC
JIM HENSON'S THE POWER OF THE DARK CRYSTAL HC
JIM HENSON'S BENEATH THE DARK CRYSTAL HC
JIM HENSON'S THE DARK CRYSTAL ARTIST TRIBUTE HC
JIM HENSON'S THE DARK CRYSTAL: THE ILLUSTRATED NOVELIZATION HC
JIM HENSON'S THE DARK CRYSTAL TALES HC
Additionally, exclusively as part of this 40th Anniversary pre-order initiative, BOOM! Studios and The Jim Henson Company are proud to offer to a selection of specialty items, merchandise, and bonus offerings, including limited-edition box sets, featuring bookplate signatures by Brian and Wendy Froud in each volume; premium DARK CRYSTAL posters, art prints and world maps, featuring artwork by Mike Huddleston (Decorum) and Iris Compiet (The Dark Crystal Bestiary); remarqued art plates, featuring original art by illustrator Cory Godbey (Jim Henson's The Dark Crystal Tales); collector's coins; 40th Anniversary apparel; and more!
Currently live on Kickstarter, any backers who pre-order more than $100 worth of goods in the campaign's first 24 hours (through 9 am ET tomorrow, October 26th) will also be rewarded with an exclusive Dark Crystal 40th Anniversary enamel pin as a launch day bonus. Visit the BOOM! DELUXE PRE-ORDER campaign's homepage for more information on Stretch Goals, Add-On bonus products, and other surprises to be revealed before the initiative comes to a conclusion on November 14, 2022.
Immediately before the campaign's close, The Jim Henson Company and Thames Con will also be hosting The Great Con-Junction live in Los Angeles from November 12-13, 2022 – an official, two-day Dark Crystal convention, held in honor of the film's 40th Anniversary at the Hilton Universal City and including a celebratory party at The Jim Henson Company's historic lot. Visit TheGreatConjunction.com for more details.