Your First Look at JIM HENSON'S THE STORYTELLER: TRICKSTERS #4 from BOOM! Studios
Discover Robin and A.L. Kaplan's Mischievous Loki and Thor Team-up in June 2021
BOOM! Studios revealed today the first look of JIM HENSON'S THE STORYTELLER: TRICKSTERS #4, the final issue of the new comic book series based on the Emmy Award-winning classic television show, Jim Henson's The Storyteller, presenting several extraordinary folk tales of legendary tricksters from the four corners of the world. Real-life siblings Robin Kaplan (The City on The Other Side) and A.L. Kaplan (Full-Spectrum Therapy) present the next standalone chapter of the Jim Henson-inspired epic limited series, available in June 2021.
Can the Norse trickster god, Loki, get the legendary god of thunder, Thor, to embrace his feminine side? When Thor's hammer ends up in the possession of the King of the Giants, only his clever brother will be able to aid him in retrieving it, but only if Thor can use his brains rather than his brawn.
JIM HENSON'S THE STORYTELLER: TRICKSTERS #4 will feature main cover art by artist Peach Momoko (Power Rangers) and variant cover art by artist Dani Pendergast (NPR).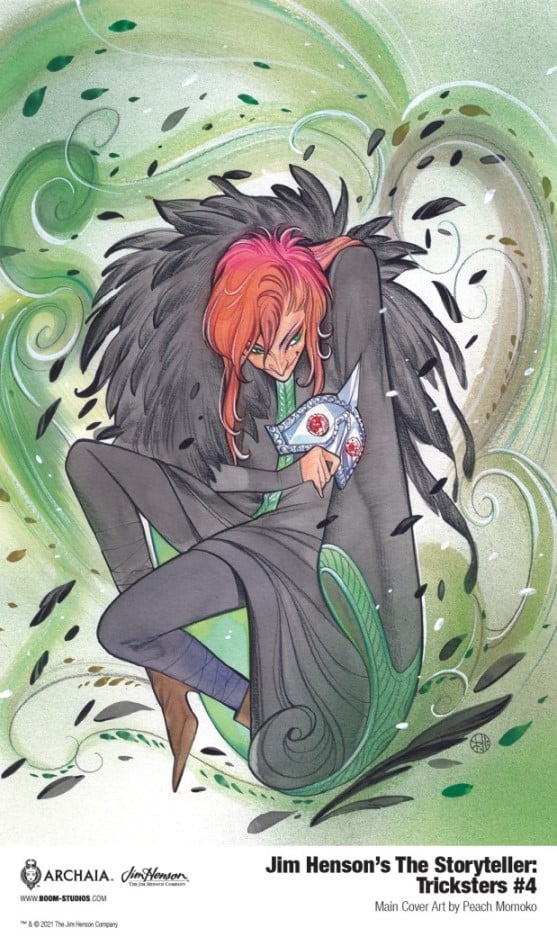 JIM HENSON'S THE STORYTELLER: TRICKSTERS is the latest release from BOOM! Studios' ambitious Archaia imprint, home to graphic novels such as Bolivar by Sean Rubin; Mouse Guard by David Petersen; Slaughterhouse-Five by Kurt Vonnegut, Ryan North, and Albert Monteys; The Sacrifice of Darkness by Roxane Gay, Tracy Lynne-Oliver, and Rebecca Kirby; Big Black: Stand at Attica by Frank "Big Black" Smith, Jared Reinmuth, and Améziane, We Served the People by Emei Burell, and licensed series including Lev Grossman's The Magicians by Lilah Sturges and Pius Bak, as well as Jim Henson's The Dark Crystal: Age of Resistance and Jim Henson's Labyrinth: Coronation.
Print copies of JIM HENSON'S THE STORYTELLER: TRICKSTERS #4 will be available for sale on June 16, 2021 at local comic book shops (use comicshoplocator.com to find the nearest one) or at the BOOM! Studios webstore. Digital copies can be purchased from content providers, including comiXology, iBooks, Google Play, and Kindle. Readers can purchase JIM HENSON'S THE STORYTELLER: TRICKSTERS HC, collecting the complete four-issue series, at local comic book shops on November 24, 2021 and bookstores everywhere on November 20, 2021.