John Allison and Max Sarin Announce WICKED THINGS with BOOM! Studios in 2020
The Game's Afoot as Acclaimed Giant Days Creative Team Returns with All New Limited Series in March 2020
BOOM! Studios is proud to announce WICKED THINGS, reuniting the Eisner Award-winning team, writer John Allison (Steeple, Bad Machinery), artist Max Sarin, colorist Whitney Cogar, and letterer Jim Campbell for a new original six-issue series about everyone's favorite young detective from the world of Giant Days: Charlotte Grote.
Nineteen year old Charlotte "Lottie" Grote has her whole life ahead of her; headed straight to university and a future as a real detective—until she's framed for murder! Given the choice between going to jail basically forever or joining the police, Lottie decides to hit the beat, all while trying to find the real murderer. Lottie may have been running rings about the police since her 9th birthday, but she's never been on this side of the security tape. Could the future of law enforcement be 5'2" with an extremely strong bangs game? Yes. Very yes.
Based in Letchworth Garden City, UK, John Allison is the creator of the comic series Giant Days, By Night, and Steeple, and of the all-ages book series Bad Machinery. In addition, he created the webcomics Bobbins and Scary Go Round, with his work appearing online since 1998. He was one of the first comic artists to build a daily following exclusively on the internet.
John's various comics have been nominated for Eisner Awards every year from 2016-2019, and in 2018 he won the Best Long-Form Online Comic award from the US National Cartoonists' Society. Giant Days has sold almost half a million copies worldwide, won Eisner Awards for Best Continuing Series and Best Humor Publication, and is currently being published in seven foreign language editions.
"WICKED THINGS is a tale I've been waiting years to tell—the story of what happens when a precocious teen detective ages out of their division overnight. Lottie Grote is the crown jewel of my little comics universe, and I don't think she could be in safer artistic hands than Max Sarin, whose work gets better every month." said writer John Allison. "I'm delighted the GIANT DAYS team is back together so soon."
Max Sarin is the National Cartoonist Award-winning comic book artist and illustrator from Finland who is known for their work on the Eisner Award-winning series Giant Days with creator John Allison.
"From Slice of Life to Slice of Crime! Some WICKED THINGS are coming our way!" said artist Max Sarin.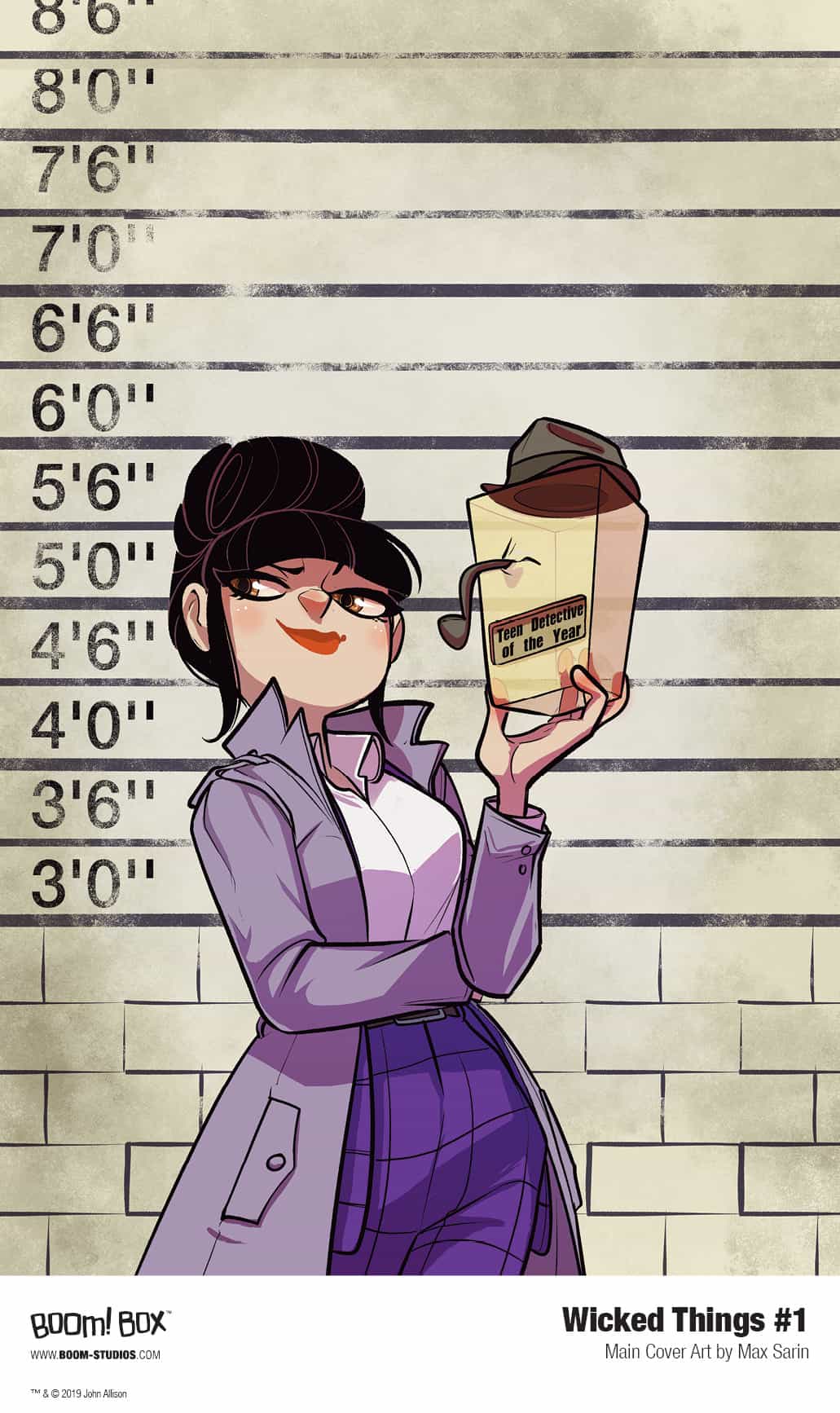 WICKED THINGS is the latest release from BOOM! Studios' award-winning BOOM! Box imprint, home to groundbreaking original series such as Lumberjanes by Shannon Watters, Grace Ellis, Brooklyn Allen, and Noelle Stevenson; Giant Days by John Allison, Lissa Treiman, and Max Sarin; Heavy Vinyl by Carly Usdin and Nina Vakueva; b.b. free by Gabby Rivera and Royal Dunlap; Fence by C.S. Pacat and Johanna The Mad; and Goldie Vance by Hope Larson and Brittney Williams.
"Sarah Grote's little sister Lottie is all grown up, and now she's a crime fighting teen who's admittedly still running blindly into situations and getting into trouble. We meet her now as John and Max throw her right from the frying pan into the fire and the trouble Lottie gets into comes with a capital 'T'," said Shannon Watters, Senior Editor, BOOM! Studios. "If you're a fan of Giant Days, murder, mystery, mayhem—or all of the above—do yourself a favor and dive right in!"
Print copies of WICKED THINGS #1 will be available in March 2020 at local comic book shops (use comicshoplocator.com to find the nearest one), bookstores, or at the BOOM! Studios webstore. Digital copies can be purchased from content providers, including comiXology, iBooks, Google Play, and Madefire.