Discover One Token To Rule All the Babies in Their Very First Graphic Novel Adventure
BOOM! Studios today announced the first-ever Rugrats original graphic novel RUGRATS: THE LAST TOKEN, about the babies' journey to save the arcade from certain doom with the treasured last token, from writer Pranas T. Naujokaitis (Adventure Time) and artist Maurizia Rubino (Steven Universe) in stores November 2019. Join the Rugrats as they set off on a magical quest to battle monsters, hordes, and the pernicious influence of greed in the most epic adventure of all time!
Stu and Drew have taken the babies to the local arcade for a relaxing day of pizza and games but one does not simply walk into the Wizard Rat Pizza Parlor Fun Time. When the arcade's token stock goes down to one, a frenzy breaks loose and darkness descends upon the arcade floor. Every child seeks the precious golden coin for their own game with no thought to the needs of all the children of Fun Time. It is up to Tommy, son of Stu, and his noble fellowship of Rugrats to guard the one token across the treacherous game room floor to the fabled volcano arcade machine, told to yield a stream of tokens if you win, in order to save the day.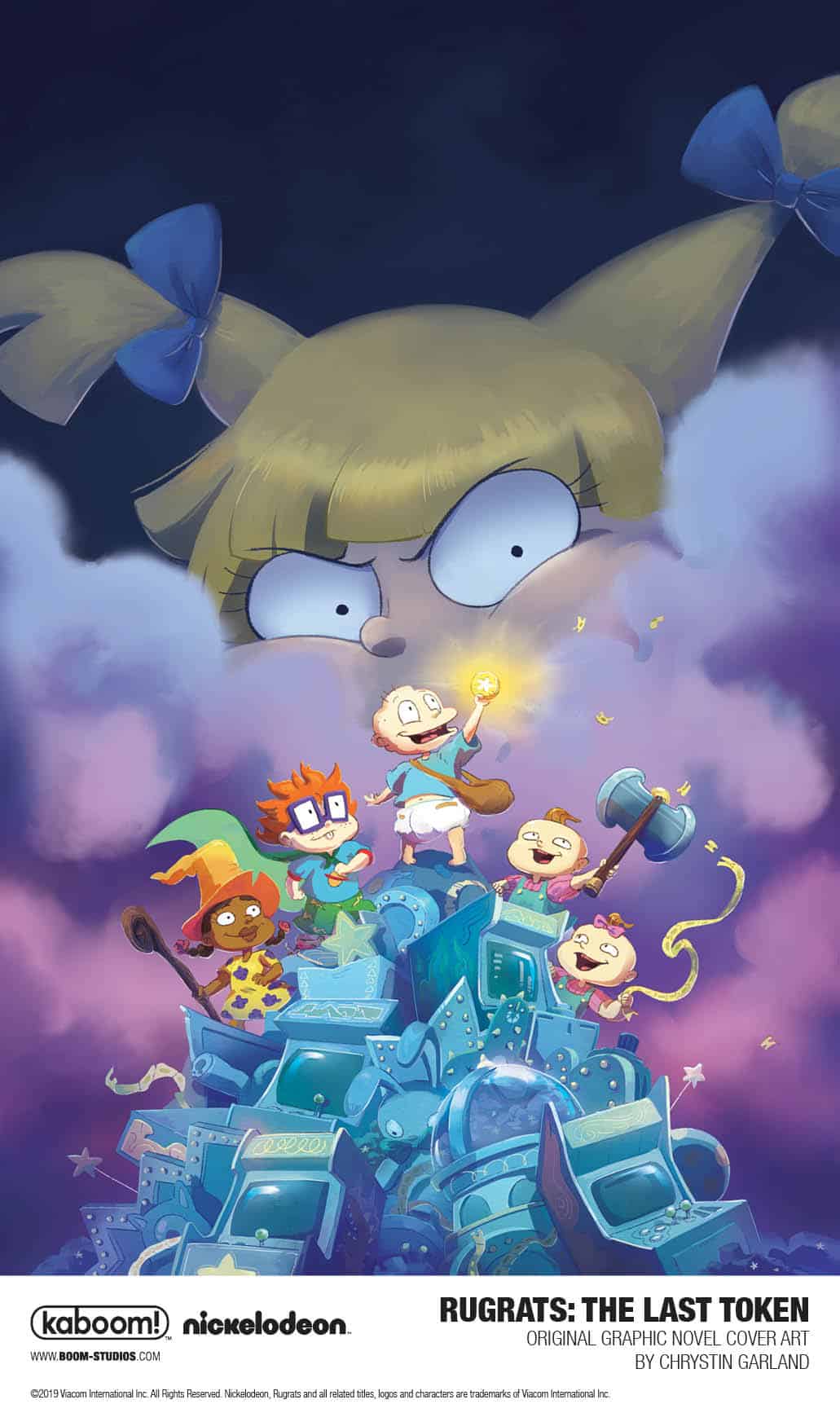 Naujokaitis is an Ignatz Award-nominated writer who has worked for Boom! Studios on Adventure Time: Ice King and Uncle Grandpa in Uncle Grandpaland.
"One thing I always loved about Rugrats is how spot on they get it when showing how kids pretend when playing. I wanted to do a story that honored those playtimes but through the eyes of Tommy and the gang," said Naujokaitis. "I am honored to get to put my own small personal stamp and work with characters that I loved when I was young enough (and small enough) to still be allowed inside those plastic tubes of my youth."
Rubino is an illustrator of children's books and comic books based in Milan. She was an artist for Steven Universe: Fusion Frenzy #1 from BOOM! Studios.
"I'm very excited to work on RUGRATS: THE LAST TOKEN. The story is super fun and full of references to classic fantasy stories, so it's been a really interesting book to illustrate," said Rubino. "I'm very happy to be the artist who has accompanied the babies on this amazing adventure!"
RUGRATS: THE LAST TOKEN, featuring a cover by Chrystin Garland (Steven Universe), is the latest release from BOOM! Studios' award-winning KaBOOM! imprint, home to comics for middle grade and younger readers, including licensed series such as Adventure Time, Steven Universe, Regular Show, Ben 10, and Over The Garden Wall, along with original series like Just Beyond: The Scare School by R.L. Stine and Kelly & Nichole Matthews, Hex Vet by Sam Davies, RuinWorld by Derek Laufman, and Pandora's Legacy by Kara Leopard, Kelly & Nichole Matthews.
"This uproarious Rugrats adventure is a tip of the hat to one of my favorite genres, fantasy," said Matthew Levine, Editor, BOOM! Studios. "Pranas and Maurizia have crafted a tale that weaves humor and action as the babies dream up some big fantasy and challenge themselves in a quest to rid the arcade of unhealthy competition. This is an epic Rugrats story unlike any we've done before!"
Print copies of RUGRATS: THE LAST TOKEN will be available in November 2019 at local comic book shops (use comicshoplocator.com to find the one nearest you), or at the BOOM! Studios webstore. Digital copies can be purchased from content providers like comiXology, iBooks, Google Play, and the BOOM! Studios app.