Your First Look at R.L. Stine's JUST BEYOND: MONSTROSITY
Discover the Beloved Horror Author's Latest MONSTROSITY in October 2021
BOOM! Studios today revealed a first look at JUST BEYOND: MONSTROSITY, from R.L. Stine, the award-winning, bestselling author of Goosebumps and Fear Street, artist Irene Flores (Heavy Vinyl) with additional inks by Lea Caballero, colorist Joana LaFuente, and letterer Mike Fiorentino, set in the world of the highly acclaimed middle grade horror series Just Beyond, soon to be a television show on Disney+.
THERE'S NO BUSINESS LIKE HORROR BUSINESS! Ruthie and Ezra Dillon's dad and uncle just bought an old Hollywood movie studio. And while the family has plans for reviving it to make scary movies for a modern audience, the monsters hiding in the backlot have other ideas. Ruthie and Ezra are eager to star in their family's films, but they'll soon find themselves in a real horror show with Wolfenscreem, the Lagoonatics, and the Wasp-Keeper…who are all ready for their revival with a vengeance!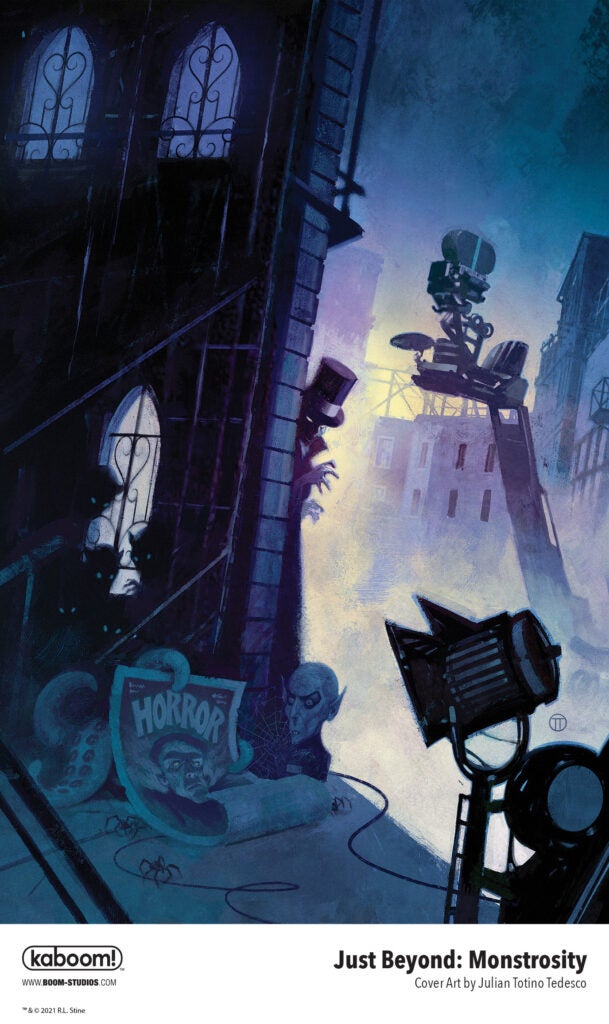 JUST BEYOND: MONSTROSITY will be published through the company's award-winning KaBOOM! imprint, where R.L. Stine has originated his first new concepts in the comic book medium as part of his multi-book agreement with the publisher. With the release of his debut novel Blind Date in 1981, R.L. Stine established himself as one of the most important voices in horror for a new generation. This was followed up with the release of Fear Street in 1989, which remains the best-selling YA series in history with more than 100 books published thus far, and Goosebumps in 1992, which transformed Stine into a worldwide celebrity. The series was soon adapted as a hit TV series and recently returned as a blockbuster film starring Jack Black in 2015 from Sony/Columbia Pictures, with a sequel hitting theaters in 2018. Stine has continued to create exciting new horror concepts for younger audiences each year, in turn becoming one of the most successful American novelists of all time.
Print copies of JUST BEYOND: MONSTROSITY will be available for sale on October 20, 2021 at local comic book shops (use comicshoplocator.com to find the nearest one), on October 26, 2020 at bookstores or at the BOOM! Studios webstore. Digital copies can be purchased from content providers, including comiXology, iBooks, Google Play, and Kindle. Currently, Just Beyond: The Scare School, Just Beyond: The Horror at Happy Landings, and Just Beyond: Welcome to Beast Island are available for purchase wherever books are sold.