Collect the Angel and Buffy the Vampire Slayer Connecting Variant Covers in September 2019
BOOM! Studios, in partnership with 20th Century Fox Consumer Products, revealed today a set of new three-part connecting illustrations featured on the covers of ANGEL #5, BUFFY THE VAMPIRE SLAYER #8, and a top secret issue that will be revealed soon, illustrated by the acclaimed artistic team of Kelly & Nichole Matthews (R.L. Stine's Just Beyond) and available in stores in September 2019.
ANGEL #5 and BUFFY THE VAMPIRE SLAYER #8 each feature one of three connecting covers that connect to form Kelly & Nichole Matthews' vibrant depictions of Buffy and Angel, as well as their allies and enemies.
In BUFFY THE VAMPIRE SLAYER #8, while Buffy and the rest of the Scooby Gang were fighting to save Xander's soul, the Mistress Drusilla and her lieutenant Spike were busy searching for a way to open the gates of the Hellmouth so they could flood Sunnydale, then eventually the world, with demons and hell on Earth. And they're close. Can Buffy stop them in time to save the world from utter destruction?
ANGEL #5 reveals the vampire's true mission—to make sure the Hellmouth stays sealed! He'll stop anyone who gets in his way, be it friend or foe, vampire…or Slayer.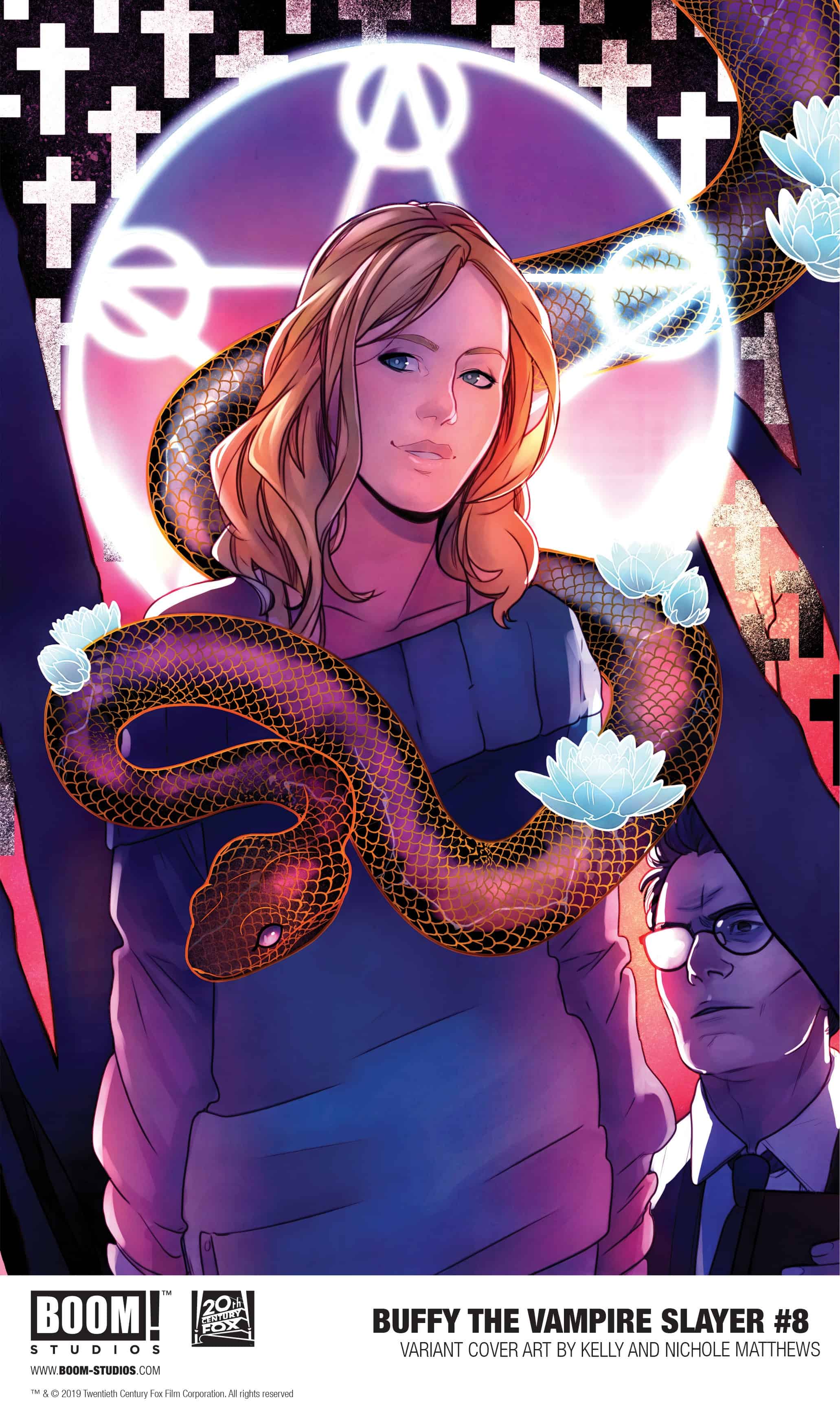 ANGEL and BUFFY THE VAMPIRE SLAYER are the newest releases from BOOM! Studios' eponymous imprint, home to critically acclaimed original series, including Once & Future by Kieron Gillen and Dan Mora; Faithless by Brian Azzarello and Maria Llovet; Abbott from Saladin Ahmed and Sami Kivelä; Bury The Lede from Gaby Dunn and Claire Roe; Grass Kings from Matt Kindt and Tyler Jenkins; and Klaus from Grant Morrison and Dan Mora. The imprint also publishes popular licensed properties including Joss Whedon's Firefly from Greg Pak and Dan McDaid; and Mighty Morphin Power Rangers from Ryan Parrott and Danielle Di Nicuolo.
Print copies of BUFFY THE VAMPIRE SLAYER #8 will be available for sale on September 9, 2019 and ANGEL #5 will be available for sale on September 25, 2019 exclusively at local comic book shops (use comicshoplocator.com to find the nearest one) or at the BOOM! Studios webstore. Digital copies can be purchased from content providers, including comiXology, iBooks, Google Play, and the BOOM! Studios app.