KNOW YOUR STATION #1 SELLS OUT BEFORE RELEASE
Discover the First Issue of an Original Horror Series From All Star Creators in January 2023
BOOM! Studios revealed today that KNOW YOUR STATION #1, the first issue in a five-issue limited series from the highly acclaimed writer Sarah Gailey (Eat the Rich, Magic for Liars), with star artist Liana Kangas (TRVE KVLT), colorist Rebecca Nalty, and letterer Cardinal Rae, that takes a stab at the ultra-wealthy, their dreams of escaping the very planet they've put in peril, and the consequences of a future that might not be so far away, has sold out at the distributor level before release!
Death is the great leveler, even for the 1%… the wealthiest people in the solar system abandoned the Earth for a private sanctuary in space, leaving everyone else to die amidst cataclysmic climate change. But the ultra-wealthy won't be safe for long…
A murderer is on the loose, specifically targeting the super-rich! Soon, Elise, an employee of the Avulsion Corporation, is wrapped up in a deadly investigation, with each issue of this outrageously macabre series featuring a new, diabolically different kill!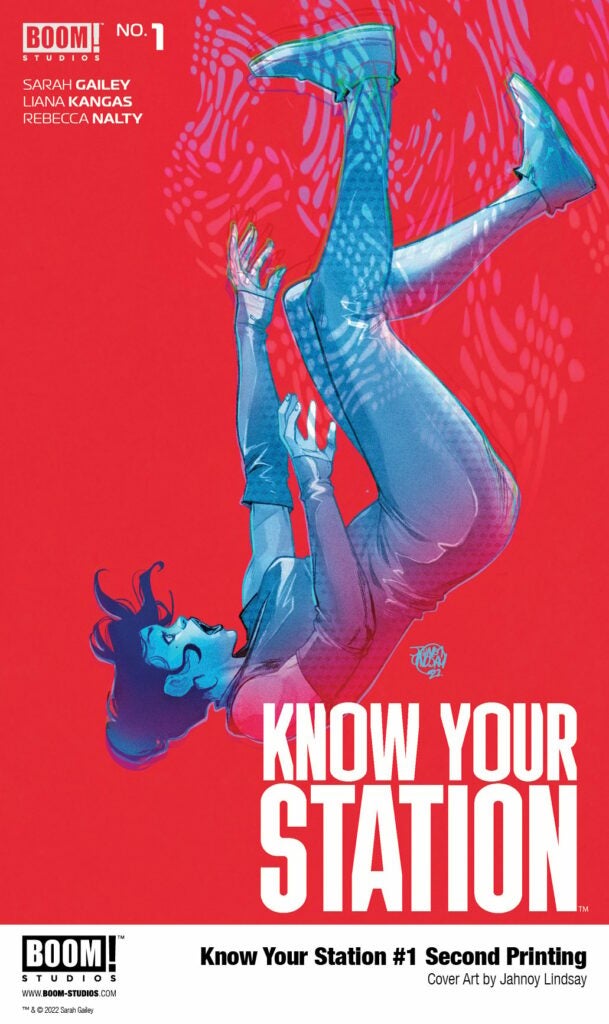 In response to the overwhelming support from retailers and fans, BOOM! Studios has announced KNOW YOUR STATION #1 SECOND PRINTING, featuring brand new cover art by highly acclaimed artist Jahnoy Lindsay (Eve), available in stores January 4, 2023.
"The mystery of KNOW YOUR STATION is only just beginning!" said Filip Sablik, President, Publishing & Sales, BOOM! Studios. "The twists and turns in this space station who-done-it expertly crafted by Gailey, Kangas, Nalty, and Rae is sure to captivate even more readers!"
KNOW YOUR STATION is the newest release from BOOM! Studios' eponymous imprint, home to critically acclaimed original series, including BRZRKR by Keanu Reeves, Matt Kindt, and Ron Garney; Something is Killing the Children by James Tynion IV and Werther Dell'Edera; Once & Future by Kieron Gillen and Dan Mora; We Only Find Them When They're Dead by Al Ewing and Simone Di Meo; Eve by Victor LaValle and Jo Mi-Gyeong; The Many Deaths of Laila Starr by Ram V and Filipe Andrade; Wynd by James Tynion IV and Michael Dialynas; Grim by Stephanie Phillips and Flaviano; Briar by Christopher Cantwell and Germán García; Stuff of Nightmares by R.L. Stine and A.L. Kaplan; The Approach by Jeremy Haun, Jason A. Hurley, and Jesus Hervas; Damn Them All by Simon Spurrier and Charlie Adlard; Behold, Behemoth by Tate Brombal and Nick Robles; Specs by David M. Booher and Chris Shehan; Once Upon a Time at the End of the World by Jason Aaron, Alexandre Tefenkgi, Leila del Duca, and Nick Dragotta; and the upcoming A Vicious Circle by Mattson Tomlin and Lee Bermejo; Mosely by Rob Guillory and Sam Lotfi; and Harrower by Justin Jordan and Brahm Revel. The imprint also publishes popular licensed properties, including Dune: House Harkonnen from Brian Herbert, Kevin J. Anderson, and Michael Shelfer; Mighty Morphin Power Rangers from Melissa Flores and Simona Di Gianfelice; and Magic from Jed McKay, Rich Douek, and Ig Guara.
Print copies of KNOW YOUR STATION #1 FIRST PRINTING will be available for sale December 7, 2022 exclusively at local comic book shops (use comicshoplocator.com to find the nearest one) or at the BOOM! Studios webstore. Digital copies can be purchased from content providers, including comiXology, iBooks, Google Play, and Kindle.