BOOM! Studios, DeVito Artworks, and
Twentieth Century Consumer Products
Announce Kong on the Planet of the Apes
The iconic primates meet for the first time in an unprecedented crossover event
LOS ANGELES, CALIF. (August 9, 2017) – BOOM! Studios, DeVito Artworks LLC, and Twentieth Century Fox Consumer Products are excited to announce KONG ON THE PLANET OF THE APES, a comic book series bringing together two of entertainment's biggest icons for the first time ever! Writer Ryan Ferrier (Mighty Morphin Power Rangers, Kennel Block Blues) and artist Carlos Magno (Planet of the Apes, Kong of Skull Island) team up for the six-issue series that promises to deliver an epic story starring the best-known primates in pop culture.
Following the events of the first Planet of the Apes film (1968), Dr. Zaius and General Ursus lead a small group of soldiers to the Forbidden Zone to destroy any remaining evidence of Taylor's time among them. To their surprise, they discover… a KONG! Now they must travel to Skull Island to discover the truth, but they may not survive the deadliest journey of their lives!
"There's such a deep mythology to both properties, especially if you consider all of the amazing Kong and Apes comics that have come out in recent years," said Ryan Ferrier. "With this series, we've found a coherent, meaningful way of having these two worlds and their legacies fold into each other. The implications of the Apecivilization discovering the Kong world are huge, and that's certainly on the forefront of the series."
Covers for Kong on the Planet of the Apes #1 are illustrated by Mike Huddleston (The Coffin), series artist Carlos Magno, and movie poster artist Hans Woody.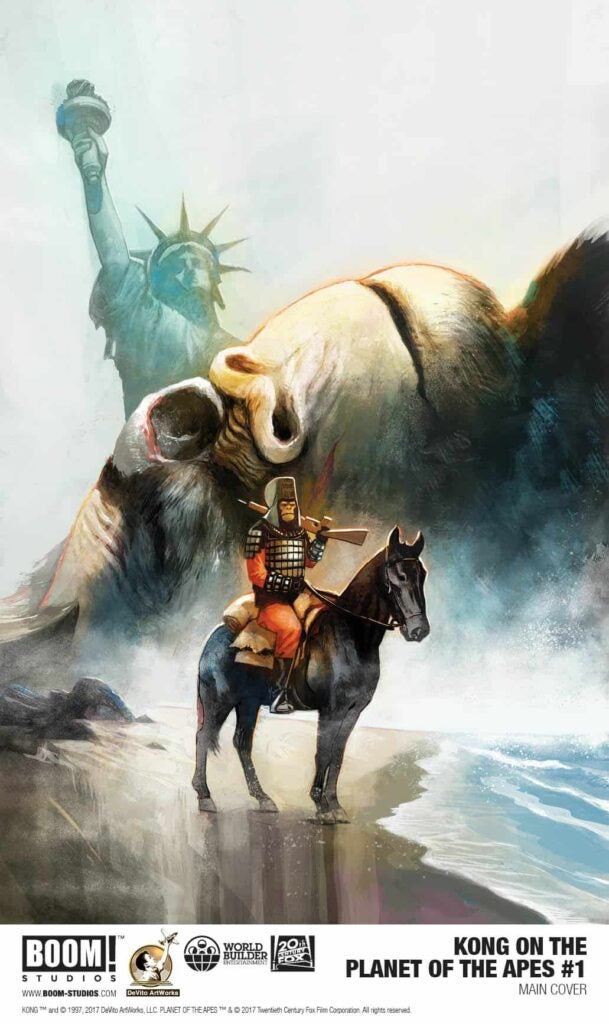 BOOM! Studios' Kong comics are based on Joe DeVito's Skull Island and Merian C. Cooper's King Kong. The publisher recently completed a 12-issue series, Kong of Skull Island, written by James Asmus (All-New Inhumans) and illustrated by Carlos Magno.
BOOM! Studios has been publishing Planet of the Apes comics since 2011, the longest-running comic book adaptation of the property. The publisher has produced comics based both on the original and current series of films. It is currently publishing War for the Planet of the Apes, a four-issue series by David F. Walker (Luke Cage) and Jonas Scharf (Warlords of Appalachia), set before the Fox film.
Print copies of Kong on the Planet of the Apes #1 is on-sale now at local comic book shops (to find a shop near you, visit comicshoplocator.com) or through the BOOM! Studios webstore. Digital copies will also be available from comiXology, Kindle, iTunes, Google Play, and the BOOM! Studios app.
Kong on the Planet of the Apes is the latest release from BOOM! Studios' eponymous imprint, home to an eclectic group of licensed comic book series and ambitious original series, including Mighty Morphin Power Rangers, WWE, Big Trouble in Little China, Victor LaValle's Destroyer, Godshaper, Grass Kings, andKlaus.
For news on Kong on the Planet of the Apes and more from BOOM! Studios, stay tuned to www.boom-studios.com and follow @boomstudios on Twitter.