BOOM! Studios Invites You to Solve the Mysteries of LOTUS LAND
Old Dog meets Blade Runner in a heartfelt new sci-fi series from BOOM! Studios
Eisner-winning and Harvey-nominated writer and director Darcy Van Poelgeest (Little Bird) is joined by artist Caio Filipe (Stranger Things: Tales From Hawkins) and colorist Patricio Delpeche (Angel) for a timely look at the human condition, set in a dystopic, cyberpunk future that's as grounded as it is metaphysical. Welcome to LOTUS LAND, coming November 2023.
Vancouver, years from now. In a future painted with ultramodern decay, entropy has met its match in the Keeper Program, a breakthrough in cutting edge technologies that's seemingly capable of miracles. When an attack on the mysterious program threatens the lives of everyone tied to it, retired detective Bennie Strikman is called out to investigate one last case…
LOTUS LAND #1 features a main cover by Alex Eckman-Lawn (Dead Boy Detectives) with variants by Christian Ward (Invisible Kingdom), and Ian Bertram (Little Bird) with Gus Storms (Egos).
" LOTUS LAND is many things; science fiction, noir, supernatural. But mostly it's a story about parenthood and the difficulty of never saying goodbye. To read Lotus Land is to take a walk through the wet streets of a city that has come to life on its own terms, where its citizens are more connected to the street lamp they stand beneath than they are each other. But something is pushing back beneath it all, dislodging infrastructure, and disrupting neural pathways. And through those cracks seep long buried secrets that threaten this utopia and all it has promised us. I couldn't be more excited for readers to take this journey with us, immersing themselves in the world that Caio Filipe and Patricio Delpeche have so masterfully brought to life," said Van Poelgeest.
"It's impressive that in noir science fiction, which are so creatively sharp with the best that these genres can offer, what delights me most about LOTUS LAND is the relatable, raw, and philosophical themes that loom over the story. I just feel lucky to work with the brilliant Darcy Van Poelgeest closely in such a beautiful, poetic – and often devastating – story. So, prepare your hearts," said Filipe.
"What sets LOTUS LAND apart is that in this brilliantly thought out, high-concept cyberpunk dystopia, Darcy and Caio also manage to zero in on the beating heart at its core. Lotus Land is a tragic personal story with mind-bending stakes—and it is, ultimately, deeply human," said series editor Allyson Gronowitz.
LOTUS LAND #1 will be available in comic shops November 15, 2023. It is available for pre-order at your local comic shop. Digital copies can be purchased from content providers, including comiXology, iBooks, Google Play, and Kindle.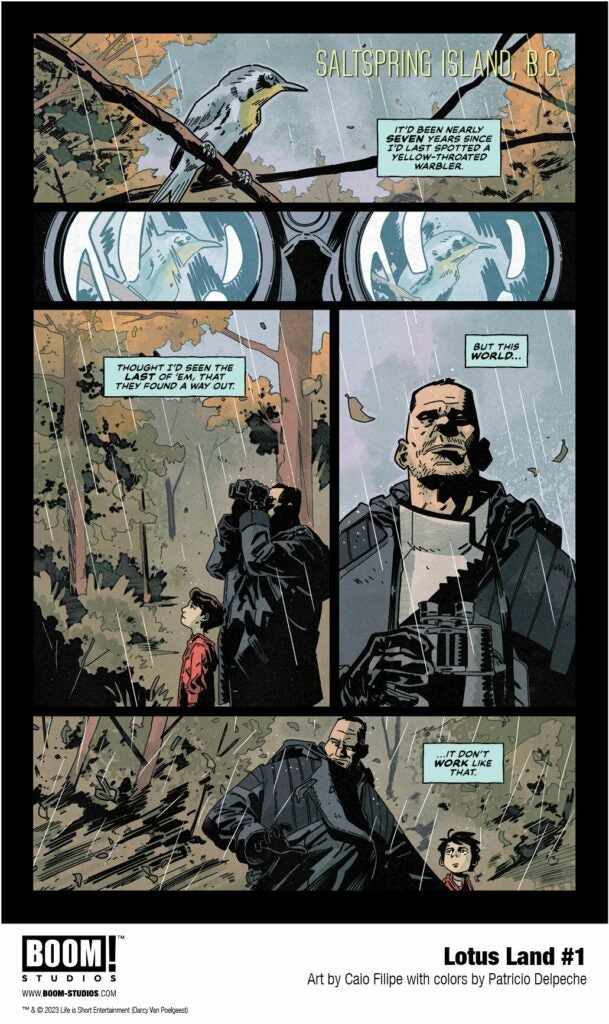 About Darcy Van Poelgeest:
Darcy Van Poelgeest is an award winning writer and director living in Vancouver, B.C. His film work has screened at festivals around the world, in galleries, and become a bestseller on Apple TV. His debut comic series Little Bird (Image Comics/Glénat Editions) was nominated for the Harvey Awards "Book of the Year", and won the 2020 Eisner Award for "Best Limited Series". He's currently working on new releases with Critical Role, BOOM! Studios, and Image Comics.
About Caio Filipe:
Caio Filipe is an artist from São Paulo, Brazil. He began his career drawing horror stories and mythology adaptations for comics. His collaboration for foreign publishers includes two Stranger Things books for Dark Horse Comics, and Nightwing for DC Comics. Lotus Land is his first co-creating work, and he couldn't be more proud and happier with it.
LOTUS LAND is the newest release from BOOM! Studios' eponymous imprint, home to critically acclaimed original series, including BRZRKR by Keanu Reeves, Matt Kindt, and Ron Garney; Something is Killing the Children by James Tynion IV and Werther Dell'Edera; Once & Future by Kieron Gillen and Dan Mora; Wynd by James Tynion IV and Michael Dialynas; Grim by Stephanie Phillips and Flaviano; Briar by Christopher Cantwell and Germán García; Stuff of Nightmares by R.L. Stine and A.L. Kaplan; The Approach by Jeremy Haun, Jason A. Hurley, and Jesus Hervas; Damn Them All by Simon Spurrier and Charlie Adlard; Behold, Behemoth by Tate Brombal and Nick Robles; Once Upon a Time at the End of the World by Jason Aaron, Alexandre Tefenkgi, Leila del Duca, and Nick Dragotta; Know Your Station by Sarah Gailey and Liana Kangas; A Vicious Circle by Mattson Tomlin and Lee Bermejo; Mosely by Rob Guillory and Sam Lotfi; Harrower by Justin Jordan and Brahm Revel; The Neighbors by Jude Ellison S. Doyle and Letizia Cadonici; The Seasons Have Teeth by Dan Watters and Sebastián Cabrol; Ghostlore by Cullen Bunn and Leomacs; and Sirens of the City by Joanne Starer and Khary Randolph. The imprint also publishes popular licensed properties, including Dune: House Harkonnen from Brian Herbert, Kevin J. Anderson, and Michael Shelfer; Mighty MorphinPower Rangers from Melissa Flores and Simona Di Gianfelice; Magic from Jed McKay, Rich Douek, and Ig Guara; and The Expanse: Dragon Tooth by Andy Diggle and Rubine.