"Sports comics and queer athletes are still far too rare in the wide world of representation. If you like either or both of those things, my guess is Avant-Guards is going to scratch an itch you didn't even know you had."—Autostraddle
"The Avant-Guards joins Dodge City and Fence as inclusive, sports-focused series under the BOOM! banner."—Paste Magazine
"It's this beautiful story of friendship and we're just getting started."—Comicon.com
BOOM! Studios today revealed a first look at THE AVANT-GUARDS #4, the latest chapter in the twelve-issue series from writer Carly Usdin (Heavy Vinyl) and artist Noah Hayes (Wet Hot American Summer) about a ragtag group of friends who band together to build the first ever basketball team at their historic women's art college, available in stores April 2019.
Victory tastes sweet! The Avant-Guards have defeated their first opponents, The Cuddly Retrievers of the American Institute of Veterinary Curiosities, and now it's time to celebrate their success. Liv finally has the confidence to approach Charlie at the victory party to try to make a move, but everyone and everything seems to be getting in the way! Will Liv and Charlie be able to find some time alone together or will they miss their chance to take things to the next level?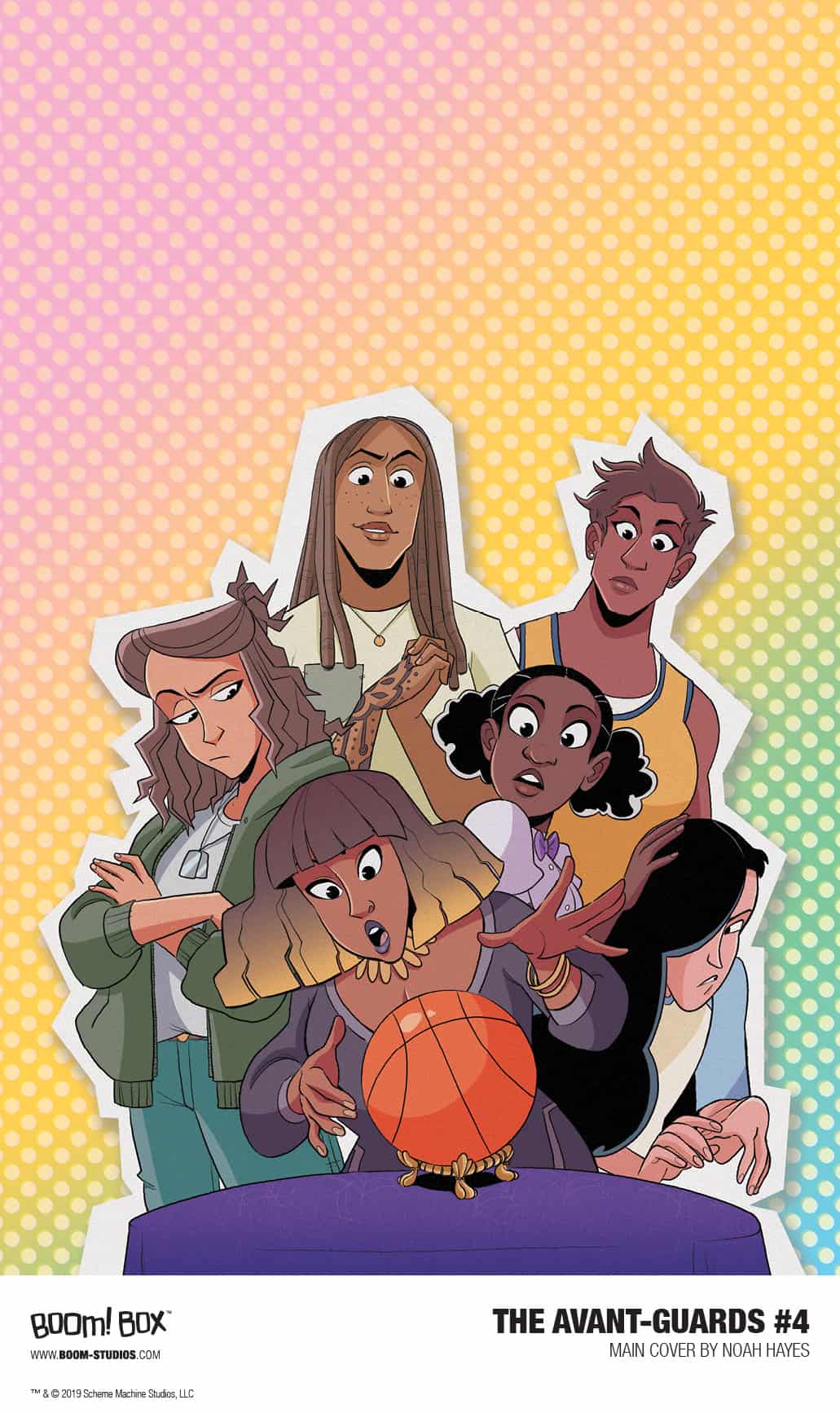 THE AVANT GUARDS #4 features a main cover by Hayes and a variant cover by Cara McGee (Black Canary: Ignite, Dodge City).
"The course of true love never did run smooth, and Liv's efforts in this issue prove Shakespeare right. It's hard enough getting up the courage to talk to your crush but then dealing with your friends' drama and complicated feelings about your ex, all at the same time?" said Shannon Watters, Senior Editor, BOOM! Studios. "Liv and Charlie have been dancing around their mutual interest for a while now so how difficult could it be to shoot your shot and go in for a kiss? Turns out, pretty difficult."
THE AVANT-GUARDS is the latest release from BOOM! Studios' award-winning BOOM! Box imprint, home to groundbreaking original series such as Lumberjanes by Shannon Watters, Grace Ellis, Brooklyn Allen, and Noelle Stevenson; Giant Days by John Allison, Lissa Treiman, and Max Sarin; Smooth Criminals by Kirsten 'Kiwi' Smith, Kurt Lustgarten, and Leisha Riddell; Fence by C.S. Pacat and Johanna The Mad; and Goldie Vance by Hope Larson and Brittney Williams.
Print copies of THE AVANT-GUARDS #4 will be available for sale on April 24, 2019 at local comic book shops (use comicshoplocator.com to find the nearest one) or at the BOOM! Studios webstore. Digital copies can be purchased from content providers, including comiXology, iBooks, Google Play, and the BOOM! Studios app.
For continuing news on THE AVANT-GUARDS and more from BOOM! Studios, stay tuned to www.boom-studios.com and follow @boomstudios on Twitter.